I'll be documenting the last of my trip to Hokkaido in... July. Haha. You can read about Part 1: Lake Toya
here
and Part 2: Furano
here
!
From where I last left off, we left Furano and took the train back to Sapporo! We stayed at Mercure Hotel which was pretty new, affordable, near to the city and located just beside a JR station (Hosui Susukino)! There's a Family Mart (my fav!! totally missing the mentaiko onigiri now......) located just downstairs and the famous Ramen Alley is located across the street. I highly recommend this hotel if you're visiting Sapporo! :)
With Sapporo being the biggest city in Hokkaido, we didn't do much research beforehand as we assumed it's gonna be pretty much like Tokyo? The popular Beer Garden sounds like a tourist trap so we gave it a miss. Neither did we eat at Ramen Alley because we were more interested in hunting down Sumire ramen. Actually we only ventured around our hotel and Susukino (town) area. Quite a short stay in Sapporo because we were heading to Tokyo after that anyway!
Sapporo might be one of the biggest cities in Japan, but it doesn't have the vibrancy of Tokyo (always my fav), in every sense of the word. The Tokyoites are more animated, there are a lot more energy in the city of Tokyo and people there are more adventurous in fashion. Whereas in Sapporo, I can only sense tiredness, the residents are calmer and seemed less outgoing.
We were deadbeat after checking into our hotel so we dropped by this crab restaurant across the hotel for dinner.
Finally had time for an #ootd.
By the way, my Melissa flats served me extremely well during the trip.
So comfy and no blisters, totally made for holidaying!
First customers at 6pm!
We decided on a set which consisted of crabs
cooked in ten different ways (not all pictured) and a hotpot!
We were absolutely stuffed and sick of crabs at the end of the meal hahaha
Seeing the signboard now, I'm reminded of Sapporo beer
which is the best beer I've tasted and actually liked (not a fan of beer).
I used to think Asahi was good but Sapporo beer is even smoother and lighter in taste!
Went really well with the yakitori we had on our second night! ;)
And then we spotted the Sapporo TV Tower
when we took a different route back to the hotel from Susukino.
Next day, we got up bright and early to catch the train to Otaru!
Got our usuals from the Family Mart
(pork cutlet sandwich for H, mentaiko onigiri for me and a bottle of milk tea to share)
and off we went!
The train ride from Sapporo to Otaru is less than an hour and
the view along the way will take your breath away.
After an arduous walk under the relentless sun,
we finally found the famous stretch of shops and restaurants!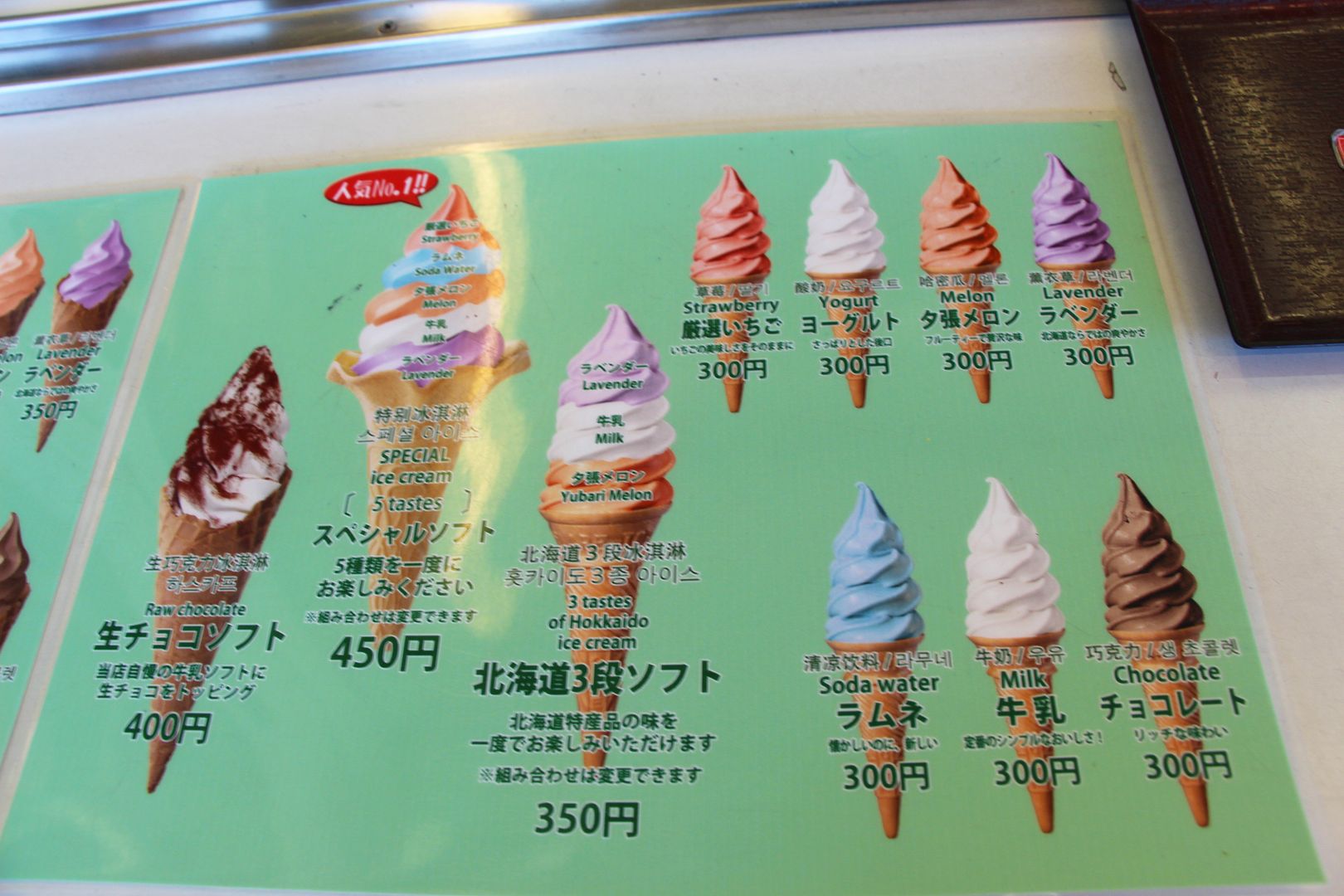 OF COURSE we had to have an ice-cream each!
H had the rainbow coloured one while I had melon.
They weren't as good as the ones we had at the lavender farm though.
Otaru is famous for wind chimes/blow glass
so you can hear the sounds of wind chimes along the way.
Music box is another interesting feature in Otaru.
I'm a fan so we hunted down the Otaru Music Box Museum
and I spent over an hour in both the shop and museum
playing the different music and deciding what to get
which almost drove H crazy hahaha.
I wanted to get Canon in D but guess what, the Canon in D tune they had
was an unrecognisable part right before the chorus.
In an attempt to find the chorus,
I turned EVERY single spring motor of different designs to find the chorus of Canon in D.
Yup, determination was me and that's why I spent such a long time in the shop+museum hahaha!
And I REALLY found the chorus part!
BUT I had to get it in the form of a music box as above.
I didn't want to because 1) it costs S$100, 2) it's just a plain box anyway,
and 3) I have no use for the music box.
In the end, I got a pretty horse carousel music box (music: When You Wish Upon A Star) and the transparent one (music: Moon River).
H was so relieved after that hahahaha!!
Because we can finally eat!
Live sea urchin!
Now I regret not trying them.
We settled on grilled oysters and huge scallop!
*slurps*
Lunch was of course fresh sashimi and sushis!
No prizes for guessing this was what I ordered.
I'm totally missing this bowl of sashimi and rice now.
You'd know this was place was good because the servers and chef don't speak English
and they didn't have an English menu.
We ordered by pointing at the display window haha.
H's plate of tuna!
And then we finally found the Otaru Canal.
Please don't ever visit Hokkaido in July.
The sun was so unforgiving I actually broke off our friendship right there and then.
AND I WAS IN JEANS.
DAMN.
Spot me with my best friend in red
Please google images of the Otaru Canal at dusk in winter.
It's so beautiful and romantic I would love to see it one day.
#ootd
After buying truckloads of Hokkaido snacks (flat shipping rate to our hotel in Tokyo!!),
we took the train back to Sapporo!
Back in Sapporo = More eating.
Basically, we had dinner 3 times.
LOTS of people were queuing at this restaurant the night before
and since we beat the dinner crowd, we went in for our first dinner!
We ordered a bento to share and omg it was sooooo delicioussssss!!!
Definitely not enough!
I don't know what's the name of this unagi restaurant
but it's located like 30 seconds away from our hotel!
Our hotel has the best location because Sumire Ramen is just across in one of the small lanes!
Did a little shopping after that and then it was time for our second dinner at Sumire Ramen hehehe.
Really large bowl of ramen, very flavourful, very tasty and I liked it!
The egg was just normal, plain, boiled egg that doesn't come with a runny yolk.
Very disappointing.
A marinated egg would compliment this bowl of noodles much better!
The layer of oil :/
And then we went to a yakitori place for Sapporo beer and grilled meat on skewers.
It was a random hole in the wall kinda restaurant we chanced upon
which served cheap and absolutely yummy yakitori!!
Unfortunately I don't have any pictures or have any idea where's the restaurant.
Sigh (in contentment), it was such a good day.