Gone are the days when I smack on matte skincare and makeup products for a matte flawless finish. These days, I try to achieve the dewy Korean look (which is not the same as looking oily okay!!) as it tends to make me look younger with super healthy looking skin. Other than using a BB Cushion as foundation, I found out that the secret to having the dewy look is actually in the skincare products.
A typical Korean lady follows a 10-step skincare routine DAILY. When I first heard it from Yoon Eun Hye's assistant earlier in May, I was appalled. That is A LOT of time spent on skincare, and I thought my 10-15 minutes routine was frightening enough. Anyhow, I'll be sharing about my 9-step daily skincare routine today!
The History of Whoo preventive ageing and hydrating skincare range + Bichup range I'm currently using.
When I was introduced to The History of Whoo's ("Whoo" for short) skincare range, I realised, the 9/10-step skincare routine is actually essential. Before I breakdown the steps to my skincare routine, I'd like to share with you the informative consultation I went through at the History of Whoo flagship counter at Tangs Orchard with Mannde.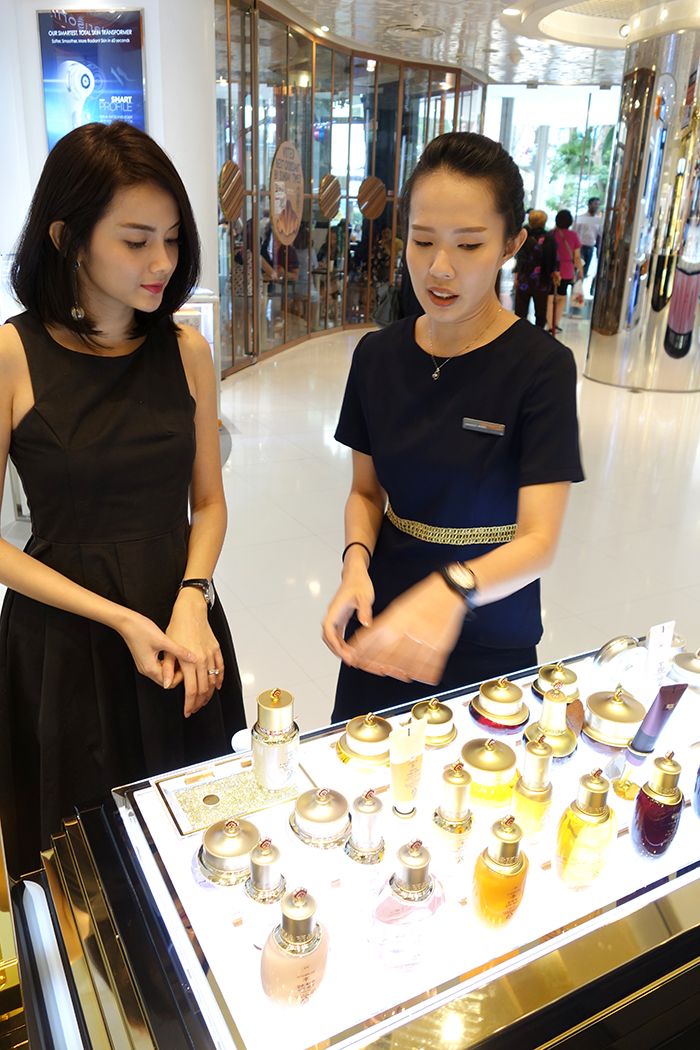 Mannde brought me through the different product ranges Whoo carries and then we discuss about the problems my skin faces.
The History of Whoo is a relatively new skincare brand in Singapore. For the uninitiated, Whoo is a luxury skincare brand that fully embodies the Korean traditions. The concept of the brand revolves around providing self-care and self-regeneration beauty remedies for women using premium eastern medicinal herbal ingredients in their patented and signature herbal complexes that enable skin cell self-regeneration for powerful and effective anti-aging benefits.
One such complex is the Gongjinbidan (供辰秘丹) Complex, present in all The History of Whoo's skincare and makeup products, is formulated by combining 6 different precious herbs; Siberian Deer Antler, Angelica Roots, Cornelian Cherries, Acanthopanax Root Bark, Asparagus Roots and Wild Thyme. Through modern technologies, The History of Whoo created a single complex that increases energy flow in the skin while balancing the Yin and Yang energy, improving every product's efficacy while inducing self-regeneration by triggering skin cell activities.
And so, what we have today is a very traditional yet luxurious skincare line that contains ingredients adapted from royal court remedies that were used by empresses from the Eastern Royal Courts, and the products are, literally, fit for a Queen!
After we found the right skincare range for me, Mannde sat me down and we went through the products individually. The whole consultation took approximately 30 minutes.
So now, back to my daily 9-step skincare routine (2x each day)!
The first step is always cleansing. I always break that down into two steps: 1) removing makeup kinda cleansing and 2) washing your face kinda cleansing, or exfoliating, which happens once a week.
Then I'll normally move on to toning for my second step BUT for Whoo's skincare, it is a little different. Instead of toning, I am recommended to use the Bichup Soon Hwan Essence right after my face is thoroughly cleansed as it helps to prep the skin and enhances the skin's ability to absorb nutrients from the next skin care products.
The Soon Hwan Essence contains multiple herbal complexes that synergises each other to improve our internal Qi & Blood circulation. You cannot see it from the picture here but there are very tiny white beads in each pump that helps to maximise the skincare products efficacy AND reduce facial water retention.
The essence is actually very light, with very water-like texture when spread on the face. The recommended usage is 2-3 pumps and I found that 1.5 pumps work best for me.
Step 3: Toning
I'll drip a few drops of the Soo Yeon Balancer on my palm, then pat it all over my face for quicker absorption.
Also part of the Bichup range is the
Bichup Ja Saeng Essence
. This is Whoo's best-selling essence, and rightly so. What this essence does for the skin is powerful. Formulated with numerous herbal complexes, the main ingredient, the Plant Placenta, provides energy for skin to self-recognise individual skin concerns and activate the right skin cells for self-heal/repair.
How the Ja Saeng Essence works:
It is a 3-step self-regeneration essence. First, the plant placenta derivatives help the skin cells to identify skin concerns. Then, the Gongjibidan, Gyeongokbidan and Cheongsimbidan complexes activate cells for cellular repair via improvement of Qi & blood circulation, moisturizing and soothing functions. Lastly, the plant placenta will provide energy for the skin cell to conduct repair.
Our skin knows itself better than what we see on the exterior so I find the abilities/functions of the Ja Saeng Essence super amazing!!
The texture of the Ja Saeng Essence is a little thicker and more sticky so a pump is more than enough to go around my face. With oriental herbal medicine as its main ingredients for all of Whoo's products, the scent is surprisingly non-herbal. In fact, I couldn't even detect a teeny weeny bit of those Chinese medicine herbal smell that I'm used to. The scent is very refreshing, with hints of floral notes - just really pleasant smelling!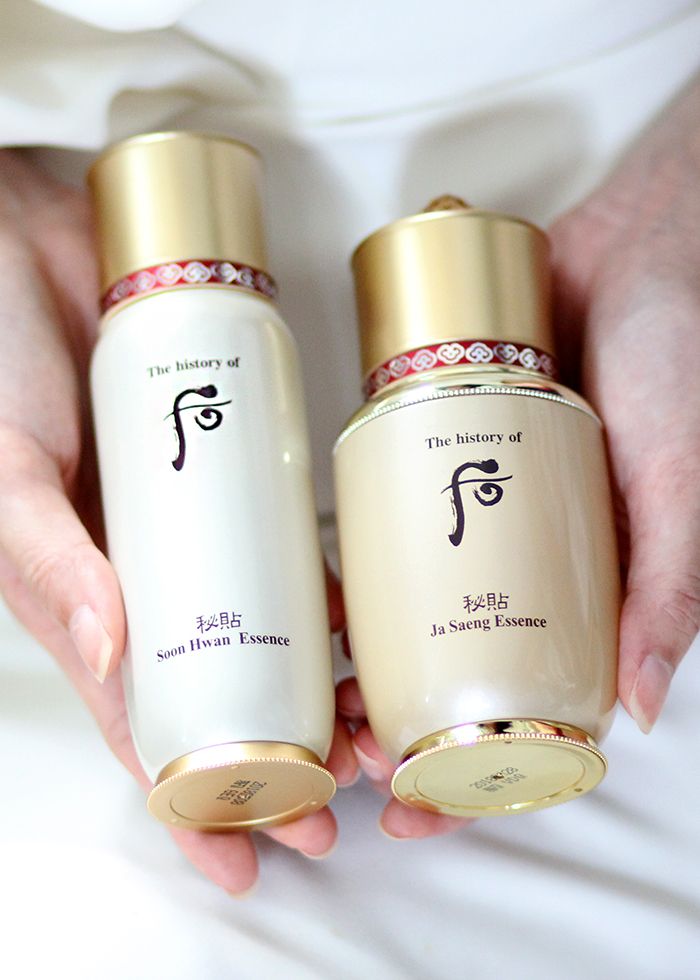 To achieve the best results (think glowing, dewy, hydrated skin), I would recommend using both the Soon Hwan Essence and Ja Saeng Essence together.
Step 5:
Back to my complementing skincare range, the Camellia Moisturising Oil provides instant moisture for my skin - very much needed for my dry skin. However, I make sure to use it only once a day (instead of day and night) as my skin doesn't take well to products that are too rich.
The Camellia Moisturising Oil is THE secret to having the Korean dewy look! Just mix 1-2 drops of it with your foundation ;)
Step 6:
If you've noticed, this is the 3rd essence for my daily skincare routine. Layering of essence/serum is nothing new. Our skin has many needs (brightening, anti-aging, hydrating, etc) and if each essence provides different functions, I'd say, layer away with the essences/serums!
Part of the Gongjinhyang (preventive aging and hydrating) range, the Soo Yeon Essence supplies clear moisture to the skin and my skin feels hydrated for a long time. If I did not use the Camellia Moisturising Oil in the day, I would mix it with the Soo Yeon Essence at night and apply them together so I can save a step haha.
Step 7:
The Gongjinhyang Gi & Jin Eye Cream contains "Gongjinbidan" and Wild Ginseng which are excellent for removing wrinkles. The cream is thick so a little goes a long way.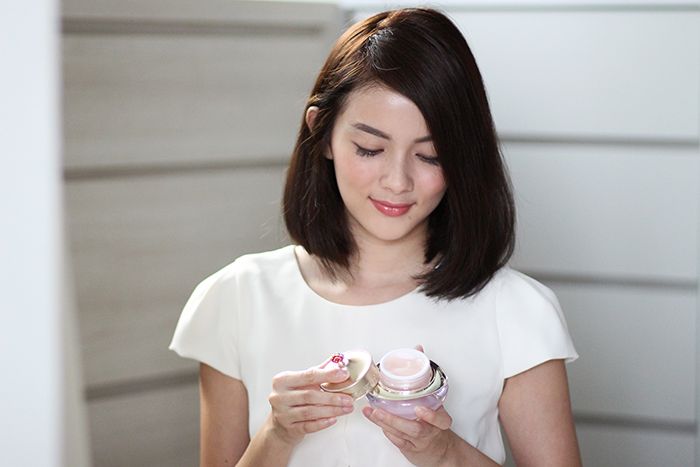 Step 8:
It is either the day moisturiser or night cream in this step. I use the Soo Yeon night cream (gel texture) and I always wake up to hydrated and glowing skin the next day!
And of course, step 9 is either the sunscreen or sleeping mask (on alternate days).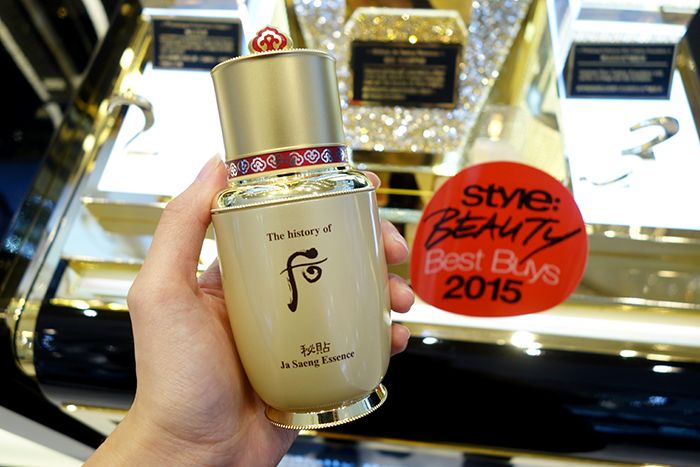 The History of Whoo would like you to try out their star product - the Bichup Ja Saeng Essence!
Flash this blog post or my Instagram post at The History of Whoo's flagship counter located at Orchard Tangs to redeem a complimentary Bichup Ja Saeng Essence Experience Kit from 18 Nov to 31 Dec 2015.
I hope you like the product as much as I do :)
And remember to stay updated with The History of Whoo's latest news and promotions at their Facebook page (
www.facebook.com/thehistoryofwhoosingapore
).