Sponsored Post
I went back to
DRx Clinic
for my 2nd review this month (read first visit
here
) and Dr David Ng said my skin is adapting very well to the products. Great news! Actually I noticed and felt my skin's improvement as well. I may be sponsored but let me tell you, my face feels wayyyyy smoother and softer than before I started using DRx's range of products. Their products are not harsh on the skin and they keep my complexion looking flawless and supple.
(bruised my skin when I forcefully removed my eye makeup after the Femmex show to go out for supper -__-)
Sometimes when I am extremely tired at night after a long day, I just want to jump on my awesome bed and go into deep sleep... And then I remember this overused phrase - "There's no ugly women in the world, only lazy ones." and "POP!" there goes my thought of heading to bed without my night cream. I procrastinate a lot but
never
when it comes to removing makeup and applying skincare products because 怎么说我也是靠脸吃饭的 hahaha!
So if I am lazy to apply moisturiser/sunscreen, I will choose to stay home. And H will grumble because he has to head out alone to buy packed lunch/dinner for us haha.
Remember this - if you want perfect complexion, don't be lazy. Or be a hermit.
Back to my visit at the DRx Clinic, I am on a couple of month long program with them to look fabulous on my wedding day! I was advised to add a new product to my skincare regime, the Intensive Lightener. According to Dr David, this product is to "prep" my skin for the laser treatment I will be undergoing in the following month. This replaces the Vitamin A Gel step which I was previously using at night (and now, in the day time as an additional step).
I don't have much scars/marks/pigmentation to lighten but I do hope it will give me a more even skin tone!
Promotion for my readers:
DRx Clinic will be waiving off the fees for the 1st 3 consultations for the month of Feb '14 for all of you! Quote "
Jessica Tham
" when you
call
to make an appointment!
Valid for 1st time customers only.
End of Sponsored Post
Moving on, I tried a new cafe for brunch (or rather late lunch) last weekend and the food was yummy!! Jasmine and I met H at Artistry after an event for a rather late meal (4pm?) and they had ran out of eggs. But that's okay because the other dishes on the menu sound very delicious!! I couldn't decide between the Crab Burger or Duck Confit Pesto so I ordered both for H and I!
BOTH WERE VERYYYYYY GOOD! They were yummy in their own ways but if I had to choose, I would order the crab burger again on my next visit!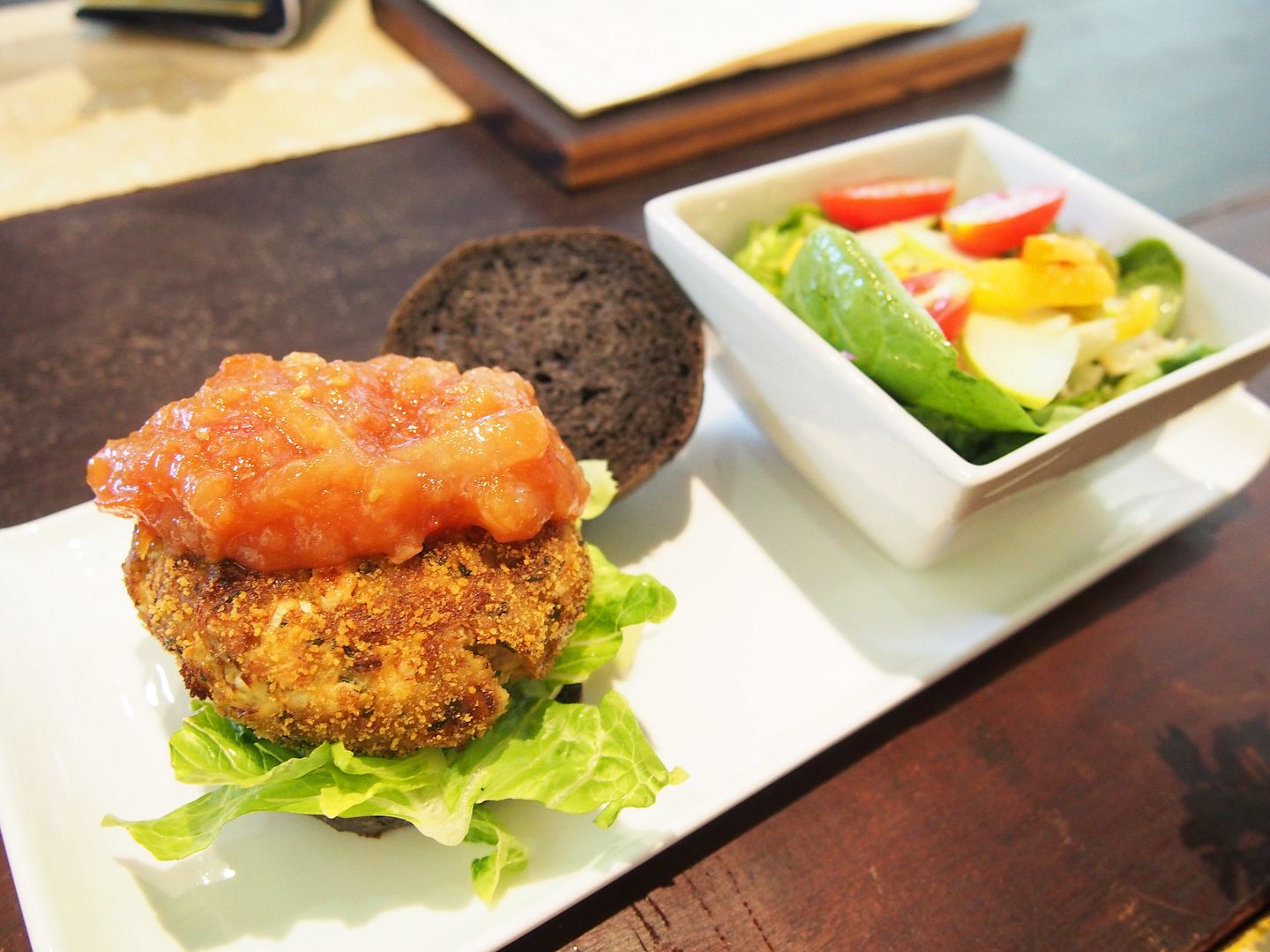 I love crab cakes because I don't have to deshell and I get all the yummy meat! The only other crab cake I've tasted was from Spruce and I personally think Artistry's version is better!
I have only taken a liking to pesto pasta recently and this one with shredded duck and pine nuts was flavourful and addictive. I liked it so much!
Jasmine couldn't have her eggs benny so she ordered the waffle with fig & honey ice-cream which, according to her, tasted pretty normal.
The food was great but the coffees, according to the coffee drinkers on my table, were not fantastic. So I guess you can't really have it all? I see myself going back there again soon because it is pretty rare to find a cafe serving food that hits all the right spots.
With some time to pass, all of us took our #OOTD at some alley but I had the most number of shots because I am troublesome like that hahaha!
Lastly, it's finally the time of the year again! Have a wonderful week feasting and gambling guys! Gong xi gong xi!