4 Januarys ago, I received a text from H asking, "Why didn't you reply my messages for the past year?"
Yes, it wasn't a love at first sight affair for the both of us.
Or rather, for me.
Like many other couples, H and I first knew about each other's existence when we were in school (Singapore Polytechnic). (Note: existence. We were never friends.) For the entire 3 years in school, we were never in the same class nor did academic studies allow us to cross paths. We were taking the same course (Business Administration) but we were in different batches (he's in A and I'm in B) so we did not even attend lectures in the same hall.
But of course I noticed him around school. New school, new environment, my new friends and I were checking out guys from day 1 of orientation to food court 6 to corridors and during lectures. H was spotted by one of my friends whose friend told her that he's from China. That's when I first noticed him. Nope, he was not my eye candy. Haha! When I was 17, I was into guys with slits as eyes and H's eyes are too big, he didn't fit my criteria hahahaha!
One of H's friends (S) was interested in my friend (E) then. So one day, they walked past my group of girlfriends and I when we were standing outside the lecture hall. Apparently the conversation between S and H went something like this:
S: That's the E I'm telling you about.
H: She's not my type, the skinny one is.
S: Huh but she's a Malay right?
H: Malay your head.
So H said he knew then that the tanned, scrawny and ugly girl was going to be his wife one day (dunno true or not cause he always feeds me with gibberish). And he always praises himself for being farsighted for spotting a potential "swan".
But he very thick-skinned la. He asked S to ask E about me and added me on Friendster (please don't ask me what's Friendster. I know I'm ancient don't remind me) and MSN. BUT I was newly attached then to my ex-boyfriend so I thought he will give up and all but NOOOOOOO he sent me messages on Friendster every now and then (which I duly ignored. I had a boyfriend, hello???). Once he sent me a message asking my ex-boyfriend and I to go down to XXX place to support him for a singing competition. Like, ?????????
I ignored that message too.
I'm relieved I didn't go because after we got together, I realised singing is not one of H's strongest point.
Now you must be thinking I'm a very rude person, ignoring all his friendly messages. But one thing you must know about me is - I'm a very faithful partner and a logical person who doesn't enjoy doing things to lead another male on when I'm in a committed relationship. Additionally, we were Never friends and we Never hanged out before so is he weird or what?!
But I do entertain him once in a bored while on MSN chatting over meaningless topics.
He still talked to me when he had a girlfriend...
...and then they broke up.
...I was still in my relationship...
and finally I broke up with my ex-boyfriend.
H got wind of that very quickly and he acted swiftly because the next thing I know, he was asking me out on MSN.
He picked me up from my home one night and we went to Swensen's at Holland V for ice-cream. And then we went out a second time which probably wasn't that memorable because I can't recall anything about it hahaha! (Okay, I asked H and he said we went to Sushi Tei at Holland V. I'm sure you can tell by now how into me he was/is. *raises eyebrow*)
And that was it.
We never went out again.
Neither did we talk again after the second date.
I know that's not what you were expecting.
I guess I just wasn't THAT interested at that point in time what with me trying to mend a broken heart and having the option to date openly.
H probably
did
try to talk to me after the second date but I guess he wasn't buzzing as loudly as the other bees around me.
...And so came the text message slightly more than a year later in January 2010 - "Why didn't you reply my messages for the past year?"
He requested to meet for dinner in SIM before our classes start (it was his last semester in UOL and my first in RMIT). I said okay, but stood him up at the last minute because I wasn't feeling well that day, overslept, and I was already late for class.
Where did this man get his perseverance from, I had no idea then. And I must say he really does handle rejections and ignorance very well.
Because after I stood him up for dinner, he initiated to send me home after class that night (SIM is in the West, I stay North and he stays South. Crazy is the only word to describe him because he has to travel a huge circle every school night before reaching home)...
...and then for the many nights after... Till I graduated.
After one long grandmother story and six years after he first laid eyes on me, we are finally a couple! *throws confetti*
I know you guys are more happy for him than for me after reading this, as were all his friends after they heard the news because...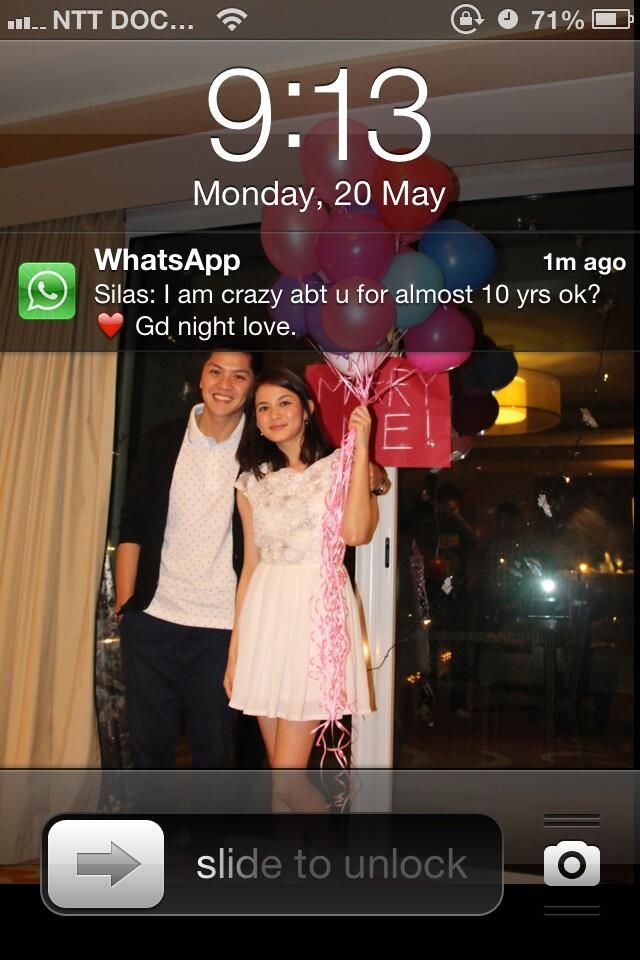 We all have to learn something from each story told, as that's what stories are meant for, no? So kids, what did you learn from this story?
Hard work and perseverance DO pay off.