Hello! With the start of a brand new year, I thought I would work on the content of my blog (and maybe the layout..? I know the current layout looks really bad I'm sorry you guys have to face this every time you log on to this page hahaha). I hope to inject more informational posts that are useful and related to topics close to my heart such as fashion (of course), lifestyle (home furnishing, cooking) and travel (holidays and work-related). You will still see advertorials on products that I've tried and liked but be assured that I mean what I said in all my sponsored posts.
So today I thought I'll start with my first informational post since I just got back not too long ago from my honeymoon which H and I decided many moons ago it was going to be in Europe and in winter. I learnt a little bit about dressing up (not gonna be touching on stylish dressing in this post unfortunately) in subzero temperatures during my flying days by touching the many types of winter fabrics available in stores and also through the hard way - by wearing too little. Once, I went shopping in Seoul when it was -20°C wearing normal winter clothes (which include a layer of Uniqlo thermal, a knitted top and a coat I got from a high street brand). The cold was so unbearable, my ex-colleagues and I were literally hopping from shop to shop hovering around the heater they had in stores, vying for warmth and wondering out loud how exactly do the street vendors survive outdoors for >5 minutes.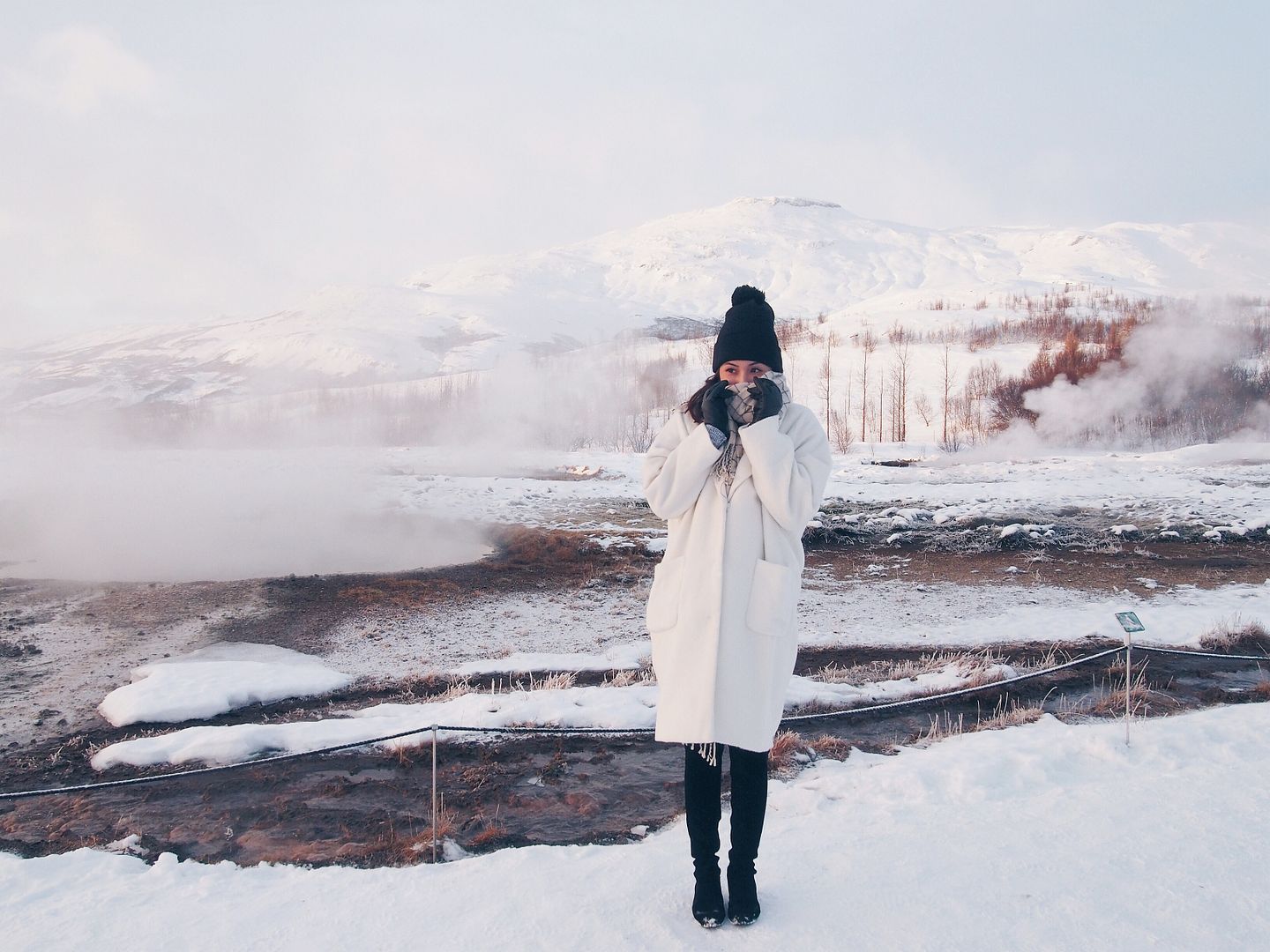 What I did learn is that, the clothes/accessories that keep you warm do not necessarily have to be expensive, neither do you have to pile on 6 layers of tops to keep yourself toasty. Here are my 5 tips on how to prepare for winter!
1. Thermal wear
You gotta get the base right! Since I was born and bred in tropical Singapore, you definitely will not see me in thigh-high socks or thin, translucent stockings when it's -2°C out there. I cannot survive without a set of thermal wear. The most common place you can find it is in
Uniqlo
. The brand recently came out with "extra warm" heat tech which is thicker than its normal heat tech range. Personally, I don't think they work very well but the leggings are good for layering underneath jeans/tight pants because of the thin fabric.
On days when you are wearing skirts/shorts/dresses, you might want to consider this extra thick and extra warm leggings I got off Taobao
here
. (The shop I bought from is no longer available but I found the exact same pair!) Beware: it might make your legs appear 1/3 bigger than your usual size but your legs will thank you for that because it is never cold again. True story: My legs were suffocating and screaming internally to be out of these leggings on the flight from Stockholm to Reykjavik which seemed to have a lack of cold air.
2. Moisturise, moisturise
Moisturising is so important when it's cold! I made sure every inch of H and my skin are covered with moisturiser before we head out and after shower each day.
The Bodyshop body butter
(Wild Argan Oil) leave our skin moist and supple and we did not have to worry about dry, itchy skin the entire trip.
For the face, I applied
Laneige Water Bank Range
day and night. On alternate nights, I put on an additional layer of the
Water Sleeping Pack
. Oh yes, I removed my makeup with
Nivea Gentle Facial Cleansing Wipes
and cleansed with
Fresh Soy Face Cleanser
. Gentle products wouldn't strip my face of the much needed moisture and I didn't have flaky skin so yay! And of course, for lips, remember your lip balms! I used lip treatments from
Fresh
, tinted ones for myself and the
Advanced Therapy
for H. Apply as often as you can to prevent chapped lips! Of course, don't forget to bag a bottle of water as you'll tend to feel more thirsty in the cold!
3. Heat packs
Only on this trip did I realise how precious heat packs are! I ordered mine from Taobao (lol)
here
. Fairly cheap but shipping was a little more expensive than usual because I did not know how heavy they are since I've never used them before haha. Anyway, you can also find it in Daiso. I'll slip one heat pack into each of my glove every morning and they actually keep my hands warm for up to 12 hours! I was very impressed so I decided to put one into each of my sock. Big mistake because the packs were literally burning my soles I had to remove them when we passed by a park hahaha!
4. Accessories
I have a lot of accessories on me everyday (beanie, scarf, gloves) so it is quite a hassle to
a) remember to bring everything out of the hotel with me
b) take off and wear everything again whenever we visit a cafe/restaurant
I cannot live without my beanies (or earmuffs if you prefer them instead) because I have Dumbo ears so the wind will numb my ears, ears will be frozen and I'll start to get a headache. For scarves, I like long, big knitted/wool ones because those can be wrapped at least 2 rounds around my neck. Those I wore on my recent trip were from H&M, Monki and
Uniqlo Heat Tech
. For socks, I wore H's from
Uniqlo Men
which were thicker and warmer compared to women's heat tech range!
5. Layering
Learn how to layer. Wearing 5-6 layers of the wrong kinda material will only make you look bulky and will not keep you warm. Here's a brief idea of what I wore daily:
1st layer - Thermal wear from
Uniqlo Heat Tech (extra warm crew neck long sleeve)
or this
thermal top from Taobao
(lined with wool).
2nd layer - Knitted top (from either Primark/H&M/Newlook/wherever) or a wool top will be your best bet. I wore H's wool top (
link
) on some days and I think I'll need to get a couple for my next winter trip!
3rd layer - Coat. My coats are all from high street labels (cheapest from H&M and I never bought anything that costs more than S$200), many of which I got years ago. H spent many days of our trip in his
Uniqlo Down Jacket
so I guess their down jackets are worth the money. Not to mention it is pretty affordable too!
4th layer - Accessories which include beanie, scarf, gloves, socks and boots. High boots will be useful if you're gonna be walking on thick snow 'cause you wouldn't want them to get in your shoes and walk around in wet socks the entire day. Also, make sure your boots are lined with fur so you get double the warmth!
I hope these tips and shopping links give you some ideas on where to shop and how to prepare for the cold and in the process, help you make some fashionable decisions! Have a great week ahead and I will be back soon! ;)
p/s: Updated
SHOPTIPPYTAPP
with some clothes for sale! More to come so do check the page regularly!