I actually stopped reading for a while sometime last year because the book I was in the midst of was so boring I cannot even remember the title of it now. I dreaded picking up my Kindle and forcing myself to absorb and understand each sentence yet I refused to move on to another book without finishing this... so my interest in reading waned. Luckily I picked it up again last month when I was informed that Sophie Kinsella has a new book! I'm a fan and I read every single one of her books.
Keeping to my own personal target of one book a month, below is a short review of the books I read in Dec and Jan! No matter how tired I am, I'll try to complete at least a chapter before bed because this activity helps to calm the mind and makes me fall asleep easily.
Shopaholic to the Stars by Sophie Kinsella
Learning about Sophie Kinsella's new book launch always excites me because I sorta grew up with her since... I don't know, 10? 15 years ago? Though time and again, the excitement disappeared shortly after when I realised how similar and predictable the storyline is to her previous titles. Even how she starts the first chapter of each book is so typical of her. Like a gypsy with her crystal ball, I know what to expect and I know what will happen.
Shopaholic to the Stars
is no exception. The only difference is that it was set in Los Angeles and maybe some little twists here and there. Perfect for lighthearted reading just before bedtime and as always, I take comfort in her familiar style of writing.
The Casual Vacancy by JK Rowling
The book started with death and it ended with death. It was a little draggy and dry in the middle but I was kept interested because JK Rowling actually uses a lot of uncommon words - I've never checked the meaning of so many words while reading through a book before. I think I
might
have just revealed to the world that I've never read the Harry Potter series or how limited my vocabulary is hahaha. So anyway, while I enjoyed reading about the secrets of each individual, I felt that the last 10% of the book was moving too quickly and ended rather abruptly. It was like, I went through 90% of heavy reading for the last 10% exciting bits. I wouldn't recommend opening this book when you're really tired though 'cause it is a little thought-provoking and it talks a lot about politics! Interesting, nevertheless. JK Rowling's newest book, The Cuckoo's Calling is going on my reading list.
In the month of February, I'm finally starting on
The Book Thief by Markus Zusak
(NY Times bestseller for >230 weeks!). It's highly recommended by almost everyone so I look forward to a good read!
Since we are on the topic of books and geeky-related stuff, let me show you what my boring silver tech gadgets look like now.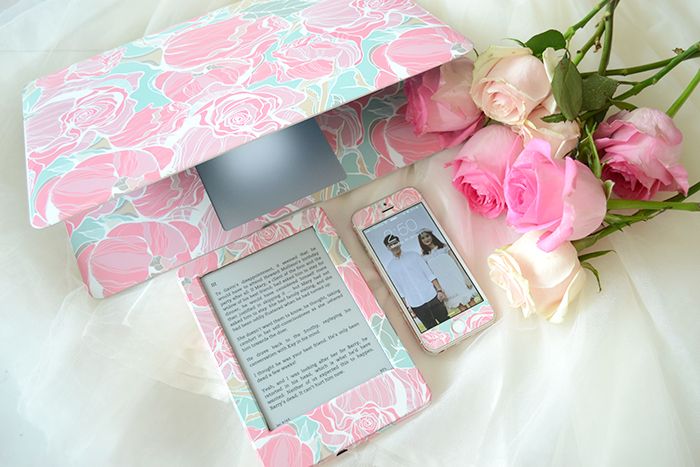 TADAHHHHHH!!
I am in love with the digital rose print so I bought it and got it printed on
Barely Naked
and dressed my MacBook Air, Kindle Touch and iPhone 5S with it!!! When I am obsessed with something, I think I can go really overboard with it hahaha.
I was a little disappointed when I realised they don't have templates for Kindles hence I ordered one for the iPad and did some DIY myself hehehe.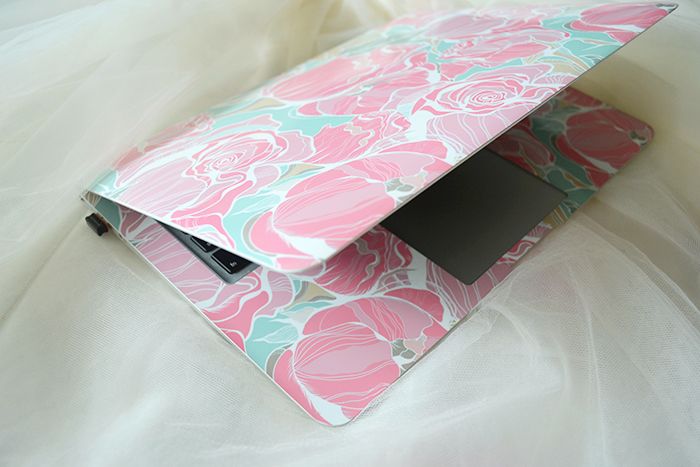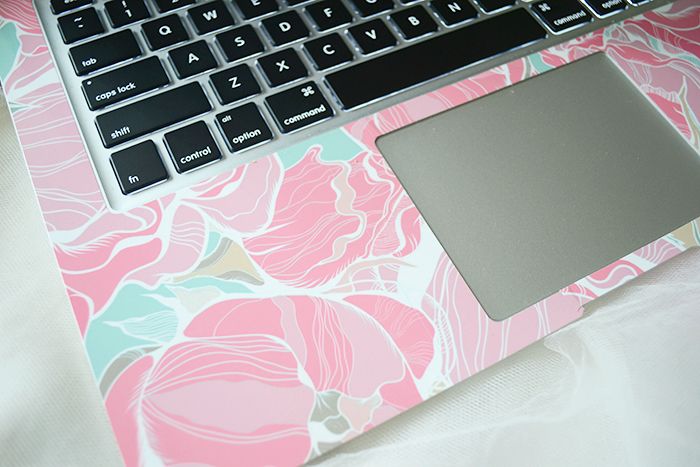 Sticking the skins on my gadgets are a breeze. You can always pull it out and re-do if you think the lines don't align and there's no need for professional devices to aid in the sticking.
If you notice any air bubbles, just push the uneven bumps toward the edge and everything will be fine, flat and dainty. Sticking these
Barely Naked
skins is even easier than smoothing the protective sticker for your mobile phone (just look at mine), and you don't lose the adhesiveness as quickly as well!
If you are keen in dressing your gadgets, search for a print that defines you, your personality or let your creativity flow by doing your own illustrations then upload it on to Barely Naked for printing and check out with BNTIPJT10 for 10% off your order!
It's a joy looking at them daily, reading from my Kindle makes me happier too hahaha.
Click over to Barely Naked (http://www.barely-naked.com) and start getting inspired! ;)