H and I have moved into our (not so new) place for almost 7 months now and it is about time I get down to a home tour else the next thing you know, we'll be listing this apartment up for sale hahaha. We have settled in and no longer as fascinated whenever we enter the front door but I am still very much in love with the simplicity and clean design. Timeless neutrals definitely go a long way!
As mentioned previously (
here
,
here
and
here
), the main colours we decided on were white and grey with touches of soft wood. Though I would love to have black, we omitted it as it might seem a little too harsh for the overall soft and cosy look that we are going for.
We use grey homogenous tiles with subtle swirls for the living area and kitchen since we have an open concept kitchen.
Curtains are in white, of course ;) We have unobstructed view from our living area and no nosy neighbours so we opted for curtains with a little bit of sheerness 'cause sunlight is still very much appreciated!
My ceiling fan is from
Spin Fans
and it is superrrrr pretty!!! I had a hard time searching for a ceiling fan that is
- white in colour
- plain looking
- at least 50" in diameter
- and doesn't come with a light in the centre
So, so glad I chanced upon
Spin Fans
. It comes with a DC motor which helps to save up to 80% electricity by the way! It operates very quietly and comes with 6 fan speed. We set it to the highest speed since our living area is rather spacious, and it is windy enough for the both of us.
If you're wondering, our living area is bright enough if we switch on both the track lights since half the bulbs are facing opposite directions.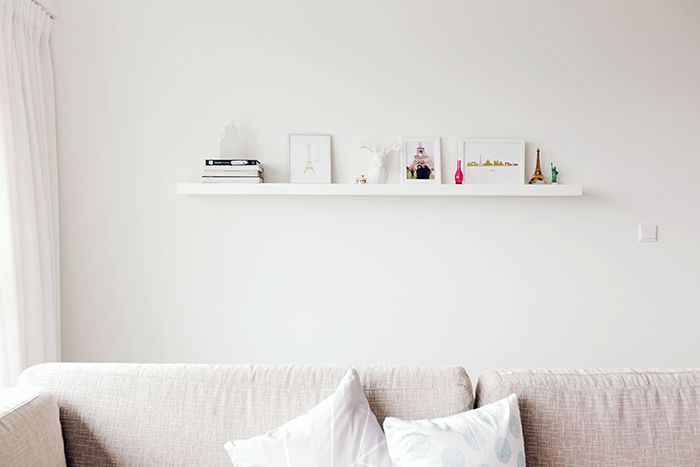 The mantelpiece is almost like my Paris altar lol <3
Our view from the couch looks like this:
Yup, the photo frame is left on the floor because the frame is in black...and I'm still not sure if I wanna hang it up and where exactly to hang haha.
The shelf and clock are from
HomesToLife
! I recently replaced the plant with a terrarium (see previous photo) as that's more suitable for indoors, and it requires almost no care.
This wall is directly opposite the kitchen/island.
The sideboard was custom-made and the colour of the light wood matches our shoe cabinet.
The lamp on the left is purely for display purpose because I ordered it from Taobao and realised how useless it is after I switched it on. I can't tilt the lampshade any higher so it doesn't brighten the house in any way so ahhh, I just left it there to look pretty. At least it's contributing in another way hahaha.
My cute teardrop vase in pink is also from
HomesToLife
and the wall flowers are from Francfranc!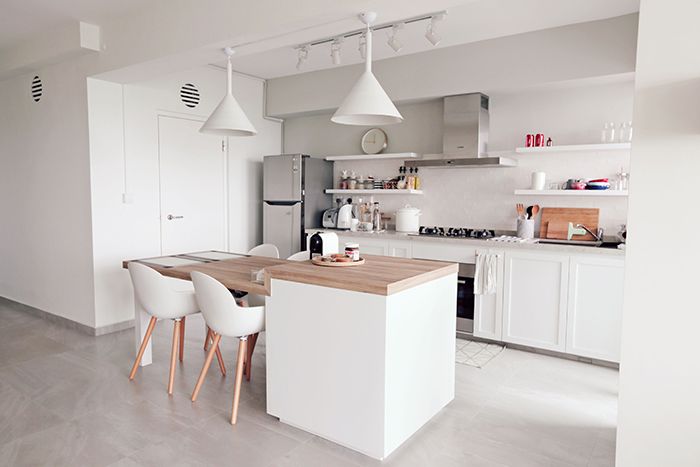 The kitchen is still a little bare 'cause to be honest, we only cook a maximum of 3 times a week...which isn't very frequent. Besides, there's only 2 of us, I don't see the need to have a crazy amount of cutleries/kitchen accessories. What we have currently is really sufficient to survive!
Moving on to our bedroom...
We used this (not too dirty looking) white vinyl to fit the theme. It adds a little more character and texture to the overall clean concept.
For our bedroom, we chose to have day and night curtains (with approximately 80% blackout effect). The ladder is purely for hanging towels haha and I got it from Taobao as well. Our bed frame is custom-made. Maybe I didn't look hard enough but simplicity (when it comes to interior design) seems to be dead in Singapore. Our bed (frame + mattress) is the most expensive item in the house so I intend to use them foreverrrrrr. I better like the design forevaaaa too 'cause I'll upholster the frame when we move lol.
Also, please ignore the un-glam state of my nightstand. Don't ask me why I have so many bottles of moisturiser hahaha. Most nights, I use 3-4 different types of lotion (for whitening, Bio-Oil, hand cream and fragrance free body cream), taking longer and longer to prep for bed each night lol. #mad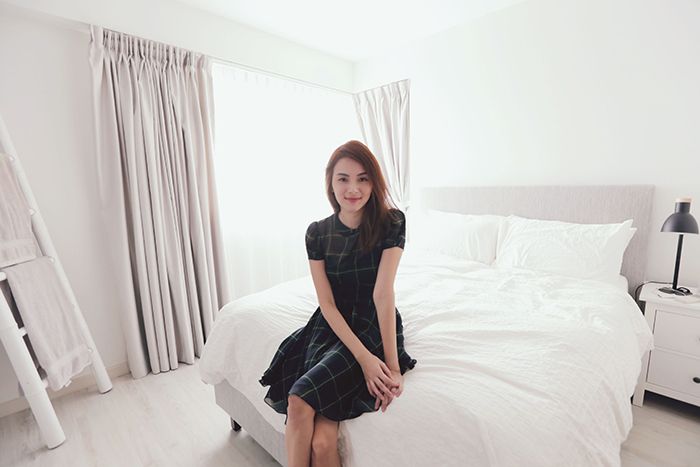 Favourite pillow cases!!
And opposite the bed, this is what it looks like:
Our standing fan is from
Dyson
and there are 10 fan speeds! I love the blade-less design.
Our feature wall facing the bed. Previously shared about the
Nippon Paint
we used in
this entry
. I talked a little awkward in this video I did with Nippon Paint but you can find out the exact colours I used for my Momento walls
here
.
There is a little corner beside the bathroom which was the perfect spot for my dresser. The standing lamp is from
HomesToLife
, laundry bag from Stockholm, stool from Hipvan, dresser was custom made and mirror from IKEA.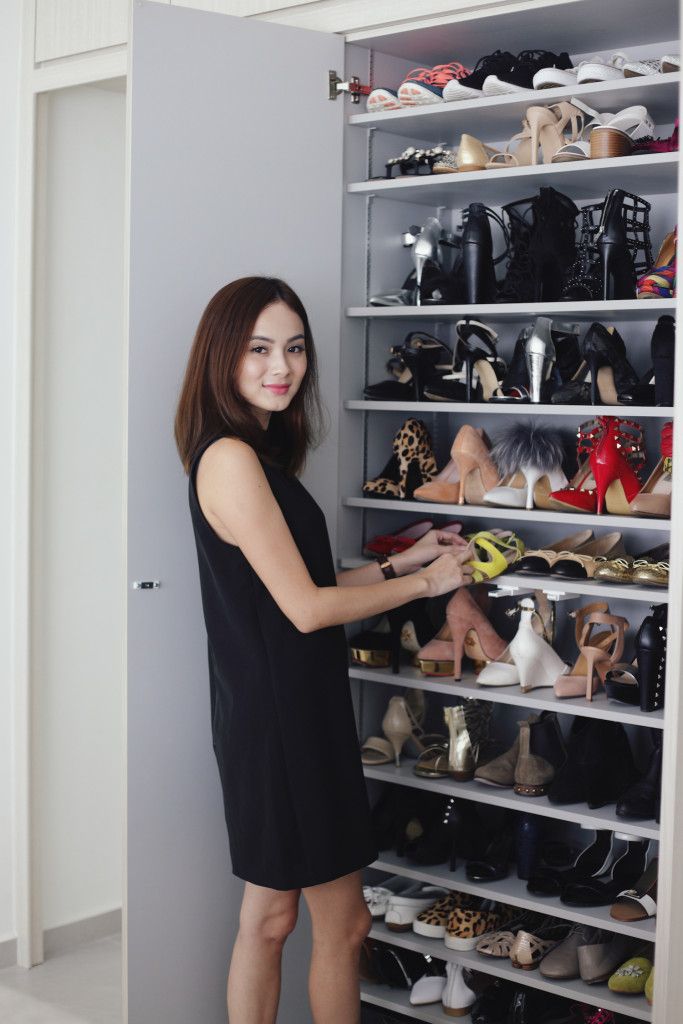 Our shoe wardrobe. And there's the entrance to our wardrobe on the left.
If you're wondering why you don't see any men's shoes, *ahem* that's because H's shoes are on the bottom 2 shelves which are not pictured, AND he has his own shoe cabinet at the entrance. #defensive hahaha
My shoes are arranged according to height 'cause each latch is adjustable. Also, if you put your shoes one side facing in and the other facing out, you'd be able to squeeze in more shoes in each row!
Contrary to popular belief, I did not just leave a small corner space for H to house his clothes. He occupies quite a significant area which
he cannot even fill up
. #verydefensive hahaha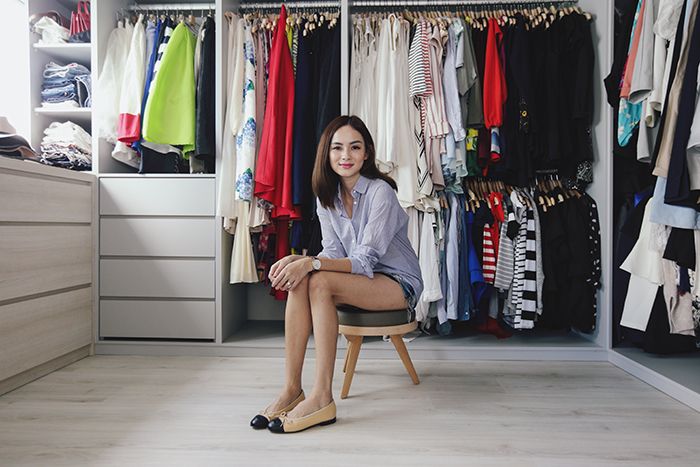 We have roman blinds for the wardrobe (white) and guest room (dark grey). Our wardrobe was built from scratch and yay to having lots of storage! The cute stool I'm sitting on is from
HomesToLife
as well. Sometimes when I'm packing the wardrobe or using the full-length mirror, I prefer to sit down haha.
Pictures by Vivien Tan for Scene.sg, and me (the uglier looking ones lol).