Sponsored Post
Introducing the NEW Biore Aqua Rich Whitening Cream SPF 50+ PA++


(What the women in my household use)
If you have been following my blog long enough, you would know that I'm a big fan of Biore's products! I have been using their facial foams ever since my mum told me I need to use facial foams. It has been at least a good ten years for me, and for my parents, definitely much longer!
Biore is the number 1 sunscreen brand in Japan
*
and the number 1 brand in MY household ;)
Biore is also my trusted sunscreen brand. Till date, I have probably tried
ALL
their different range of sunscreens with SPF50, PA+++, and I'm not even exaggerating! I have used sunscreens from other brands before but after a couple of uses, I just didn't find them compatible with my skin. Either they weren't fully absorbed into my skin and I looked like I dipped my face into a pot of oil or it didn't contain any moisturising ingredients, was too drying for my skin which made my face peel. So I always, always go back to Biore's. Talk about being a loyal customer!
Biore has recently launched a new sunscreen with
WHITENING
effect!!
*drumrolls...*
You know, I can be the skin whitening ambassador or something. To stay fair, I always wear a pair of sunglasses when I'm out under the glaring sun and to be honest, I always try to go out only in the evening (sunscreen is a
MUST
be it on cloudy days or in the evenings - I never, ever leave home without applying sunscreen!). Even if I am out in the day, I will stay in sheltered areas. In the aircraft, I will put down all the window shades because being 30,000 feet above ground, we are even closer to the sun and more susceptible to the harmful UV rays! I try to avoid window seats whenever I'm travelling too haha.
Protect and Whiten with the the NEW Biore Aqua Rich Whitening Cream SPF 50+ PA+++
The new Biore Aqua Rich Whitening Cream SPF 50+ PA+++
contains naturally derived extract - chamomile ET which helps to fight dark spots
and helps to give a fairer and more even toned skin.
It also has hyaluronic acid and citrus extract ingredients to hydrate and soften the skin
so I don't have to worry about my skin peeling due to dryness!
This sunscreen also double up as a makeup base!
High SPF yet surprisingly light, it feels like nothing on the skin
Now, let me show you the difference between Biore's and XX Brand's sunscreens.
Here's my clean, bare face.
Please ignore my unruly eyebrows,
I'm STILL growing them all out
before going to the eyebrow therapist to get even, straight brows.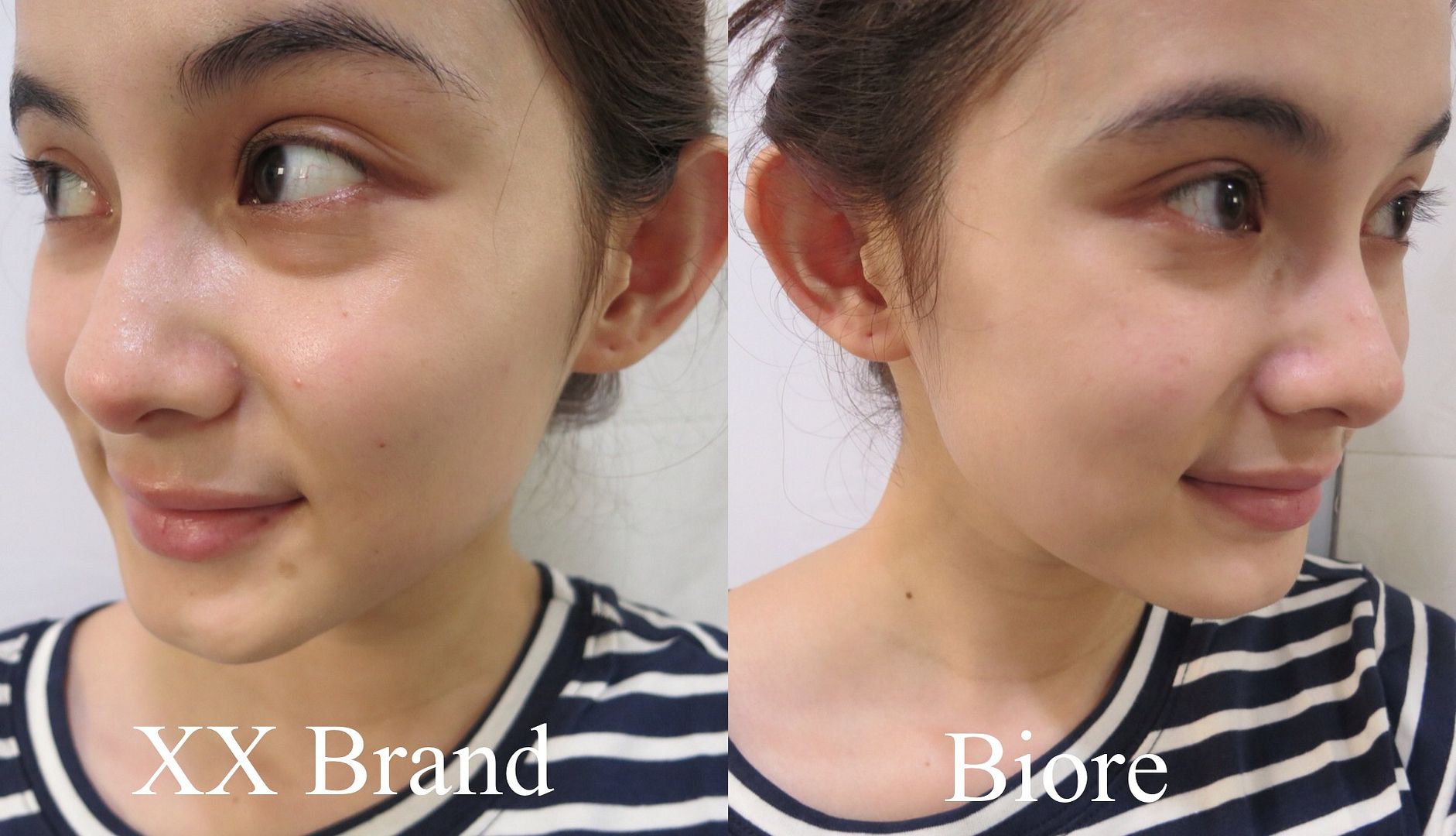 Here's after applying XX Brand sunscreen on my left profile
and Biore's Aqua Rich Whitening Cream on the right side of my face.
Need I say more??!??!?!
See how there's an obvious oily sheen after a layer of XX Brand's sunscreen?
Whereas my right profile after applying Biore's is totally MATTE
and the texture felt very light, like I applied nothing!
It also brightens up my skin and gives it a healthier glow!
If you still don't believe me, see it on my hand.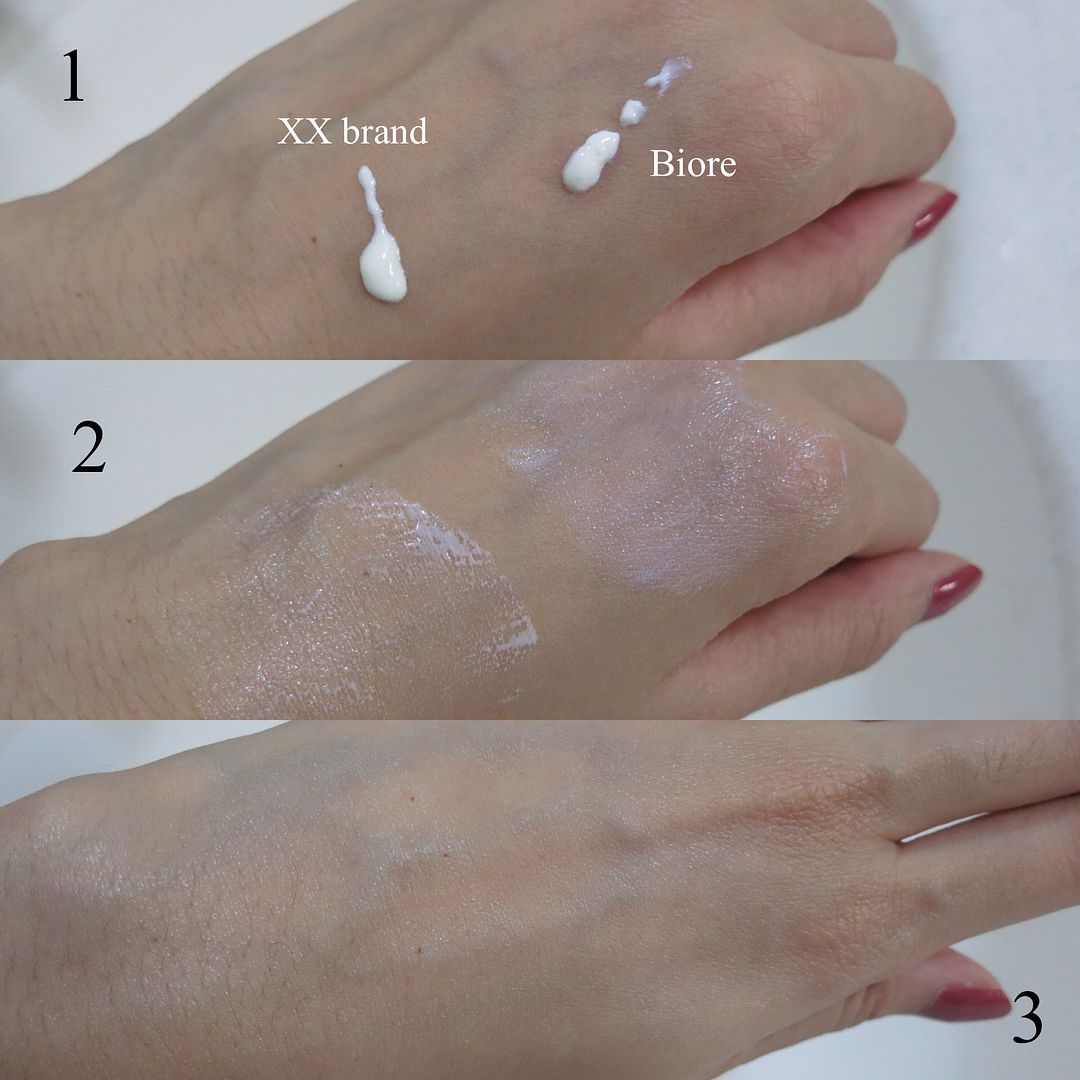 In picture no.2, XX Brand appears to have a more watery texture
whereas Biore's looks a little thick.
Surprisingly, Biore's sunscreen got absorbed into my skin very quickly,
leaving no residue behind!
Other sunscreens with SPF 50 which I had previously tried had a thick texture
that didn't spread well and left my skin oily.
But the Biore Aqua Rich Whitening Cream sunscreen has a watery rich texture
that leaves an invisible, weightless finish which is so pleasant to the skin!
This 3-in-1 (makeup base, whitens, sunscreen) is available in all major pharmacies
and super/hypermarkets at $18.90.

You can also view the TV commercial
of the NEW Biore Aqua Rich Whitening Cream from below:

p/s: do remember to apply sunscreen on your neck and ear tips to protect against the sun!
*Source: INTAGE SRI Research on sunscreen product in sales unit/Jan-Dec'12