We can no longer neglect our nails by leaving them bare. I remember reading that your nail design actually speaks volumes about you and your personality! Just like clothes you don on, one can tell if you're casual, classy, adventurous, dainty, fashion forward or punk rock. It's the same with nails!
Which are your favourites?
I love all!
So bright and cheery!
Evelyn (the professional manicurist) was dishing out tips and advices
on how to paint our nails and even taught us some simple nail art designs
we can DIY at home!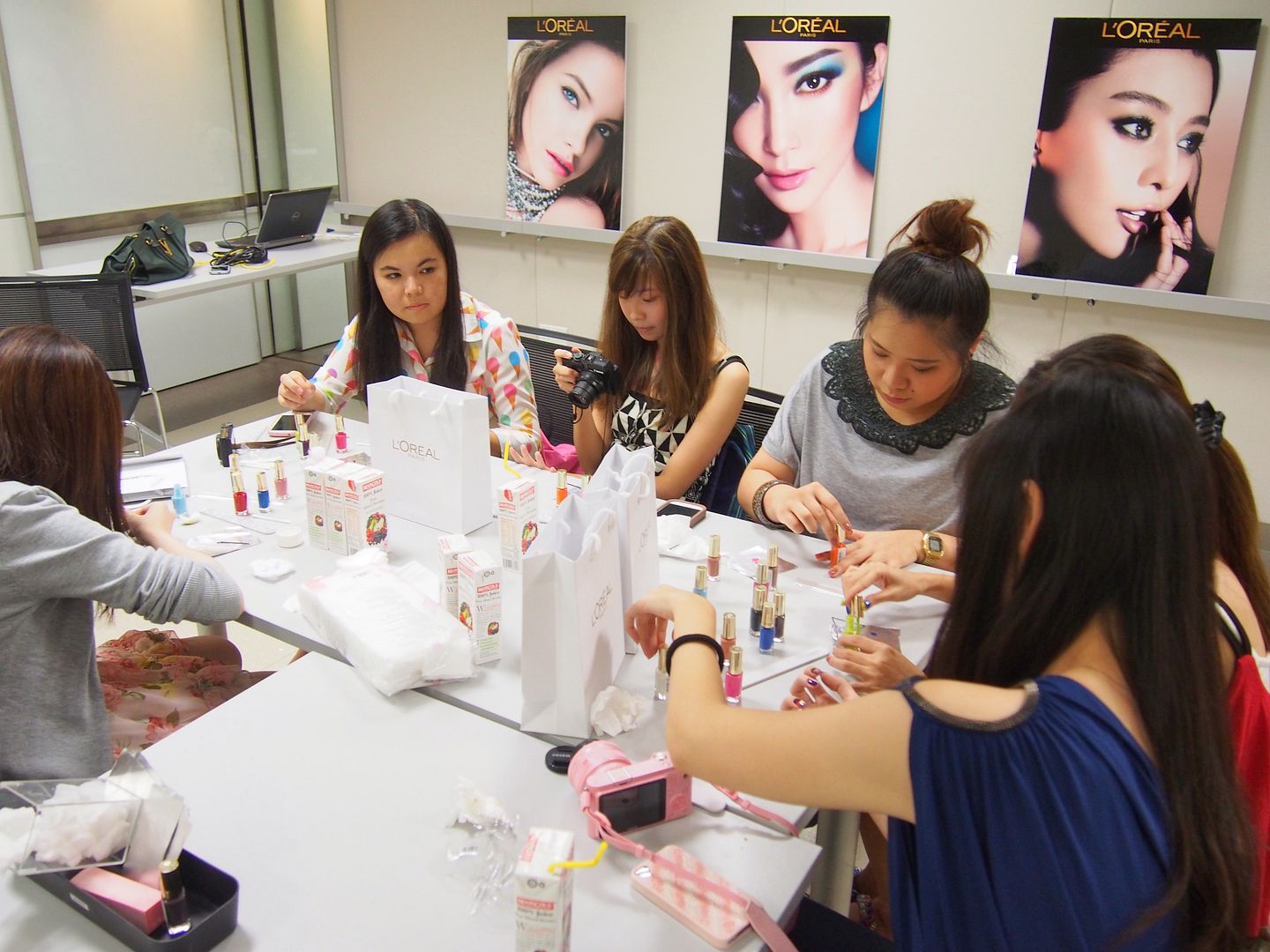 After the demonstration, everyone started painting creatively!
Evelyn used my last 3 nails on each hand for the demonstration
and then it was my turn to show off my excellent painting skills haha
Work in progress.
which makes application smooth and so much easier!
Moreover, we can make use of the round-tip brush to do some fairly easy design as seen above!
Saves us the hassle of applying a layer of topcoat yet our finished product is equally glossy :D
Strawberries drawn by my seating partner!
With the other bloggers at the workshop:
And one with Peter Angel (founder of School of Make Up) and Joelle (from L'oreal)
Other than sharing beauty related tips and tricks on my blog,
where different makeup topics are created monthly.
It's basically a one-stop site where you get to view how-to videos,
step-by-step guides and makeup secrets shared by myself and Valerie from Dweam,
as well as makeup guru Larry Yeo and other beauty experts.
Plus, share your beauty concerns and the makeup experts will answer your questions!
This month, it's all about Les-Petite Dresses for your nails!
With the goodies I bagged home from the workshop,
I decided to give my nails a makeover the next day!
I love colourblocking so I chose a bright colour (colour 622) as the base to contrast my outfits!
And... I settled on a simple design of daisies.
Since I don't own the tools of a professional manicurist,
I learnt from the workshop that I can use anything I find at home to do the dotting.
Some examples include toothpick, bobby pin, or even a pen (make sure there's no ink though)!
I used a U-pin which I pinned my bun with during SQ days.
(Colours 208 and 005)
Have a couple of drops of the nail varnish
on a piece of aluminum foil and you can start dotting away!
The end result!
How do you think I fared? ;)
It's now YOUR turn!
Show us your lovely nail art and stand a chance to win a
Personal Advanced Makeup and Grooming course by The School of Makeup worth $500
and the lucky voter gets to win a Personal Makeup course worth $280!