For my first entry on my Hokkaido trip, please click
here
.
Soooo, after Lake Toya, our next destination was to Furano for the lavender farm! We had given up at this point and took cabs everywhere we went .____. There was no free shuttle from the hotel to the train station (but there is one to Sapporo) and to save all that hassle, we took a cab JUST so we can make it in time for the train to Furano. If we missed that, it's gonna be a few hours' wait .____.
One last shot of the serene Lake Toya before we left.
By the way, the tatami styled bed was very comfortable!
What the view outside of the train looked like most of the journey.
#OOTD while on transit at Takikawa Station
We stayed at the New Furano Hotel which was quite a distance away from the train station.
Not that we had a choice because most hotels were fully booked during that season.
If you ever visit this little town, I highly recommend the Natalux Hotel.
It is situated right in front of the train station and very accessible to eateries and the likes.
Best for travellers who are not intending to drive in Hokkaido.
And the exterior looks very new and nice!
I guess it's probably the nicest hotel in Furano.
No shelter in sight and may I add, it was SCORCHING HOT.
"Best milk ice-cream"
H had in a small Royce cafe.
Perfect for the weather.
So we rented a bike and explored this little town on wheels
Settled dinner at a little ramen joint
Hokkaido's famous for miso ramen so I had that!
H's ramen with a generous serving of seafood and it was good!
Then we took a longggggggggggggggggggggg
and slow walk back to our hotel.
Because there was no more bus.
Our dinner was digested by the time we reached the room.
Thankfully it was chilly after the sun set!
Next morning!!!
We woke up full of hope and excitement to visit Farm Tomita!!!
BUT OF COURSE
THINGS WEREN'T GONNA GO SMOOTHLY.
We took the 8:xx am bus (which came late)
which was supposed to take us direct to Farm Tomita.
But the driver said it doesn't.
We checked the bus schedule, checked with the tourist information
and everything was correct but the driver insisted that he wasn't going to the farm .____.
So we took a cab.
The taxi driver was the same lady who sent us to our hotel the day before.
She very kindly fed us with information about Furano
and pointed out places of interest as we travelled along.
It took us around 10 minutes to reach the farm?
Not too far!
FINALLY!
(love the lilac scooter!)
The colours were the most vibrant I've seen.
The blue carpet above us paired with the beautiful greens,
and field after field of purple lavender with the mountains as backdrop.
The smell was divine!
This was the highlight of our trip and it was so worth it.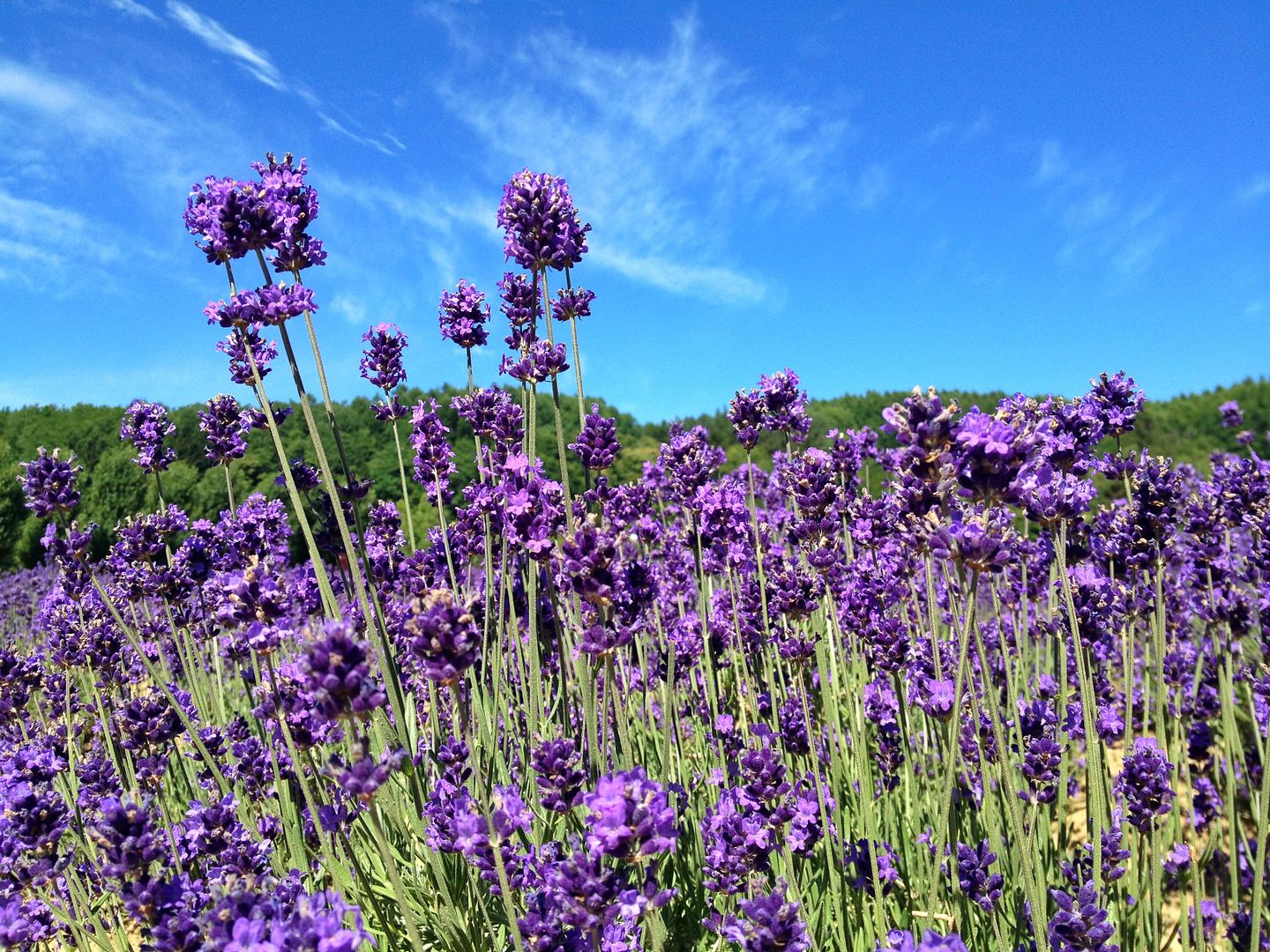 I don't know how H managed to open his eyes.
He looks normal in all the pictures!
Farm Tomita doesn't grow sunflowers so we walked over to Choei Lavender Farm just for it!
This is actually a popular ski ground during winter
and the cable lifts are also in use during summer to bring visitors to the top of the farm.
When winter comes, snow can pile as thick as 3m high
and the flowers are kept warm underneath all that snow!
I would love to see a white Hokkaido someday.
The Norokko train!
We got a certificate for just being on it!