Yesterday was the 1st of March which translates to 1.3.14 so I assumed every hotel's ballroom and restaurants were booked for weddings because my Instagram and Facebook feeds were flooding with friends attending friends' weddings. I also attended a wedding luncheon!
Charlott and Andrew's cosy wedding was held at Flutes at National Museum of Singapore and the restaurant was so pretty! I have always loved those western style table set-up but with H being a Chinese, it's not really possible for us to serve a 4-course meal without all the Chinese delicacies. Another plus point for the western style wedding is the fact that there are lesser courses so guests can actually interact and take their time to finish each course without the server dumping the next course on the lazy Susan already. I saw Charlott hopping from table to table entertaining/checking on her guests and taking pictures after she finished each course and it was just so sweet! During a Chinese banquet, you are considered lucky if you even get a sentence or two with the married couple when they go round the ballroom for photo-taking.
I arrived a little late so everyone already started with their first course - Cream of Mushroom with Truffle Oil. Forgot to take a picture but it was pretty yums!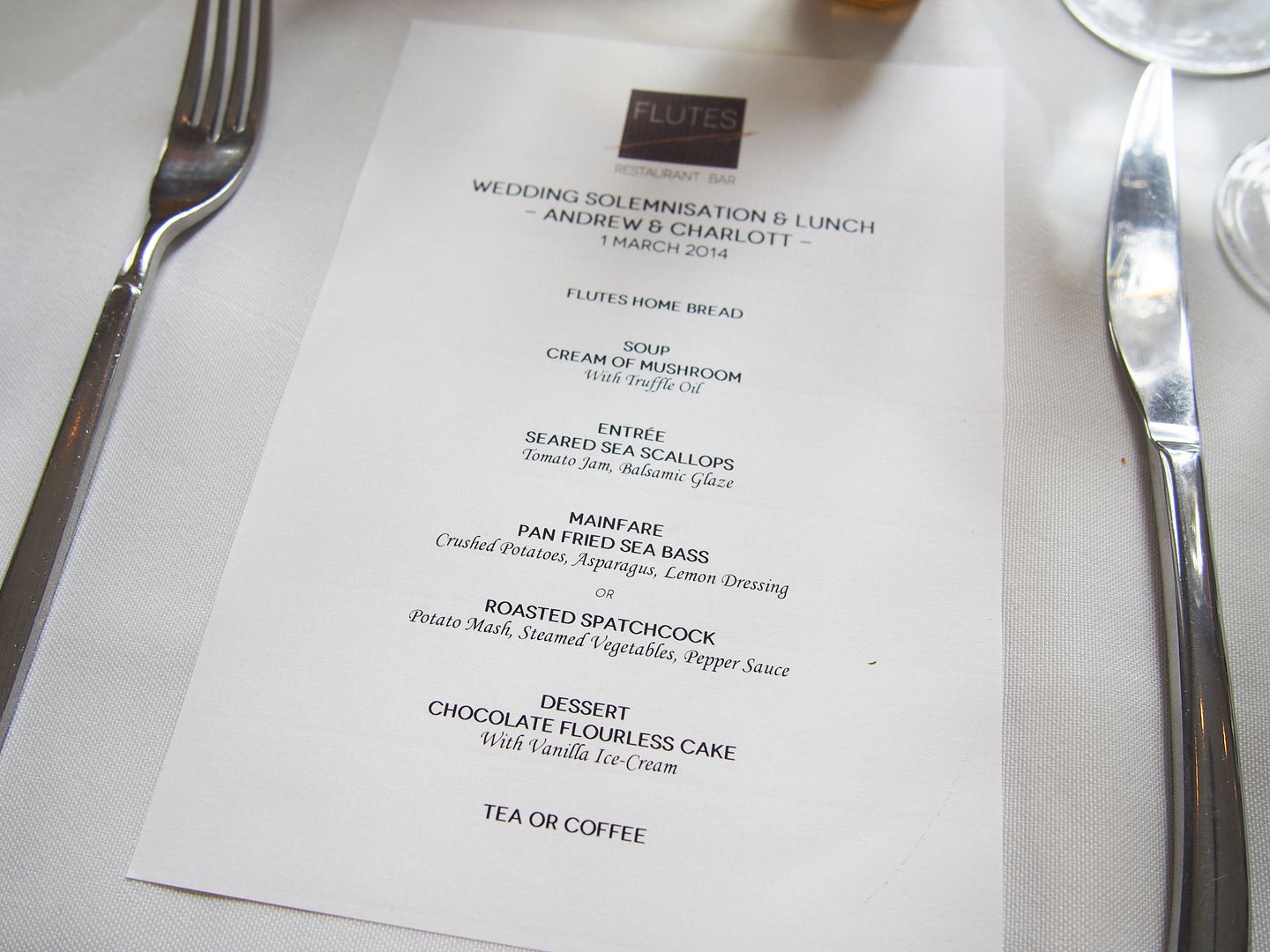 What's on the menu...I love all the choices!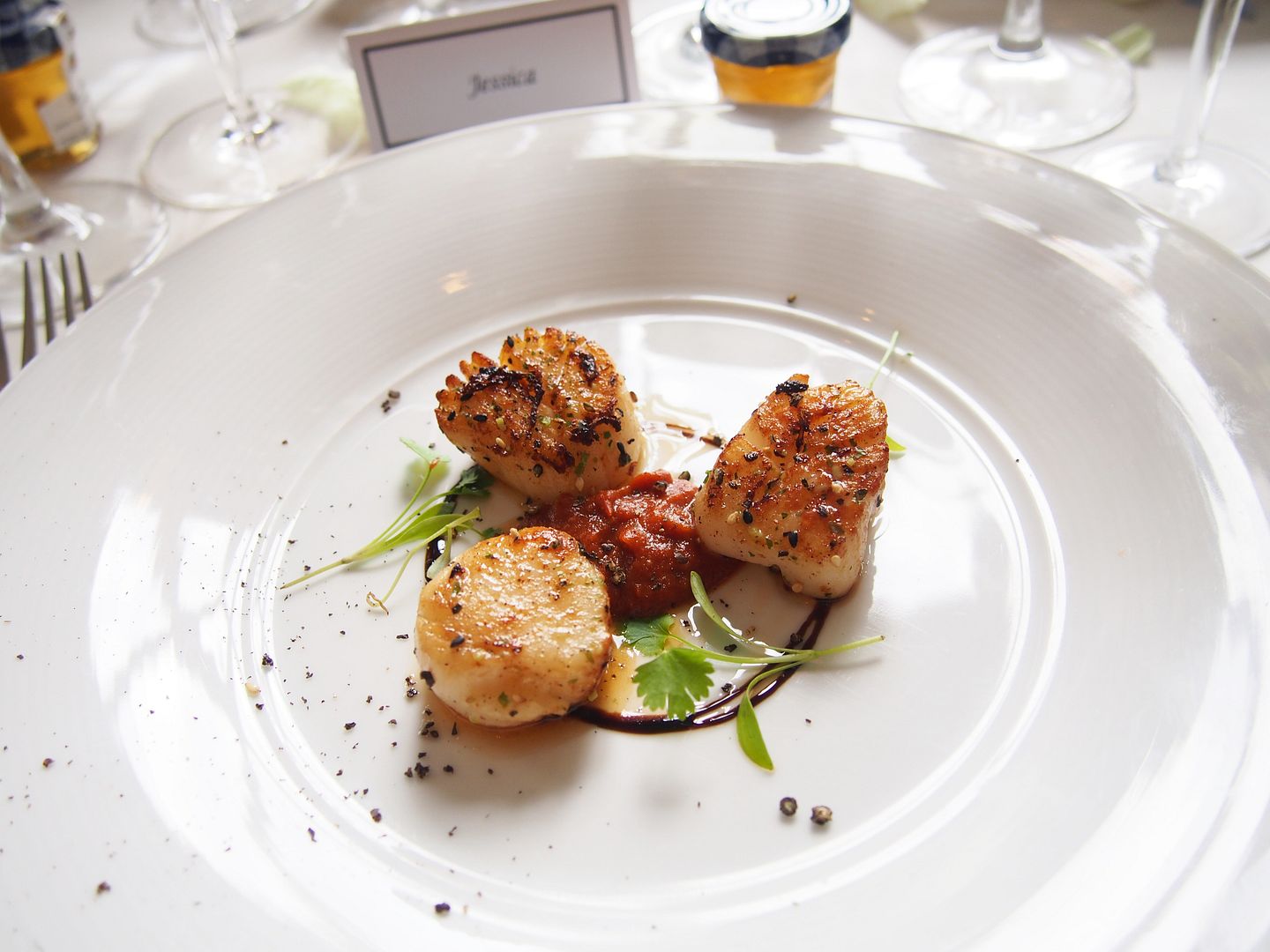 !!!!
Scallops are my FAVOURITE and this dish didn't disappoint.
In fact, it was probably the best course!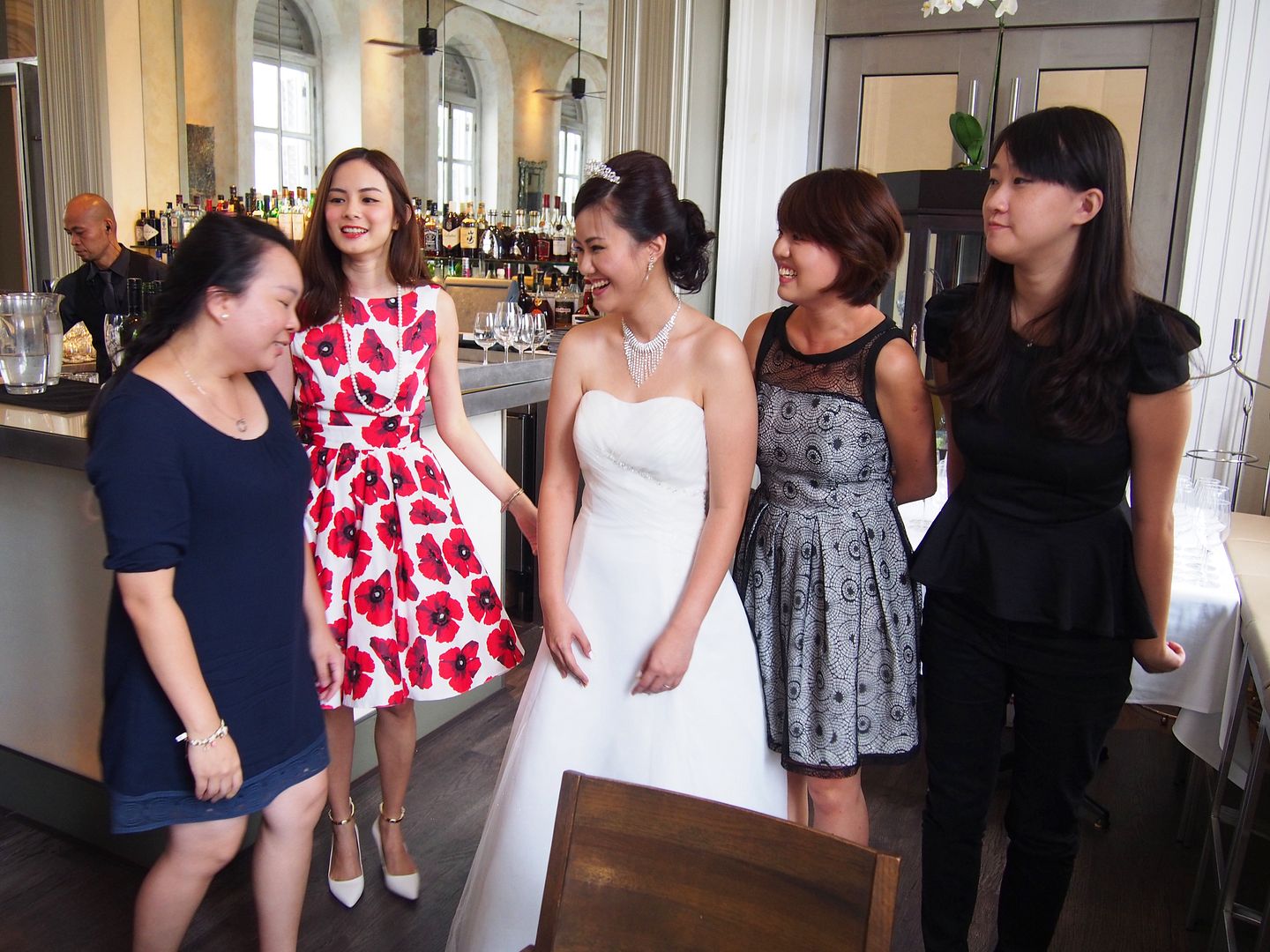 I had the sea bass for main and it was wayyyy overcooked.
Nobody liked it, not even the bride herself.
The dessert was okay but not memorable.
But overall, I would say the food was not too bad!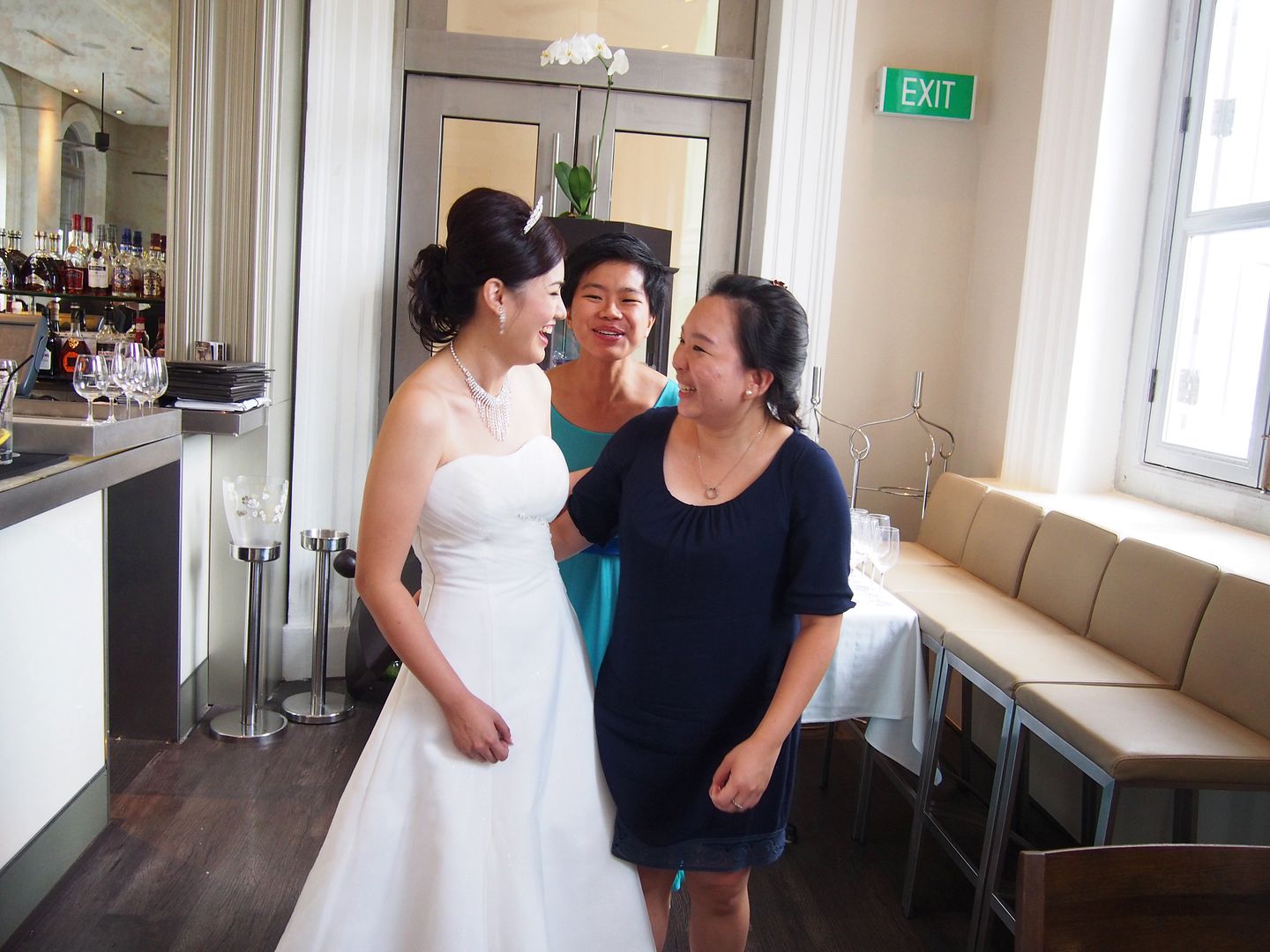 Love this candid photo :)
Charlott and I were in the same class and CCA for 4 years in secondary school
and I am honestly so, so, so happy and a little emotional that she's found her "The One"
who will be by her side for the rest of her life. :''')
We were silly young geeks on the first day of school and Charlott was spotting bangs above eyebrows
with a mid-ponytail + glasses and skirt to her knee for at least a good 1-2 years.
Her skirt went reallyyyy short after a few months if I remember right hahaha.
And she started wearing contact lenses in secondary 3 to reveal her pretty looks!
Oh yes, we also went through lots of restrictions and curfews imposed on her, with her.
Congrats on your freedom and I am so glad we are still friends! :)
The man beside me is Charlott's dad who doesn't look like he has aged a day
since the last time I saw him when I was still *ahem* below 20.
I need to know his secret.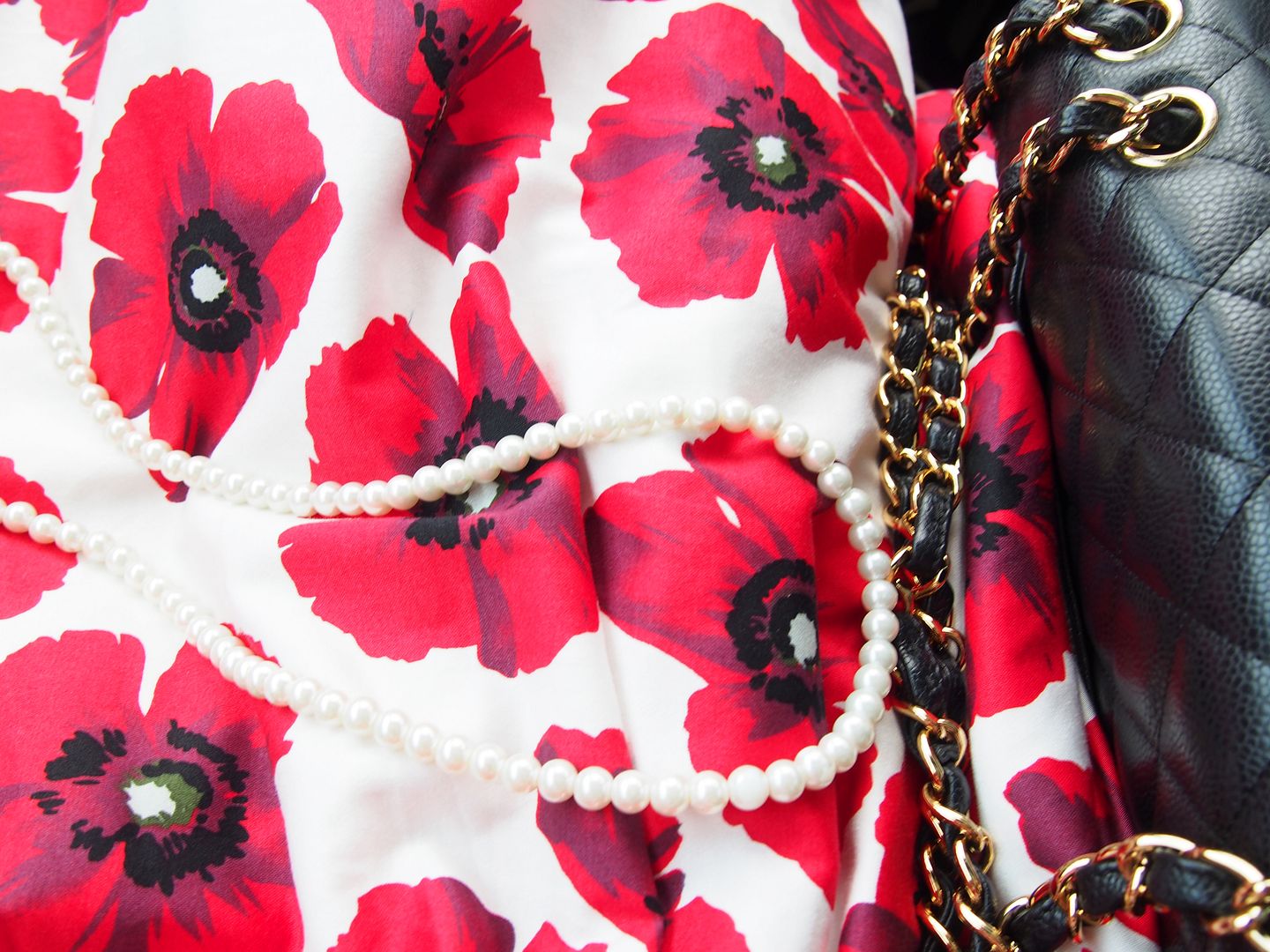 Ending this post with my #ootd details.
I love wearing my classic pieces for daytime weddings.