You know how some things are just better together? For example, mac and cheese, bread and nutella, palazzo pants matched with pointy heels, black/white outfit with a Chanel bag... H is like the better other half of me. I am quick-tempered while he is calm and logical. When I can't finish my food, I can count on him to wipe both our plates clean. While he is muddleheaded, I'll be the one to talk some sense into him. He is like the chilli to my food, the smile to my face and the charger to my phone.
And more recently, the photographer to my photos.
H and I are the Perfect Duo. We may be (very) independent individuals but together, we produce better results and an amazing experience.
A lot of people (friends included) are very surprised when they find out that H is actually the man behind my OOTDs. I guess they had no idea that H has an interest in taking pictures since his line of work is nowhere near the creative side. I don't know how it happened but one day, I got H to snap a couple of photos for me, stopped my mirror shots and never looked back.
He likes to take pictures while I like dressing up. My "job" requires my outfits to be taken on an almost daily basis. I could use a tripod or hire a photographer to help me with the pictures but I wouldn't be able to express myself freely without the chemistry and a tripod wouldn't know my angles.
Ever since H has become my personal photographer, gone are the troubled days when I have to rely on the tripod or balancing my camera on something risky for my OOTDs. Our Perfect Duo partnership seems to create better than expected results each time, as we thrive to improve our photography and modelling skills.
Sometimes I am amazed by what H can do with the cameras and the above is just a short video to show his unwavering support all these years, indulging me with his time and effort to help me in every way possible and having fun while at it ;) I kinda got inspired to do it after my recent discovery of Estée Lauder's Perfect Duo beauty products - the Micro Essence and Advanced Night Repair. I participated in a Perfect Duo contest on Her World Plus and if you enjoyed our video, please vote for us at
http://campaign.herworldplus.com/esteelauder
. We have some pretty strong contenders there who are all my friends haha so friendly competition ya? 20 voters will get to experience Estée Lauder's Perfect Duo products. Please vote for our video and I wish you the best of luck! You will loveeee the products as much as I do!
H to me is like the milk to my hot chocolate just like how
Estée Lauder's Micro Essence
is to
Advanced Night Repair
.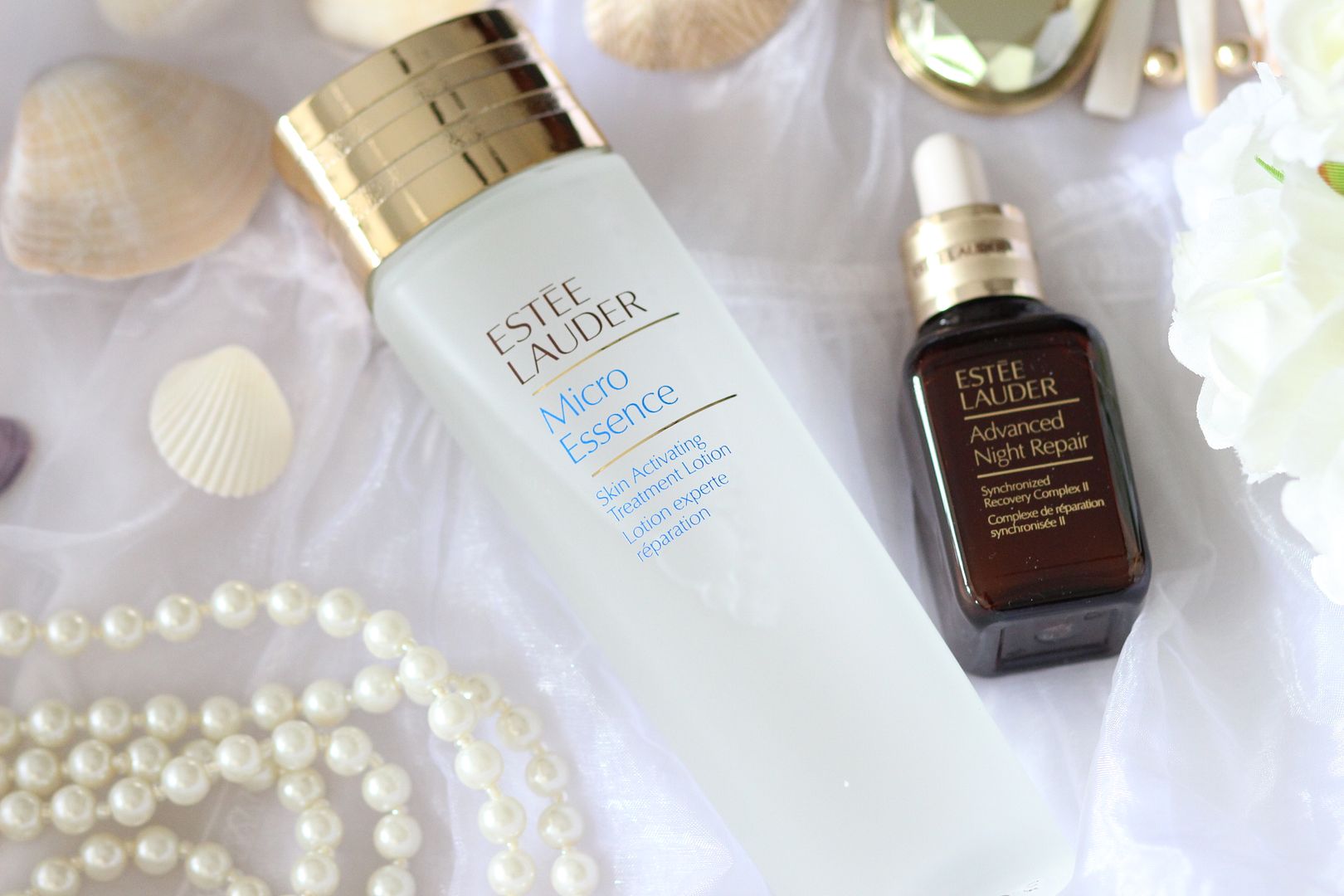 H and I are the Perfect Duo in this place and time but in the skincare world, the
Micro Essence
(
essence-in-lotion
) and
Advanced Night Repair
(
repair serum
) are better together as they deliver exceptional results when used one after another. The complementary formulas create a synergistic repair for your skin, allowing moisture to penetrate into skin faster and deeper. Within 4 weeks, expect to see
a stronger skin foundation as well as additional key visible skin benefits
including
a healthy, beautiful angelic glow.
I have previously shared that there are a lot of micro problems beneath the surface of the skin that we are unable to see with our naked eyes. You have no idea what they are, neither have the problems appeared yet hence prevention is key.
What is amazing about
Micro Essence
is the ability to repair micro damages deep underneath the skin before they turn into future skin problems. Beautiful skin from within is reveal strengthened, hydrated and translucent.
Moreover, Asian women tend to have a thinner moisture barrier than Caucasian women and are therefore more prone to moisture loss, so it is particularly important for Asian women to keep their skin foundation strong from an early age. A woman in her 20s might start using
Micro Essence
alone and then add targeted treatment serums to her regimen as she gets older looks to address more specific skin concerns.
Advanced Night Repair
is a serum that
maximises the power of night repair. This powerful liquid slows down premature aging, reduces the appearance of lines and wrinkles and significantly improves the appearance of skin radiance and evenness of skin tone. Wake up to more beautiful skin every morning and after 4 weeks, look forward to a more youthful appearance and a beautiful, silky texture that is your skin.
To apply the
Micro Essence
, pour about 3cm in diameter onto a cotton pad.
Start from the chin, centre to outward, press and pat gently then work upward to cheeks and forehead.
And here, we have the
Advanced Night Repair
in a very light liquid-gel texture!
It blends in instantly leaving no sticky feel, heavy texture or hair sticking to your face situations - super love!


What with the late nights and stressful week I was going through, I used Micro Essence and Advanced Night Repair daily for a week and the difference was vast. H who is usually nonchalant about how I look actually commented that my complexion looks more radiant, like I have a sorta translucent glow emitting from within. While I feel my skin is a lot calmer, no more itchy red spots appearing in the middle of the day after being exposed to the sun longer than usual. My face is definitely more hydrated and I bidded flaky skin farewell!
The "essence-in-lotion"
Micro Essence
is the ideal first step to prep our skin for the repair serum,
Advanced Night Repair
. By partnering them both, you'll realise the products work hand-in-hand to provide increased moisturisation for your skin as these two breakthrough formulas penetrate skin faster and deeper for even more moisture benefits to strengthen and repair skin.
Wake up to healthy, translucent skin every morning - who doesn't love that?
The Perfect Duo, just like how H and I are ;)