Whenever I'm craving for a good old waffle, one of the first cafes (depending on where I am) that come to mind is
Strangers' Reunion
. I'm sure you are no stranger (haha) to this cafe and even I have gone there on a few occasions ever since its opening many moons ago, either to have brunch or just for the waffles. I leave satisfied after each visit!
Of course, to remain competitive and relevant, I believe a cafe should refresh its menu regularly and retain its bestsellers! Sometime last week, I was invited to Strangers' Reunion for a tasting session of the new offerings on their menu and also to check out
KLARRA
's Spring/Summer 15 Collection! ;)
Before all the fashion talk, let's start with the fooooood!
Ryan, the co-founder of SR is a three-time Singapore Barista Champion so of course Meiting and I, the early birds, had to order a cuppa each. Iced mocha is my go-to drink whenever I need my caffeine fix and the occasional coffee drinker me finished the entire glass because it was sweet and not too strong.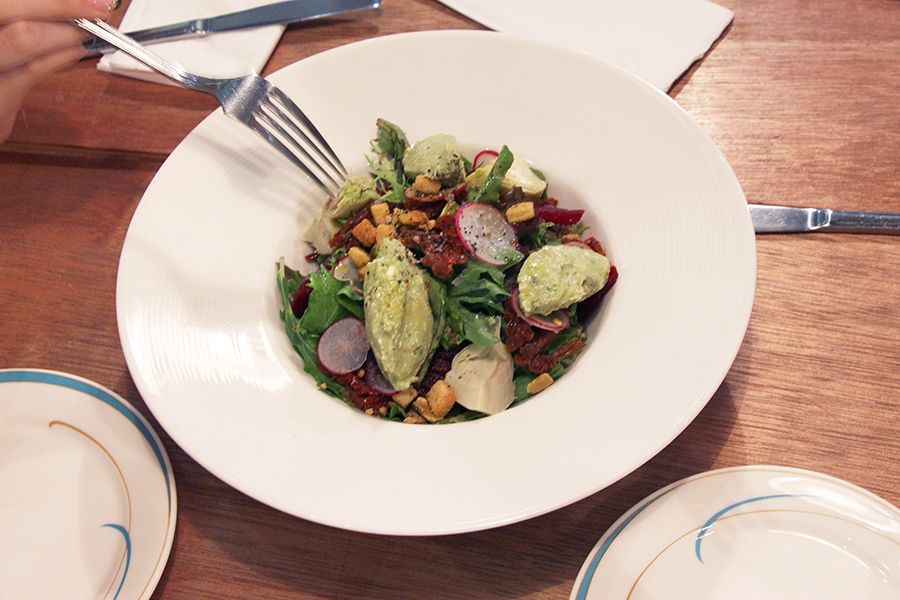 We had a ten-course meal lined up for us that evening and this was one of the starters - Beetroot Salad ($12.90). A colourful combination of taste and textures, I loved everything on the plate except for the artichokes. If you are a fan of seared tuna, do give the Tuna Tataki Niçoise Salad ($15.90) a try.
For the brunch/main courses, we were delighted with lots of eggs! *heart-eye emoticon* I love eggs and SR serves purrrfect poached eggs! The House Smoked Salmon Benedict ($18.90) may sound like yet another typical eggs benny on the menu but wait! The hazelnut béarnaise crafted by chef Daniel Chin was a refreshing change with a tinge of sweetness that doesn't make you feel gelat yet actually complements the dish *surprise surprise*! This dish also comes with feta cheese, walnut crumble, petit salad and sultana bread.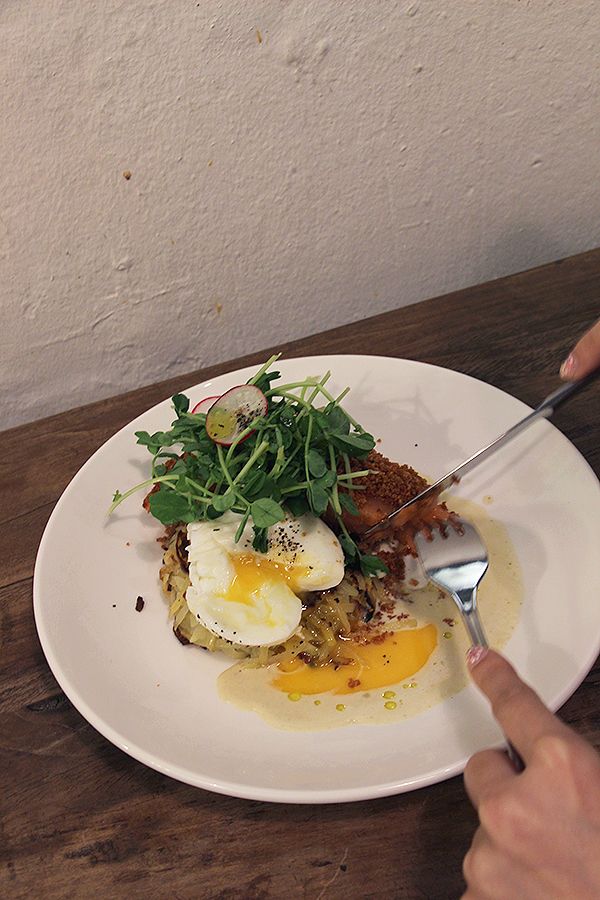 My FAVOURITE plate for the evening has got to be the Ocean Trout on Hash ($21.90). Believe it or not, potatoes are my favourite food on earth. Give it to me plain, fried or hashed, I love them all! And a runny yolk with potato...OMG. Anyway, the star of this dish is the ocean trout (delicious!) and the fried shallots coating on that piece of juicy fish...HMMM. Must order! I cannot forget the taste of the fish and fried shallots together...will definitely go back for this again!! :D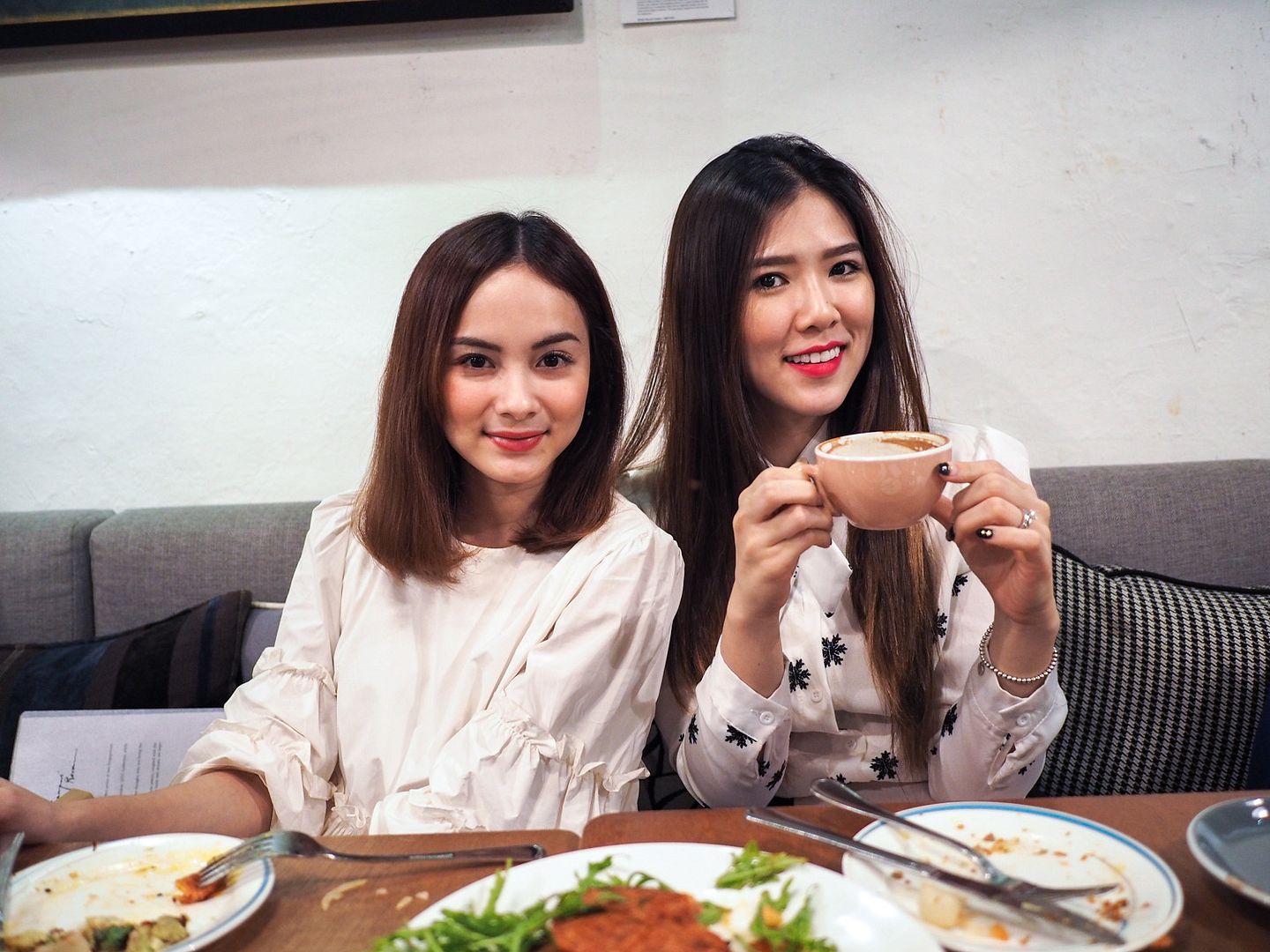 With my sitting partner Meiting
Before we moved on to the exciting part of dinner (desserts, of course!), I ordered the Rose Tea (if I remember right!) to cleanse my palate. I really liked this! Fragrant and flavourful, you don't need any sweetener.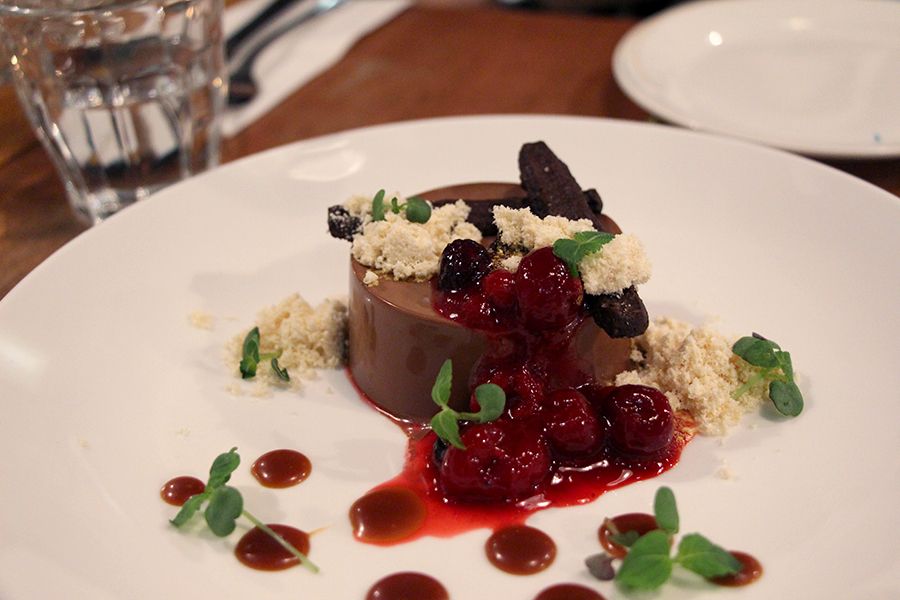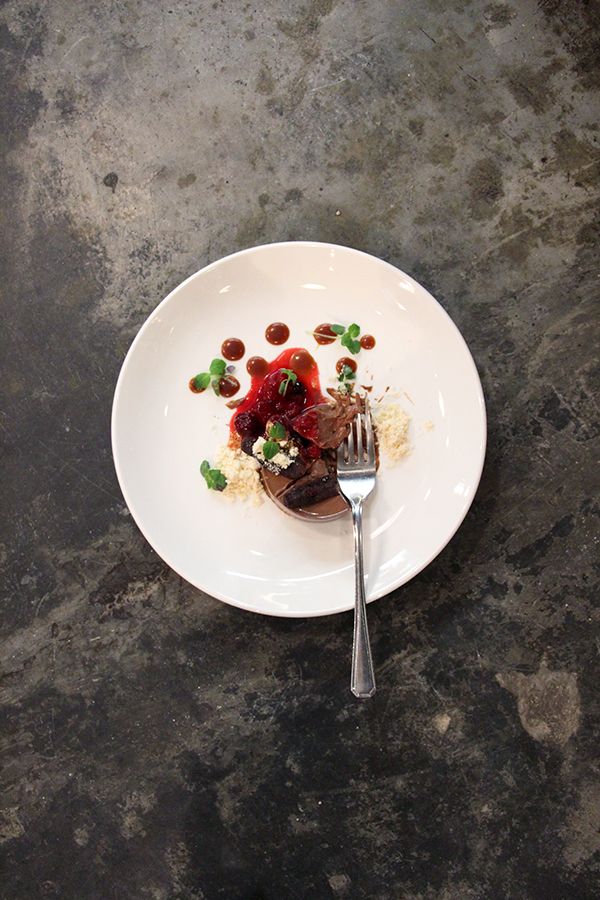 For desserts, first up, we had the Chocolate Panna Cotta ($16.90) drizzled with homemade berry compote. I'm not usually a fan of panna cotta but this one tasted a lot like (dark) chocolate mousse and the texture was so smooth, I couldn't stop myself from finishing it up!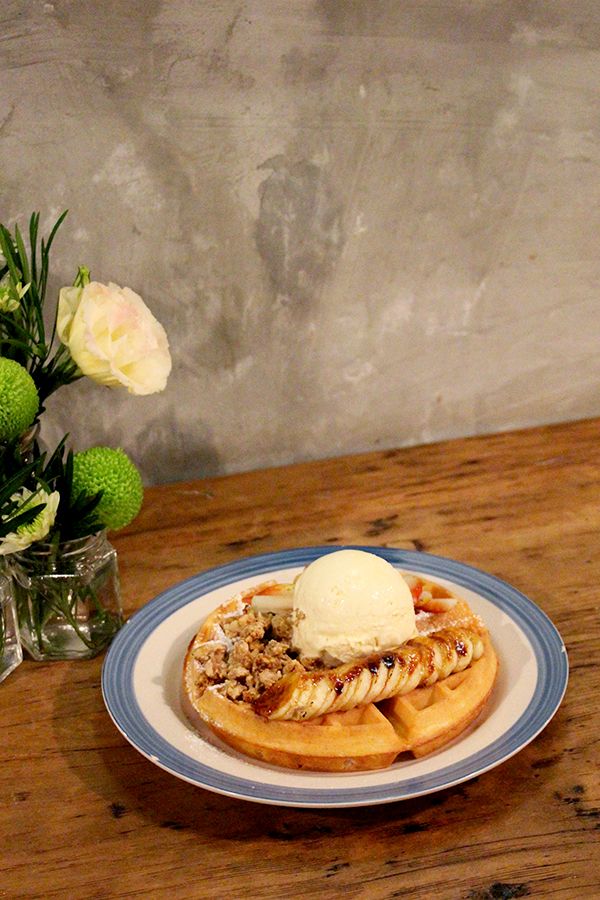 The signature Strangers' Reunion
Buttermilk Waffles
($12.90)! Crispy on the outside, soft and fluffy on the inside, exactly how I like my waffles to be! This is probably the 89th time I've said this - best. vanilla. ice-cream. ever.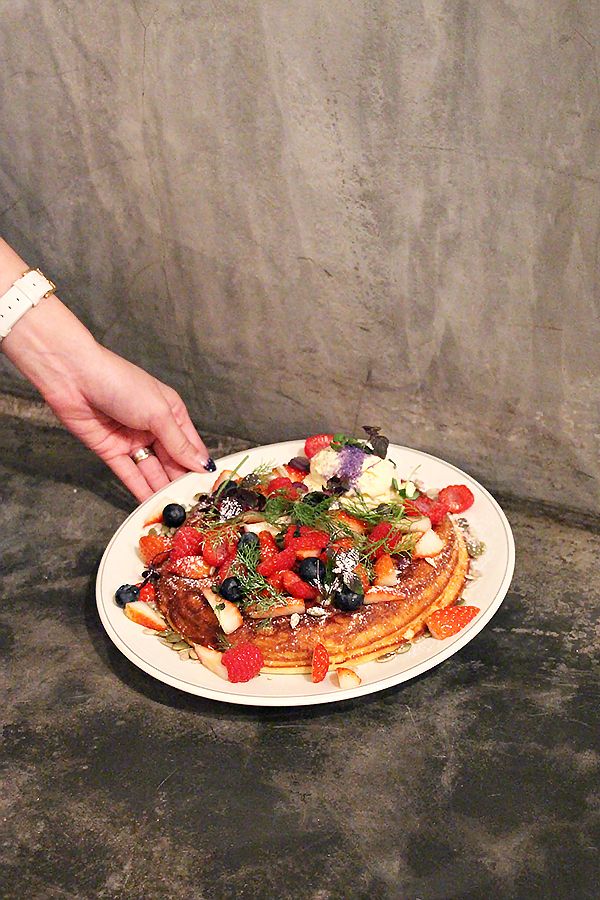 Everyone's favourite dessert for the evening must be the new Berry Ricotta Hotcake ($18.90) and rightfully so!! Beautiful plating, generous serving of berries and the hotcake was served warm, soft and extremely fluffehhh! I cannot emphasise just HOW fluffy the pancake is, you have to try it for yourself to believe! *salivating* Amazingly pretty to look at and soooo yummy to eat, this is the perfect dish to end the meal! HUGE serving alert so do remember to share unless you're having this as a main course! ;)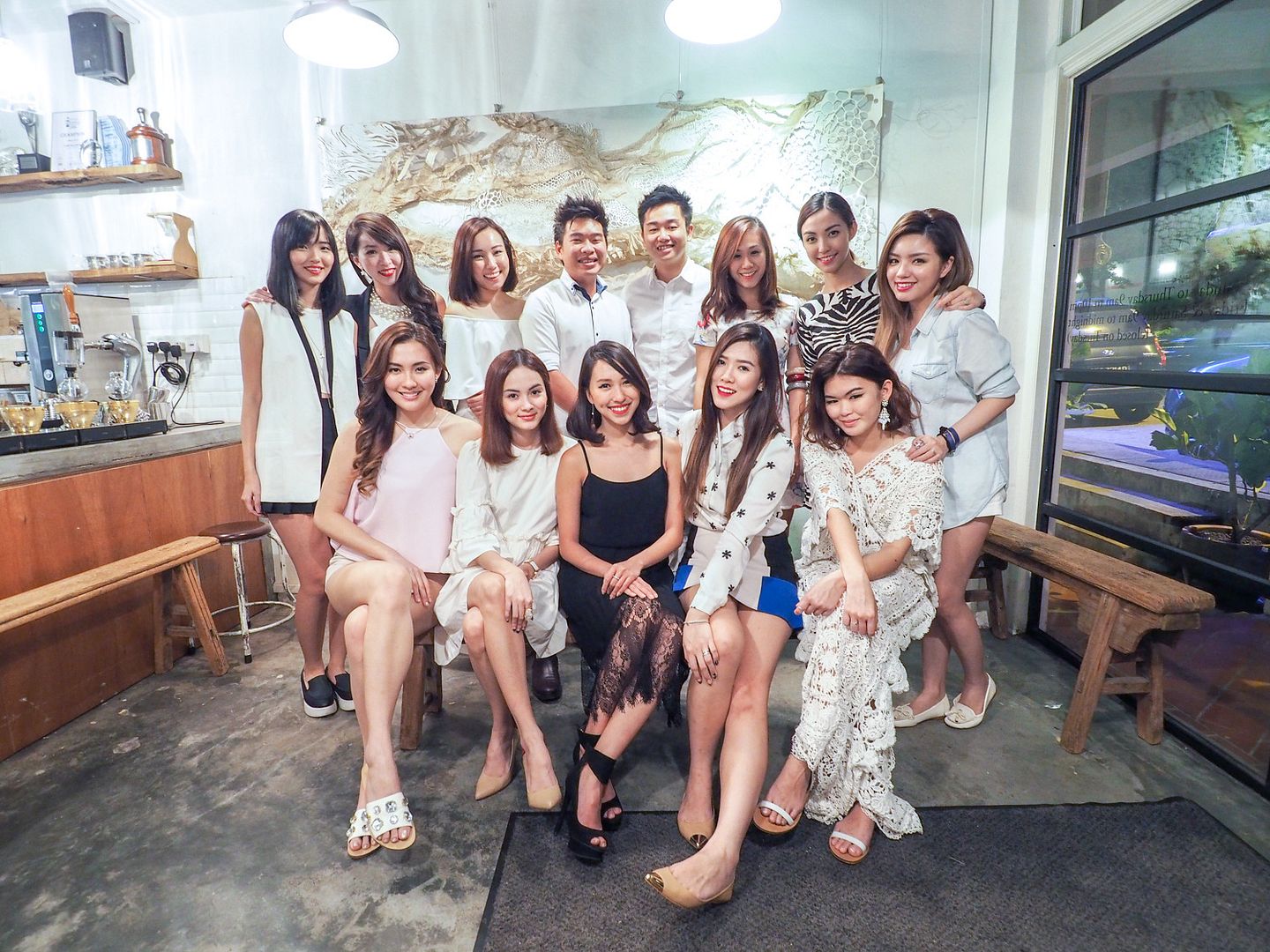 Reunion with my blogger friends and the founders of KLARRA, Beatrice Tan (top row 4th from left) and Strangers Reunion, Ryan Tan (top row 3rd from left) and Mervin Pang (top row 5th from left)! All very aspiring individuals and Ryan is a three-time Singapore Barista Champion! So you HAVE to drop by for a cuppa coffee! ;)
Both Food and Fashion are dear to one's heart, so over at Strangers' Reunion, expect the best of both worlds where you get to enjoy the meticulously curated menu that caters to everyone's taste and senses and at the time time, shop
KLARRA
's new concept apparel of timeless classic pieces.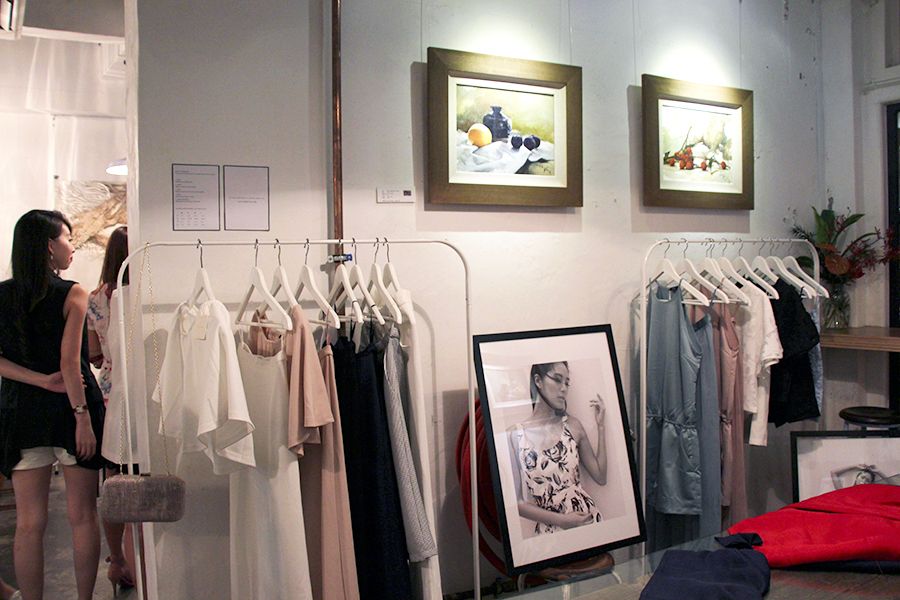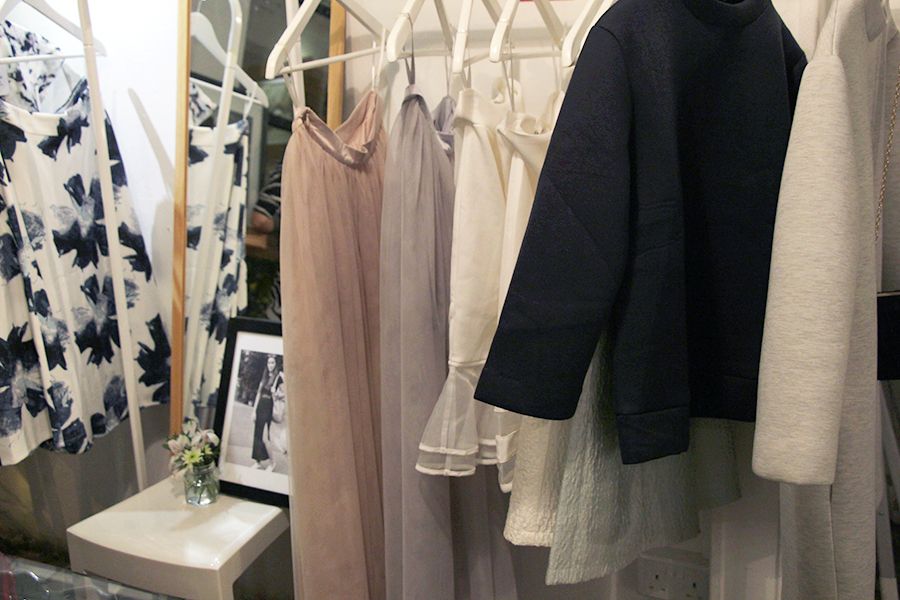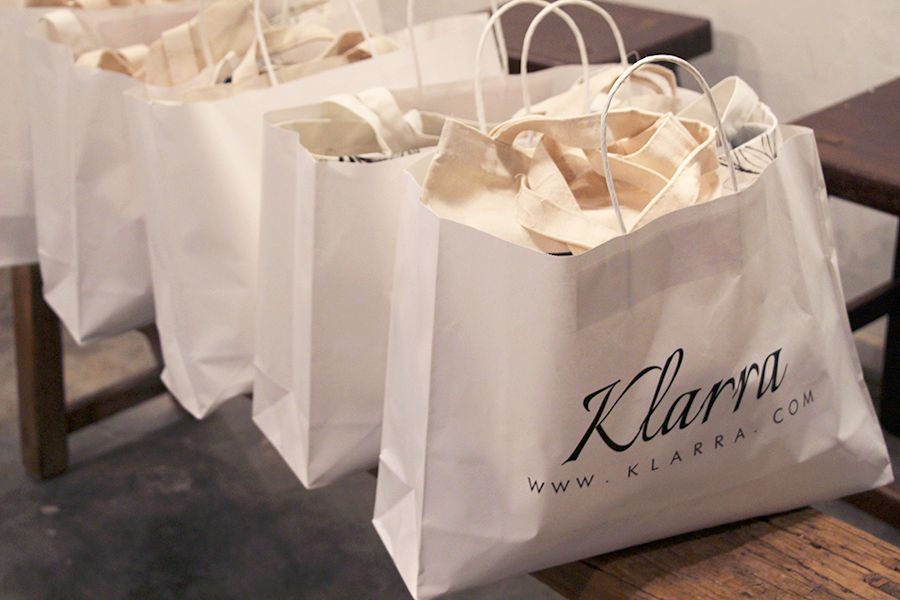 I am a huge fan of KLARRA especially so when Beatrice (Founder of the fashion label) is elegant and feminine with an amazing sense of style that is timeless, classic yet modern with a dash of occasional feminine. Something I hope to achieve through my dressing!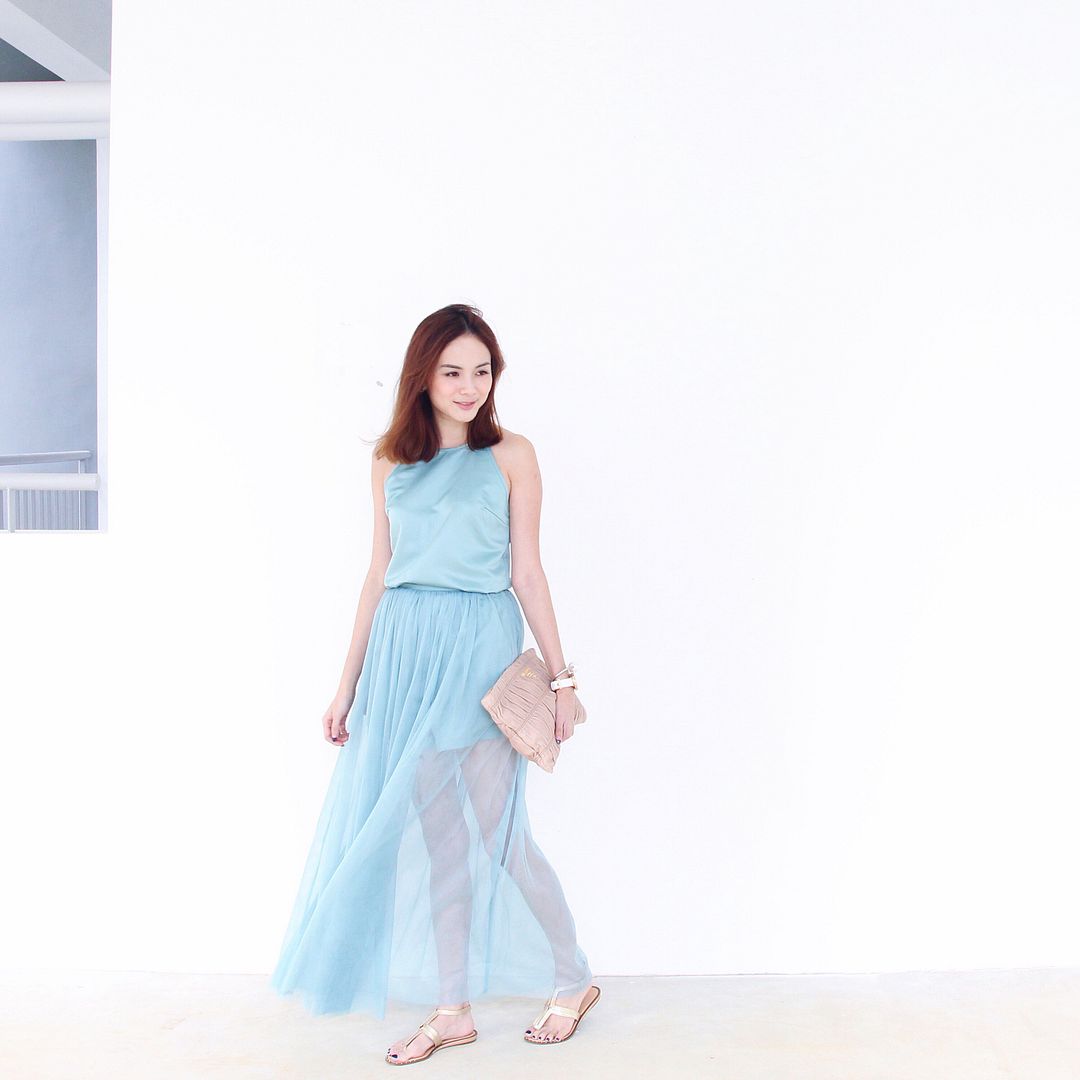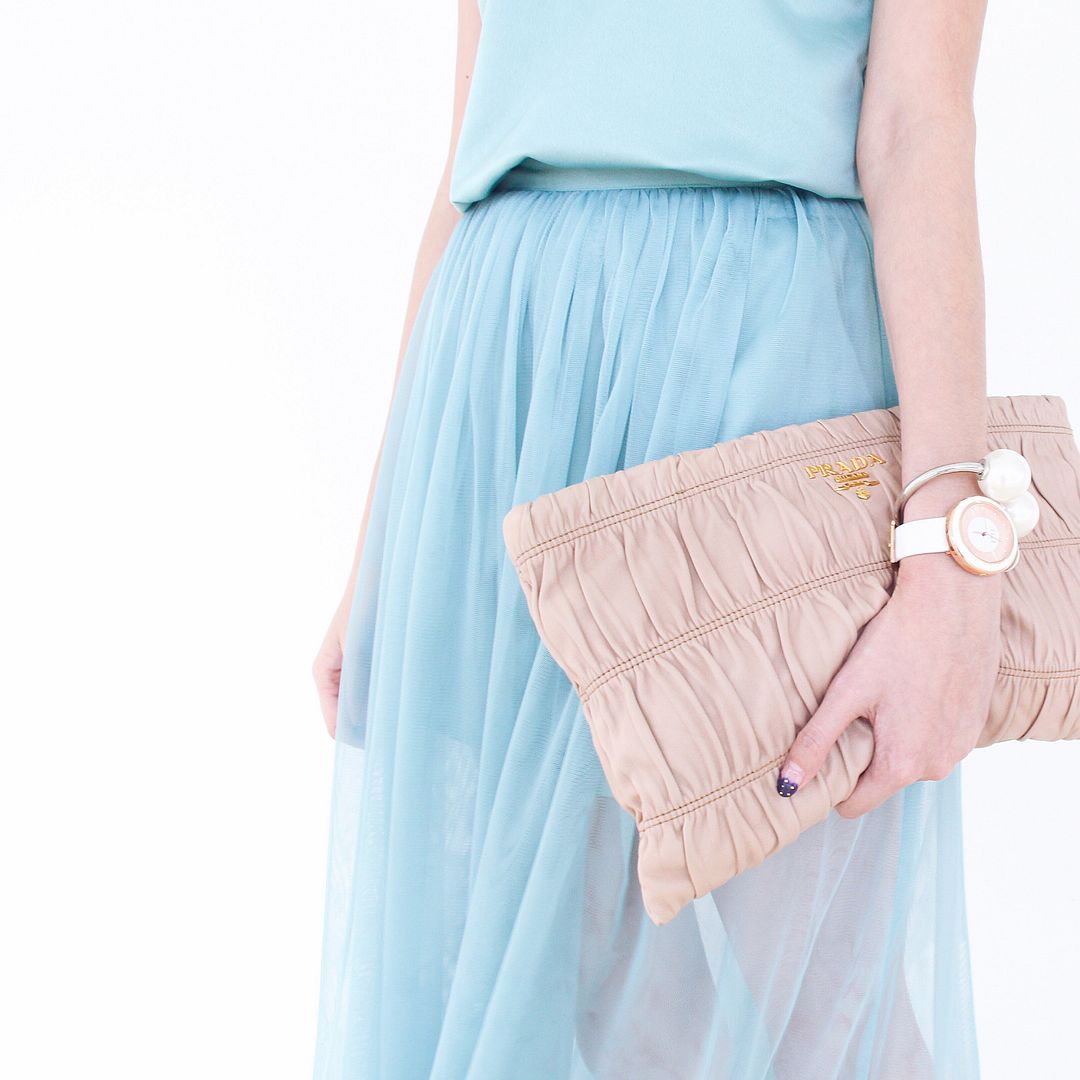 I went home with the
Kendaz Playsuit and Tulle set
which is now my fairy outfit because I definitely feel like one wearing this! This playsuit and skirt set is believed to be the first of such in online fashion - wear it as a playsuit for the dress down weekend, and then jazz it up a notch for that dinner later by adding the tulle skirt. I love versatile pieces such as this! Both individual pieces are made of the best quality fabric you can find in the market.
I never knew powder blue can actually be a staple in the wardrobe till I got my hands on the
Jones Crochet Skirt
. Workmanship and quality are tops - that you don't have to worry. Even the lining (which I am quite particular about) is of fantastic thickness!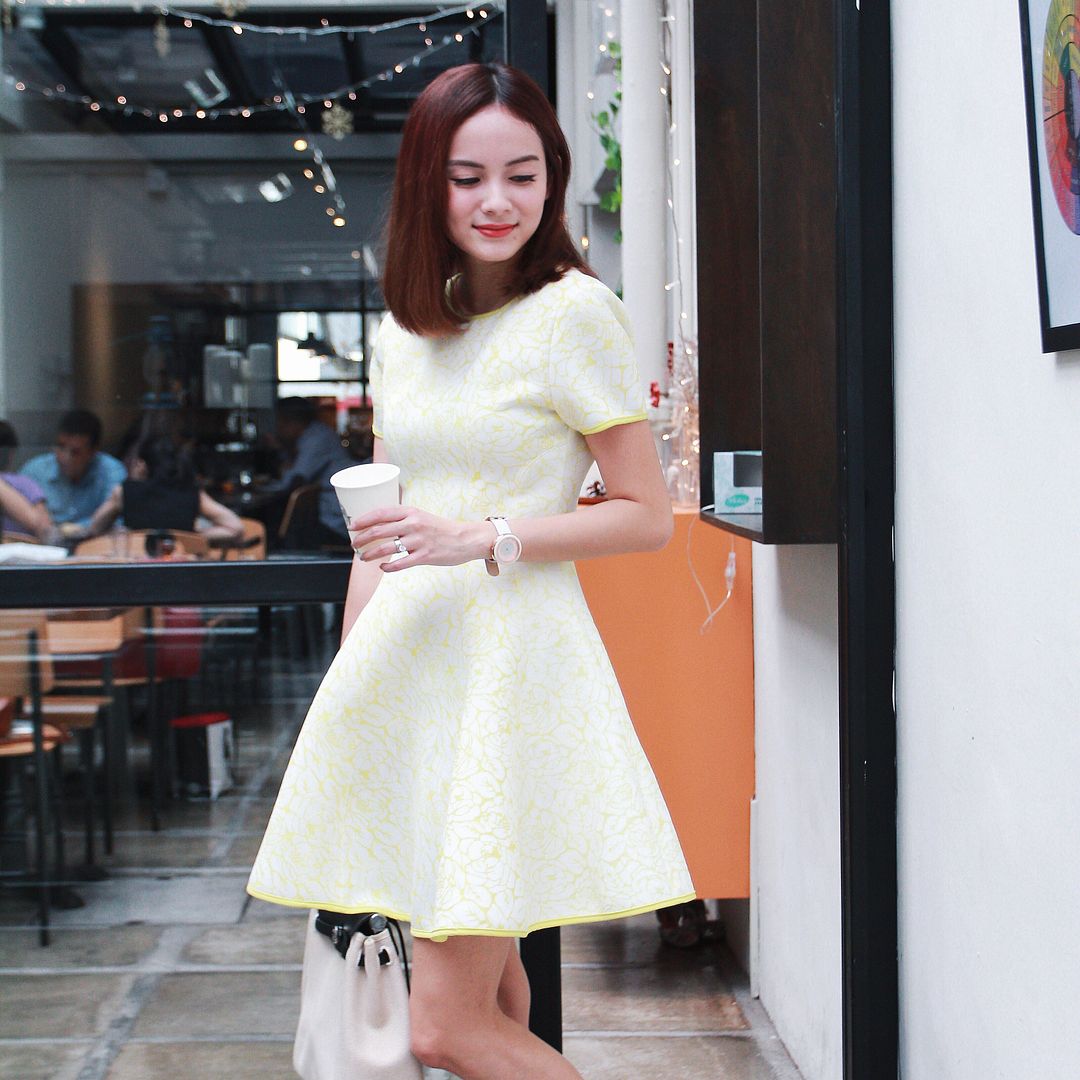 The gorgeous flare of the
Malone Scuba Dress
will make your waist look at least 2 inches smaller, I promise.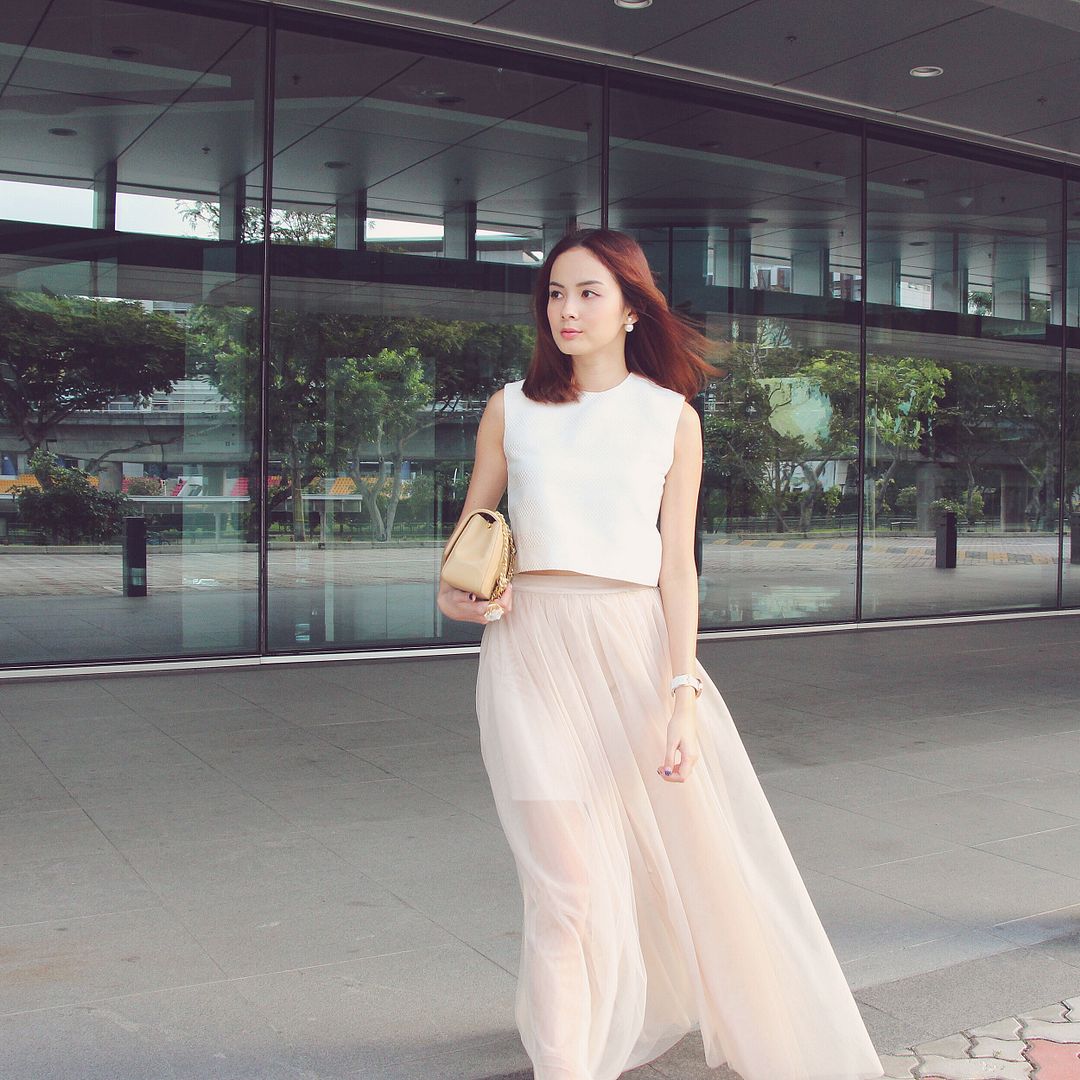 Yesssss, I cannot get enough of the mesh skirts on KLARRA because the material is so soft and comfy! I've came across rough, scratchy and itchy mesh fabrics but this - I love it when the wind caresses my legs with the mesh. You should see the way the
Lilith Mesh Tulle Skirt
moves in the wind!
Shop KLARRA's Spring Summer 2015 collection on their website
www.klarra.com
! Customers who wish to see and feel KLARRA's quality pieces before purchasing may visit the KLARRA pop-up showcase at Strangers Reunion café from now to 17 February 2015 or register for KLARRA's showroom through their website.
Strangers' Reunion
33-35-37 Kampong Bahru Road
Singapore 169355
Tel: 62224869
Opening hours:
0900-2200 (Sunday to Thursday
0900-0000 (Friday and Saturday)
Closed Tuesday
Have fun shopping and eating (and taking pictures of the beauty around you)!