Not sure if you noticed but I have recently undergone a couple of non-invasive procedures to "alter" my face shape. I have always had a pretty strong jawline resulting in a squarish face shape with no chin to speak of. The size of my face is consider relatively small when I'm taking photos in a group but when I take a selfie or if I'm taking a face shot (for advertorials sometimes), you'd be horrified by my wide-looking face.
Yup, here's my wide face in all of its full glory. I didn't realise I look like I perpetually had food in my mouth till I saw the before and after photos.
What really bothered me was the "extra" flesh at the sides which made my face look extraordinarily wide.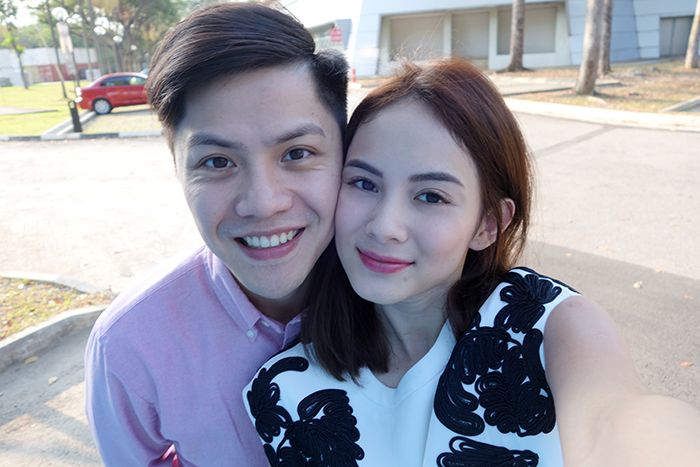 H has a natural V-shape face no matter how much weight he put on and I'm so envious. While I have a square/flat/round/no chin. This was taken in February!
Taken in mid-July, approximately 1.5 month after my
AestheLift
procedure at
Celevenus Wellness & Aesthetic Clinic
. The difference is very subtle since I did not go under the knife. However, I am mega pleased with my face shape now. There's an overall softer look and I finally have a chin!
What is AestheLift?
AestheLift (the latest version of PDO Thread) or Ultra V-Lift (PDO Thread Lift) is an effective anti-wrinkle facelift and skin tightening procedure that has been very popular in Korea due to its safe, fast and effective results. Achieve the most sought after 'V-shaped' face or a natural looking nose lift with this treatment.
PDO Thread Lift is an advanced skin tightening technology where fine threads called polydioxanone (PDO) that were commonly used in surgery are inserted into targeted areas under the skin to stimulate skin tissue. As a result, the skin tissues create new tissue fibroblasts and collagen, which produces a tightening effect from inside out. When sagging skin is tightened, it creates a more sculpted 'V-shape' face as well as smooth, silky skin.
In simpler terms, it is a facelift that also helps to achieve a V-shaped face. And at the same time, the procedure stimulates collagen growth at the areas where the threads travel through. The end result? Smaller face with the desired V-shape as well as gaining firmer, good-looking, younger skin. So it is like killing three birds with one stone. Don't worry about the threads - they are dissolvable, just like the threads doctors use for stitches.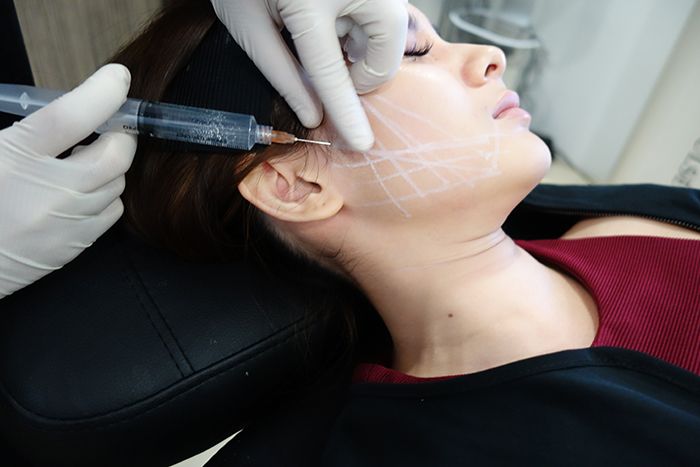 I told Dr Chau I don't want to know what's happening or what he's doing to my face... But I DO know when he inserted needles and I could feel the tugging but there was no pain. Really. The most painful part of the entire procedure was the anaesthesia injections.
Dr Chau is a pioneer in PDO threads in Singapore and he has performed many cases of PDO thread Lifting over the years. As a Key Opinion Leader for doctors, he has to constantly improvise the techniques of thread lifting, which is why he uses only the best and latest threads.
So anyway, the first couple of days after the procedure, I had restricted mouth/jaw movements due to the threads + tightening so I had to eat soft food. I experienced soreness at my cheeks but it wasn't painful, just uncomfortable but bearable. My face was slightly swollen and lightly bruised immediately after the treatment but the recovery was quick, I looked totally normal the next day. Also, try to eat soft food such as porridge, bananas and papayas for the first 3 days.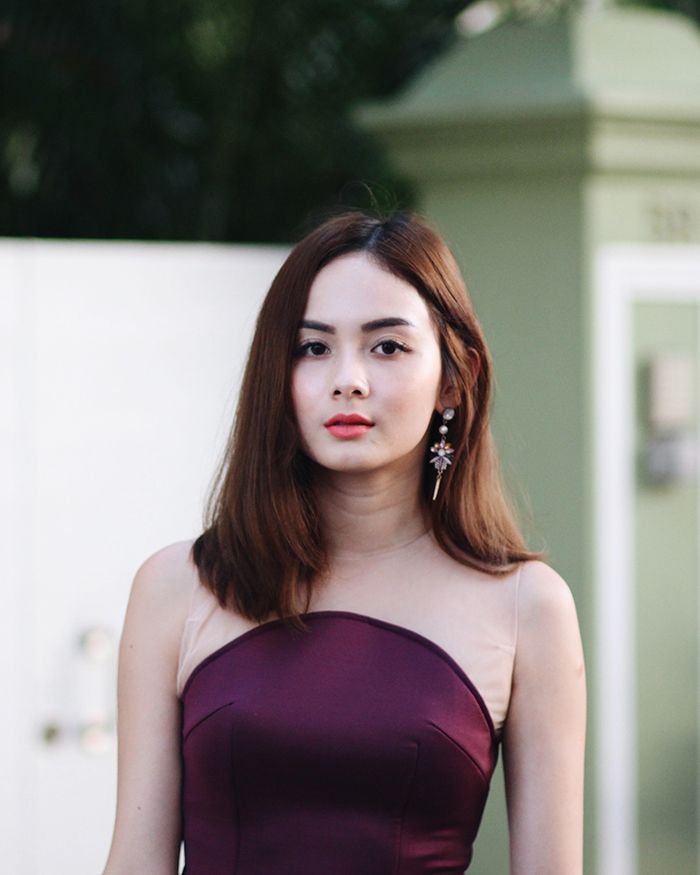 This photo was taken about one month after the
AestheLift
procedure. While there wasn't a significant change in my face shape (it normally takes 2-3 months to take effect), I have to admit the skin around my cheeks are much, much firmer! There are no more "fish balls" when I pinch my cheeks and the "extra" flesh you saw in the first photo? Yes, all gone! This effect supposedly lasts for about 2 years, by the way!
I went back to Celevenus a month after my
AestheLift
procedure for review, as well as start on the second part to achieving my ideal face shape...which was
Square Jaw Reduction with Dysport
(Botox),
Chin Filler
(Jurvederm Voluma) and
Sculptra
for the under eye and zygomatic areas. I chose not to do them on the same day as I'm still quite conservative in this area so I wanted to wait it out and see the effects of the
AestheLift
treatment. However, it is possible to do everything in a day if you want to.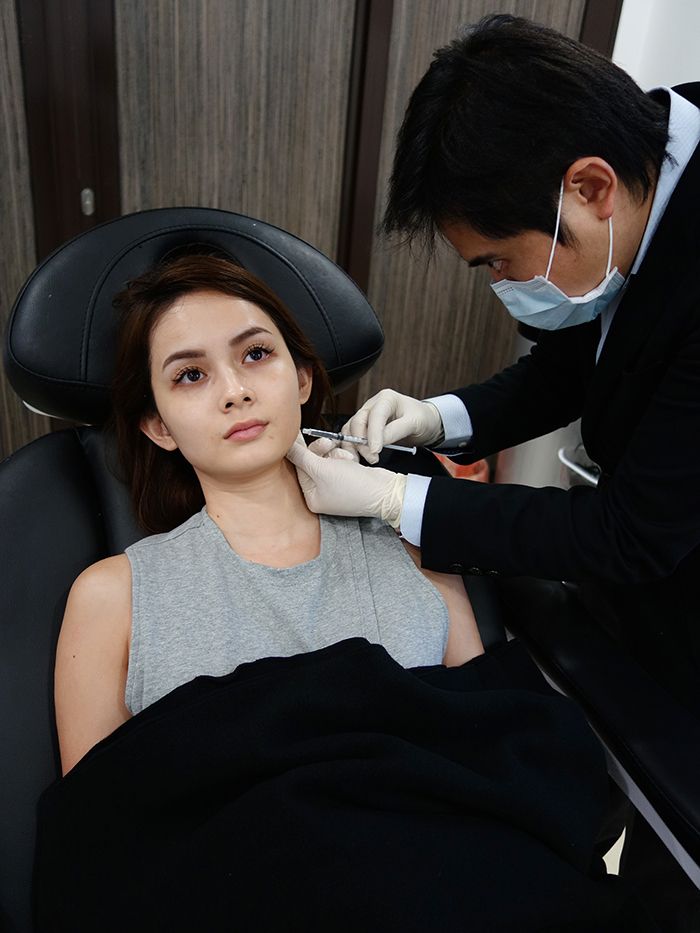 Yup, my face says it all. Botox injections were a walk in the park hahaha. By the way my complexion looked damn good in the picture??! No makeup at all!! I think the Ultra V-Lift treatment helped! Dr Chau seemed to have mentioned something about having silky skin after this treatment. My skin stimulates its own collagen production beneath the layers after all!
Took this photo right after I got home. My chin was bruising a little after the fillers, which lasted a week. But nothing a concealer can't solve!
As you can see, I experienced a little redness at the under eye area which was due to the
Sculptra
treatment I did. As I have slightly sunken tear trough, Dr Chau injected Sculptra at the areas to plump them up so it can help to reduce the appearance of dark eye circles. 5 months after the procedure now, I also noticed that the wrinkles at my under eye seem to have diminished!! I no longer look as tired or old as compared to a couple of months ago. And the most amazing news is - this treatment can potentially last for 2 years!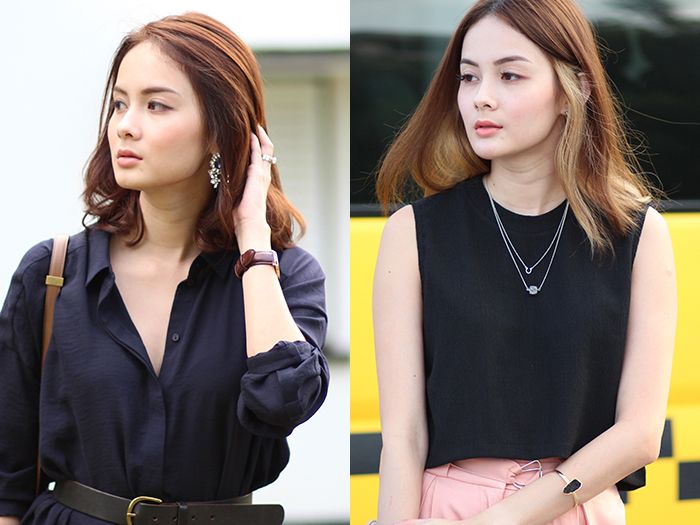 Photo on the left was taken in March and the one on the right was in August. I think my jawline looks so much more feminine and softer after the procedures, no longer as squarish too!
Please ignore my phone...this was a selfie taken end of July for Reebonz and I reallyyyyy love my face shape here!!
It is not very obvious but at my zygomatic area (sides of my face at the cheek), I have slight grooves so Dr Chau injected a little bit of Sculptra there to plump it up as well so that my face contour will look smoother without a sudden dent.
Sculptra
is seriously amazing stuff and it is a quick and effective way to treat anything from dark eye circles to the signs of ageing. Not only does it take only 30 minutes for the treatment, it is incredibly safe, almost painless and it promotes collagen production to plump up sunken areas and smoothen out skin as well!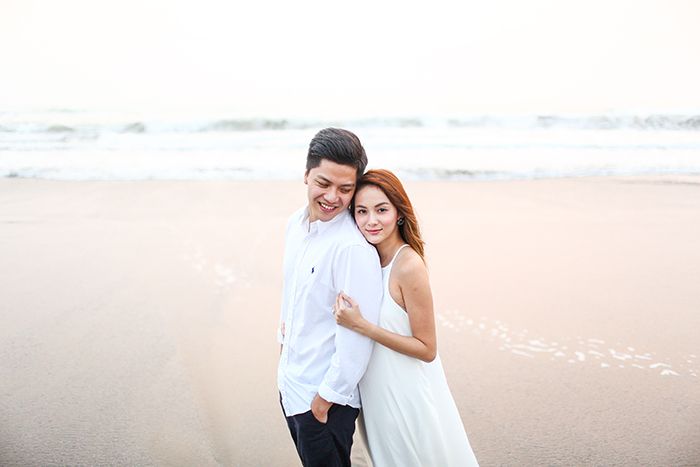 I can stretch my smiles now without worrying about bulges on my cheeks thanks to having no excess skin/flesh/muscles!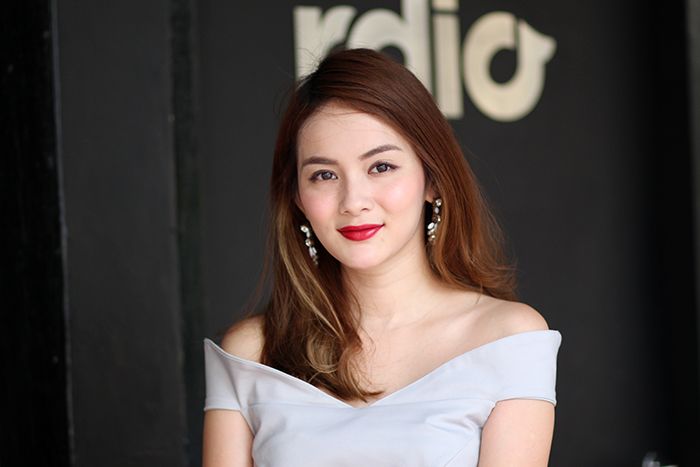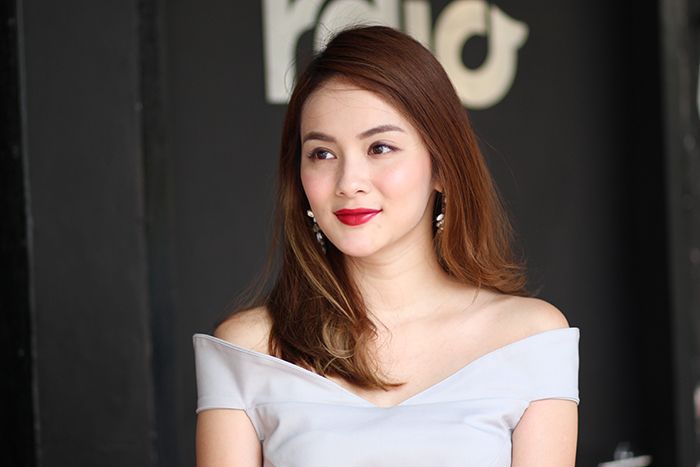 After the treatments at
Celevenus
, a lot of people who don't see me on a daily basis tend to ask if I've lost weight. The numbers on my weighing scale are still the same, but the first thing they notice is my face and it is the only part on my body that has shrank. So I guess, YAY, my face has indeed gone smaller and shapelier!
Here's a summary of the procedures I did at
Celevenus
:
-
AestheLift
: to tighten up loose skin/for a sharper face contour/to achieve a V-shape face
-
Chin Filler
(Jurvederm Voluma): for a sharper chin to achieve the V-shape face
-
Sculptra
: to plump up sunken tear trough/zygomatic area and reduce the appearance of dark eye circles/wrinkles
Celevenus Wellness & Aesthetic Clinic
specialises in NON-SURGICAL aesthetic treatments for anti-aging & facial augmentation. They provide an extensive range of services for your face and body and if you are keen, drop them an enquiry or give them a call
here
to find out more!