This new year,
I don't have many lengthy or hard to follow resolutions - just two simple ones:
- Cook more often (less salt, less oil), eat healthily
- Include some form of exercise in our daily lives (jogging, cycling, badminton)
Basically, just overall well-being because H and I are not not young anymore,
we can't be gorging ourselves silly on fatty food
and expect our bodies to remain young and healthy.
Oh, the horrors of aging >:(
Anyway, I've gotten two Gordon Ramsay's cookbooks for my Christmas presents
and I loveeee my gifts!
His recipes are easy to follow and it's pretty idiot proof.
I'd make sure I make full use of them this year!
I mean, please, just take a look at this:
Pork burger!
Pork patty
Ingredients: minced pork, bacon, shallots, salt and pepper
Fry the chopped bacon and shallots,
mix them with seasoned (salt & pepper) minced pork,
roll the mixture into a ball and flatten it to make it a patty.
Fry with little olive oil.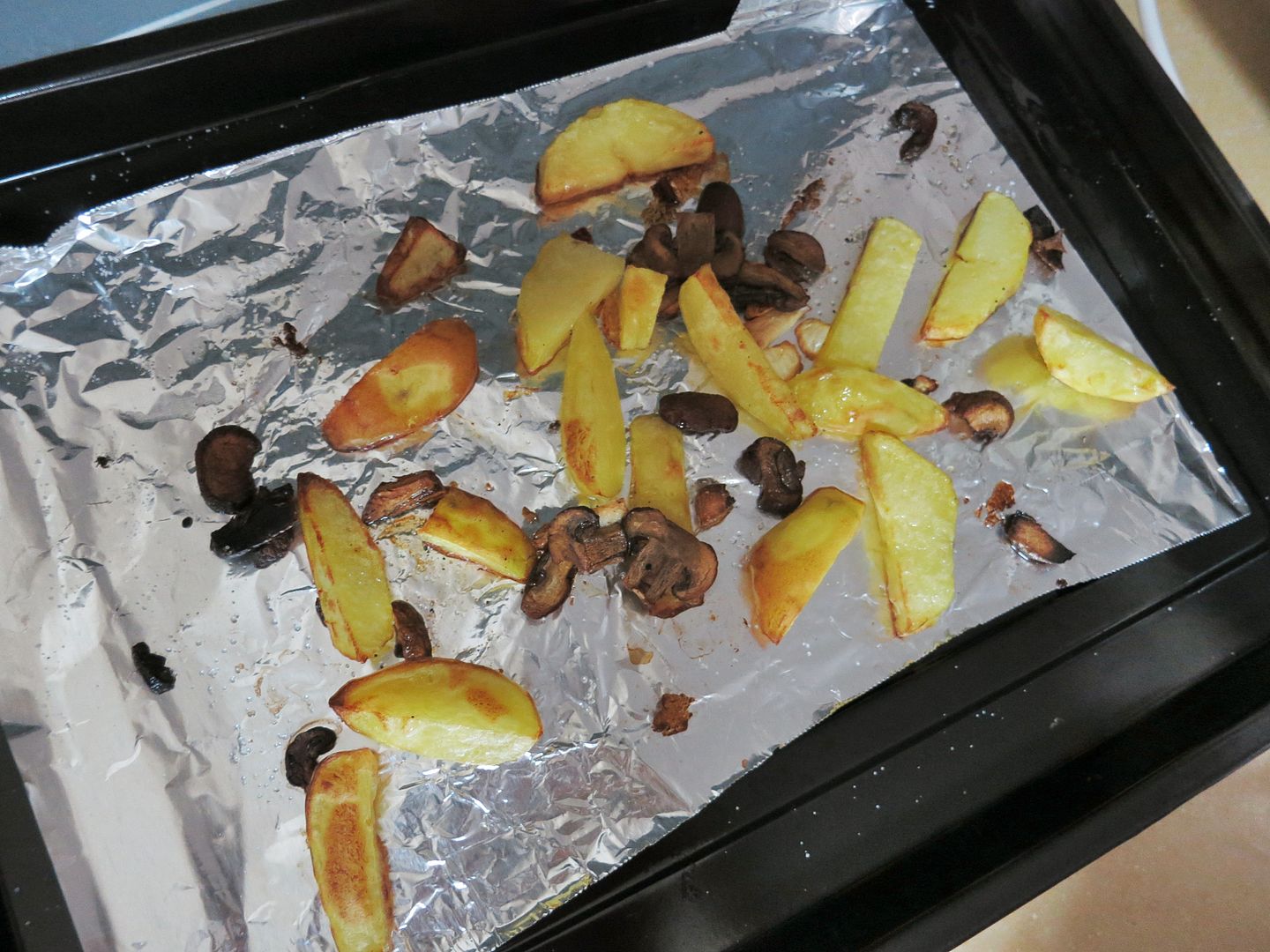 Baked chips
Ingredients: potatoes, salt, pepper, mushrooms, garlic, olive oil
Boil the potatoes in salt water till the softness you prefer,
dry them and arrange them on a tray to be baked in oven.
Sprinkle some salt & pepper on the tray, drizzle with olive oil.
Bake till golden brown!
I added in mushrooms (only because I love mushrooms haha)
when the baked chips were almost done
else they become dried too quickly.
Add BBQ sauce and lettuce between the buns and it's time to dig in!
Verdict:
Everyone in my family finished their share!!
It was really yummy, and the patty was so juicy!
I would definitely do this again when I crave for burgers ;)
And here's a reallyyyyy simple noodle dish H whipped up in minutes after our run!
Boil chicken bones with onions to get chicken stock.
When the chicken stock is ready, throw in whatever ingredients you like!
We had some greens, chicken, pork balls and fish with thick bee hoon.
Add salt to taste and that's a meal! :)
Verdict:
The soup was very sweet because we added onions and there was no oil at all.
It tasted so healthy with the greens, and with the cut chili and fragrance of the shallots,
it was a great meal to me.
I actually really like cooking as long as I'm the ONLY ONE in the kitchen.
H and I never failed to argue whenever we tried to cook a meal together
because we do not approve of each other's preparation and cooking methods.
So now, we try to stay out of each other's way in the kitchen as much as possible haha.
Fortunately, we are both pretty decent cooks in our own ways :)
To a healthier, happier and more fulfilling year ahead!
p/s:
TIPPYJESS
has just launched a new collection!
for the latest updates and promotions!
<3