Last December, H and I were in Phuket for his birthday. I was slapping sunblock on me every two hours and I STILL got darker and there H was, refusing to apply any sunscreen on himself because he wanted to have a tan. After my relentless nagging, he gave in to me and unwillingly slathered on a
very
thin
layer of SPF 50 sunscreen on his body. It isn't tough to guess what happened after an afternoon at the beach; he was badly burnt especially on his shoulders and face. He came out of the showers mourning in discomfort and we had to go the nearest convenience store to grab a bottle of aloe vera gel.
Getting burnt is, of course, not something you can expect if you are living in a city and working in an office. I cannot emphasize enough on the importance of using sunscreen before leaving home each day. Exposing your naked skin as you take that walk from your office to the coffeeshop for lunch exposes your skin to the ultraviolet rays, UVA and UVB that may cause skin damage and aging skin.
So always remember to make sun protection as one of your top skincare priorities!
The new EVERSOFT White
High
Protection Whitening Sunscreen Lotion with SPF 55 is probably the
highest
SPF level
I've seen on shelves so far.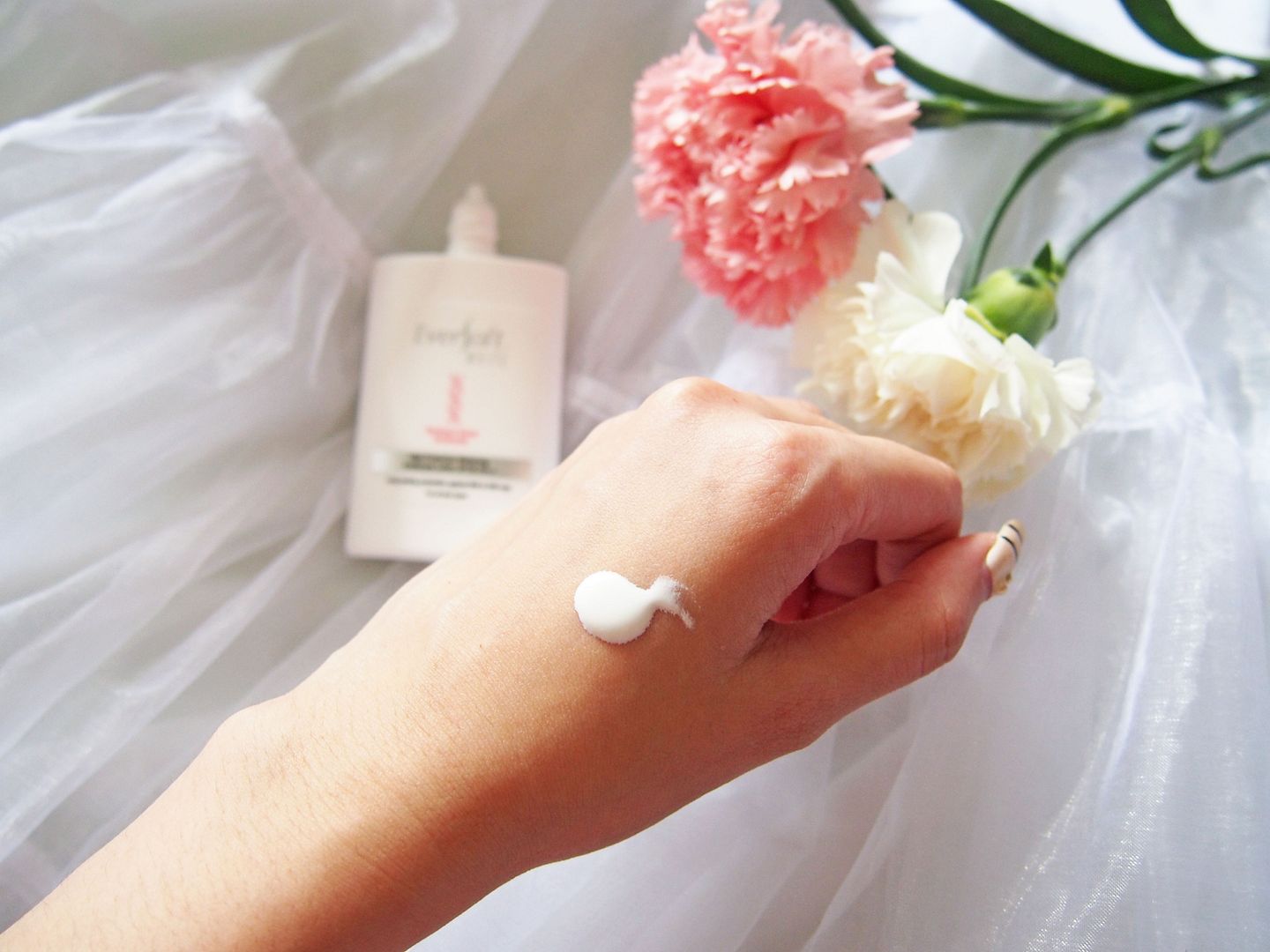 When choosing a sunscreen lotion, I tend to prefer one that is liquid base or spray-on because to be honest, in this crazy humid climate, I would want to feel like I'm wearing (literally) nothing so the lighter the sunscreen lotion feels on my skin, the more brownie points it get!
TADAHHHHH~~ The EVERSOFT White High Protection Whitening Sunscreen Lotion SPF55 is exactly that!
Not only does the lightweight and shine-free formulation gets absorbed into the skin easily, the sunscreen is enriched with the Radiant Gene Activator which is a potent complex of Sakura Extract and Lipo Vitamin C that activates lightening at the heart of your skin cells - giving you fairer, suppler and radiant skin!
Darkened the photo a little so you can see the details.
My hand is obviously moistened but far from looking greasy! And the best thing is, there is no white cast after blending! You know what's the best best
best
factor of
the
EVERSOFT
White High Protection Whitening Sunscreen Lotion SPF 55?
It is not thick so there is no sticky after-feel!
I also like
that it smells SO GOOD!
Don't worry ya, the product is suitable for all skin types - even sensitive skin!
So anyway, two Sundays ago, I was at the
EVERSOFT
White Fair Skin and Sun Protection Workshop
held at Fullhouse
with the other pretty bloggers - Yina, Silver and Juli (Bun bun)!
We experienced
a hands on skincare workshop with other participants and understand the benefits of each product, leading up to the famed EVERSOFT White High Protection Whitening Sunscreen Lotion SPF 55. You can find out more about EVERSOFT White range over here!
There we also had
a short sharing session
conducted by us on "How to take good selfies with nude/natural makeup". We mainly

touched on 4 main areas:
1) lighting
2) angle
3) makeup
4) phone apps
I think you
can see
from the pictures above that we had a lot of fun exchanging tips and ideas! All of us bagged home more than just EVERSOFT White products but also new skincare knowledge! ;)
For more pics of us at the event checkout #EVERSOFTWHITESG on Instagram!
Here's me trying to work it before the event hahaha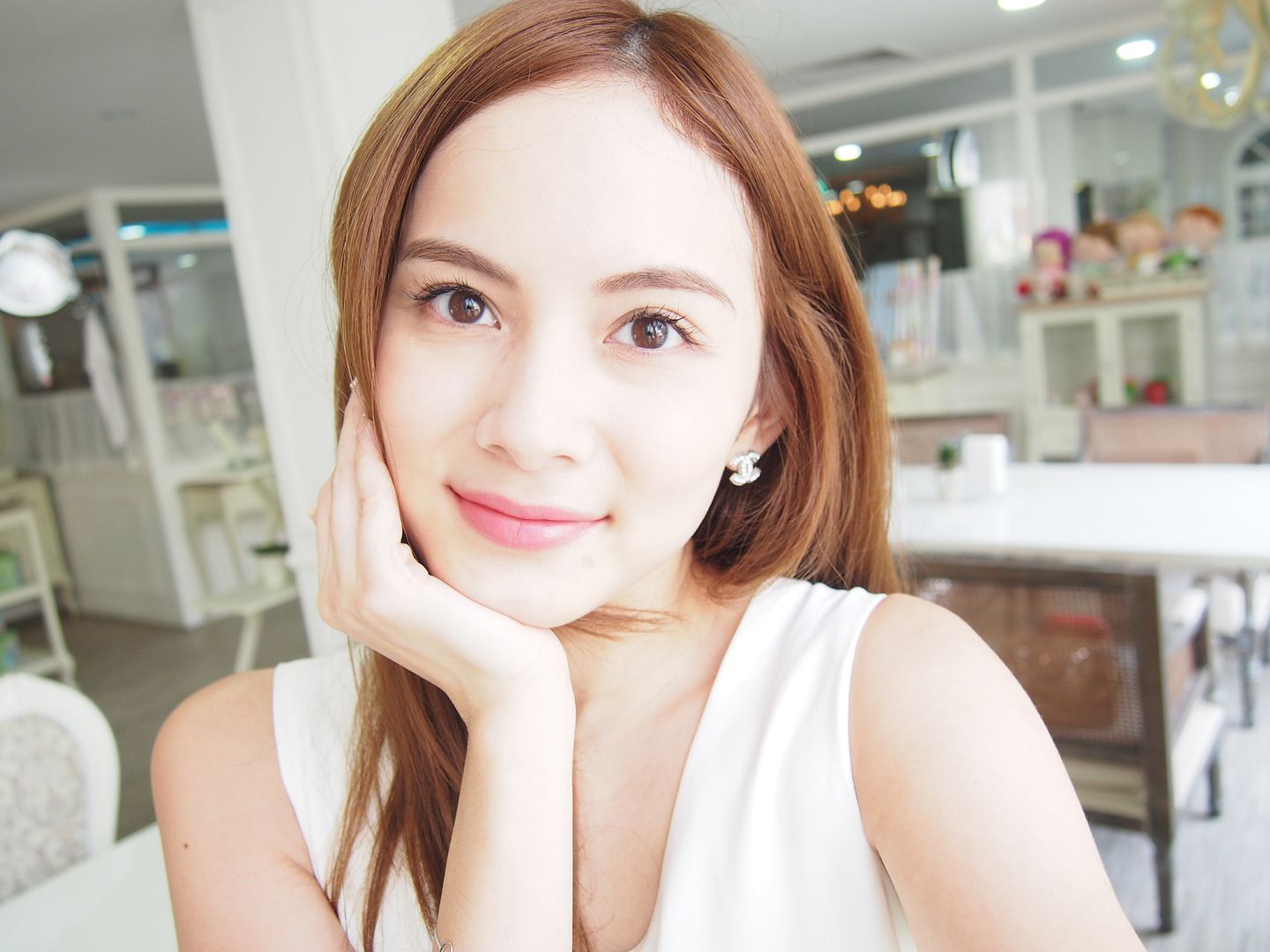 Over-exposed selfies are a no-no other than the fact that it makes you look extremely fair.
The EVERSOFT White High Protection Whitening Sunscreen Lotion SPF 55 (35ml) comes in a handy white bottle that can be easily brought out in your handbag for reapplication throughout the day.
You can find this product for $19.90 at leading supermarkets, hypermarket and
selected personal care stores.
If you are interested to give this new product a try, follow the simple steps below to get one!
1st 100 readers to email the below details to

eversoft@wipro-unza.com

will receive a sample size of EVERSOFT White High Protection Whitening Sunscreen Lotion SPF 55.
1. Name
2. Address
3. Contact no.
4. D.O.B.
5. Answer to "What attributes do you look for when you purchase a sunscreen lotion?"
Ladies, always bear in mind to avoid the sun (especially between 10am-4pm) and seek the shade! And of course, use a sunscreen with an SPF of 20 or higher every day.
Till my next product review! :)