The weather in our city is crazy hot, especially the last 2 months! So to avoid perspiring right after I come out of the showers, I always do my preparations in an air-conditioned room.
5 minutes after I step out of my house, my head of hair is in a crazy mess! The humidity seems to

have

awakened all the strands and as if stretching themselves after a night of restful sleep, they start peeking out and remain in upright position AND detach themselves from

the

bunch.
A good example of bad hair day to me is something like the following:
I have a lot of

flyaways which contributes to the frizziness and it's so unmanageable! I really dislike them because I am never able to pull off a sleek ponytail or just look cool with no unsightly hair sprouting in every direction possible. When I had short bob 6 years ago, I rebonded my hair so it was silky smooth until a couple of weeks later when hair starts to grow and the silky effect starts to wear off and I looked like I had a nest on the top of my head with hair standing at the tip of the scalp. Not only that, my short bob was a mixture of silky AND frizzy hair and I looked gross.
So trust me when I say I have tried TONS of frizz-free hair products. I shopped for them from all over the world when I was still flying because I think some blondes have it worse with frizzy and tangled hair? To cut the story short, none worked.
And then I found John Frieda.
John Frieda haircare products were first launched in 1990 and today, the brand is
endorsed by celebrity stylists such as Harry Josh, Nicola Clarke as well as Kerry Warn.
A little nugget of information for you - Singapore is the
first
in Asia to be stocking John Frieda products!
The local John Frieda House of Experts (HOEs) includes Dexter Ng (Next Salon) & Ken Hong (Evolve Salon).
The Frizz Ease range by John Frieda has been around for more than 20 years and recently, they relaunched

this range with not only a brand new look but also improved the s
hampoo & conditioner for Straight hair with a new ingredient -
Keratin!

Reformulated with Keratin, its repairing formula eliminates frizz at the core, sealing split ends and restoring the natural frizz defences in hair.
Additionally, there is also the option of Dream Curls for ladies with natural/permed waves.
So I put the highly raved Frizz Ease (Flawlessly Straight) range to the test!
Aren't you already convinced after looking at the pictures??
This was only after my first wash and I blow-dry as per usual routine! I'm pretty sure with continuous use, my hair condition and texture will improve overtime!!
There are 4 steps to achieve hair like this and don't worry, it is extremely fuss-free!
Step 1 + 2: Shampoo and Conditioner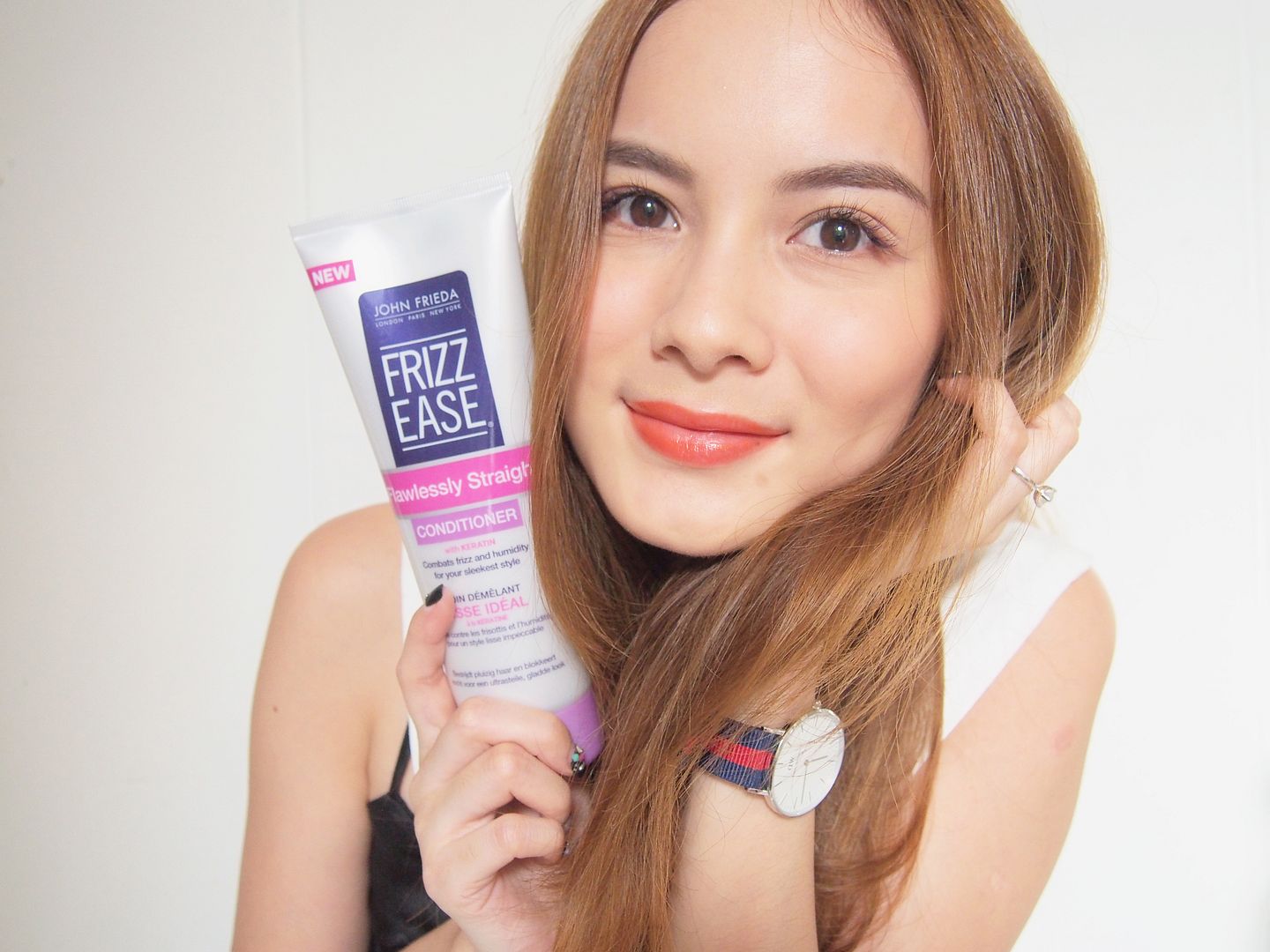 Basic steps that we ladies do during every hair wash! I love that the shampoo is foam-y and it did not dry out my tresses! The conditioner is a great complement as it helps in untangling and my hair already feel softer and tamer after rinse!
Step 3:
Frizz Ease Original Serum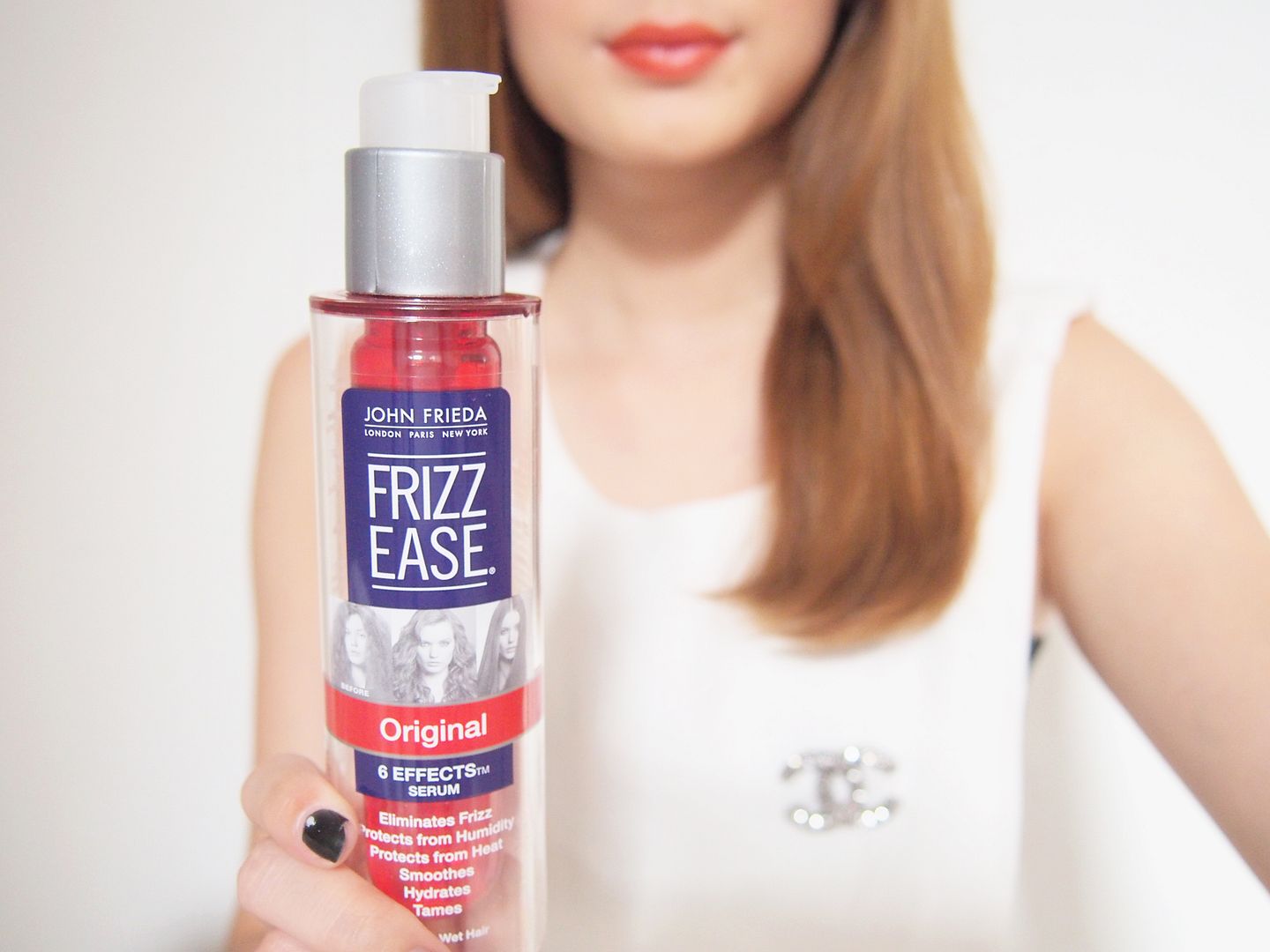 I honestly did not know that there are serums specifically for hair too. And the
Frizz Ease Original Serum is their bestselling item (with numerous awards in its pockets)! What have I been missing out all these years??
The texture of the clear gel was not as thick or oily like the argan oil; in fact, it felt like a thicker form of water (if you know what I mean?). I rubbed my (wet) palms together and pat it on my dripping wet hair straight after shower! Didn't feel like I applied anything at all probably due to the light texture but I allowed it to be absorbed into the hair for around 10-15 minutes (the amount of time I take to apply skincare hahaha) before moving onto the next step!
p/s: the Original Serum also protects hair from humidity and heat while taming/hydrating/smoothing and eliminating frizz at the same time!
Step 4: Leave-in Oil Elixir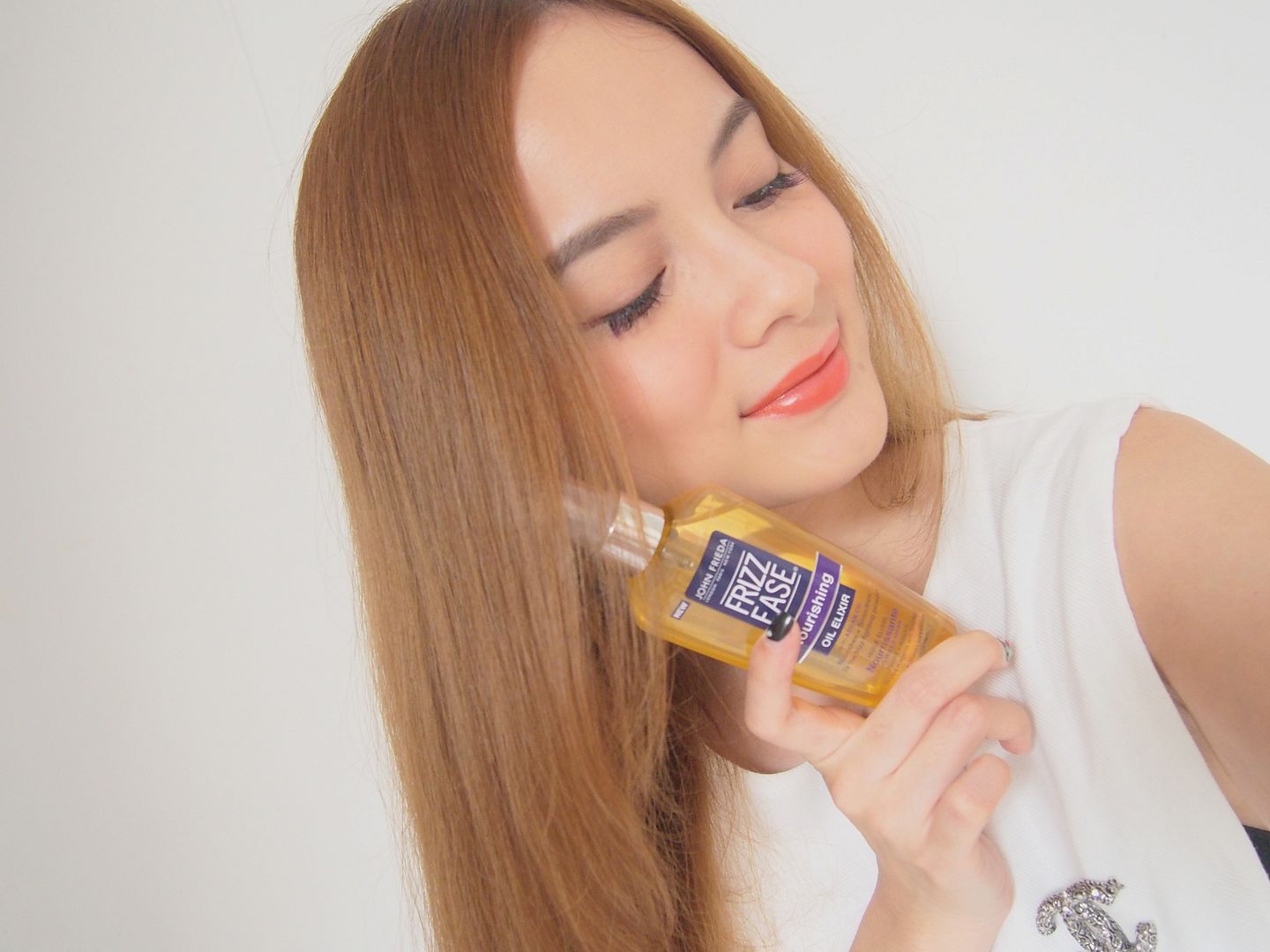 I think leave-in hair oil is one of the best inventions for hair because not only does it smooth frizz, it also nourishes the hair with nutrients to make my crowning glory look glossy and healthy. The recommended direction of use is one pump of oil to apply on wet or dry hair but I guess that's for girls with already perfect hair because it is not enough for my dry and tangled hair :( So I usually apply one pump of hair oil for towel dry hair, blow-dry till 60% dry then apply another pump of oil. Works wonders!
Most people will use either the serum or the oil elixir as using both will be too heavy for the hair but my damage tresses go through too much stress on a daily basis hence I find the use of BOTH the serum and oil elixir work best for me!
I was truly impressed by it. I guess the hunt for effective frizz-free products is finally over? ;)
p/s: please note that the Facebook link is not mobile compatible so you'll have to log on to your PC to redeem the sample!
Where to buy:
John Frieda® Frizz Ease® products are available at selected Watsons, Guardian and Cold Storage outlets!
Let's have beautiful hair together! :)