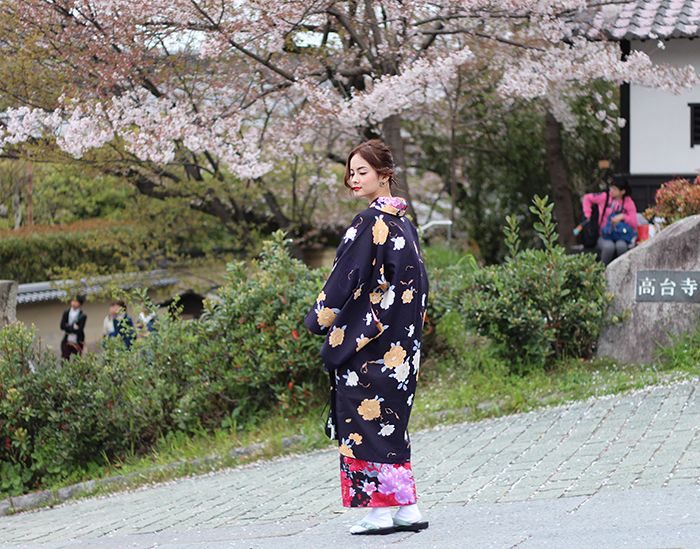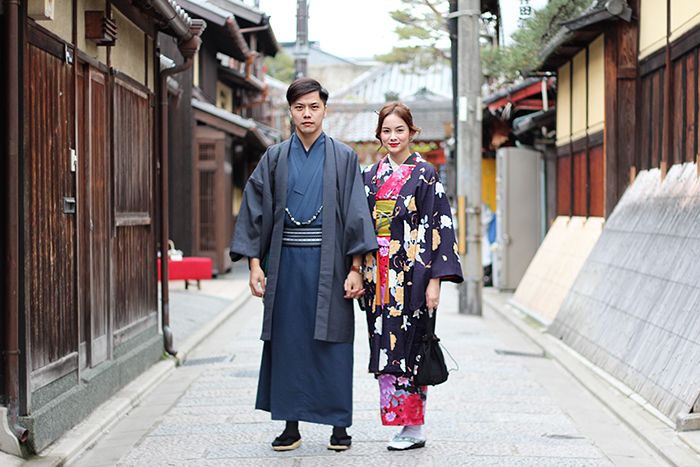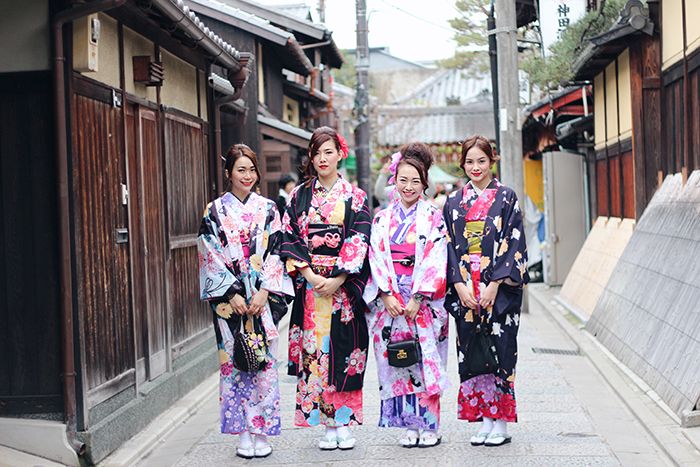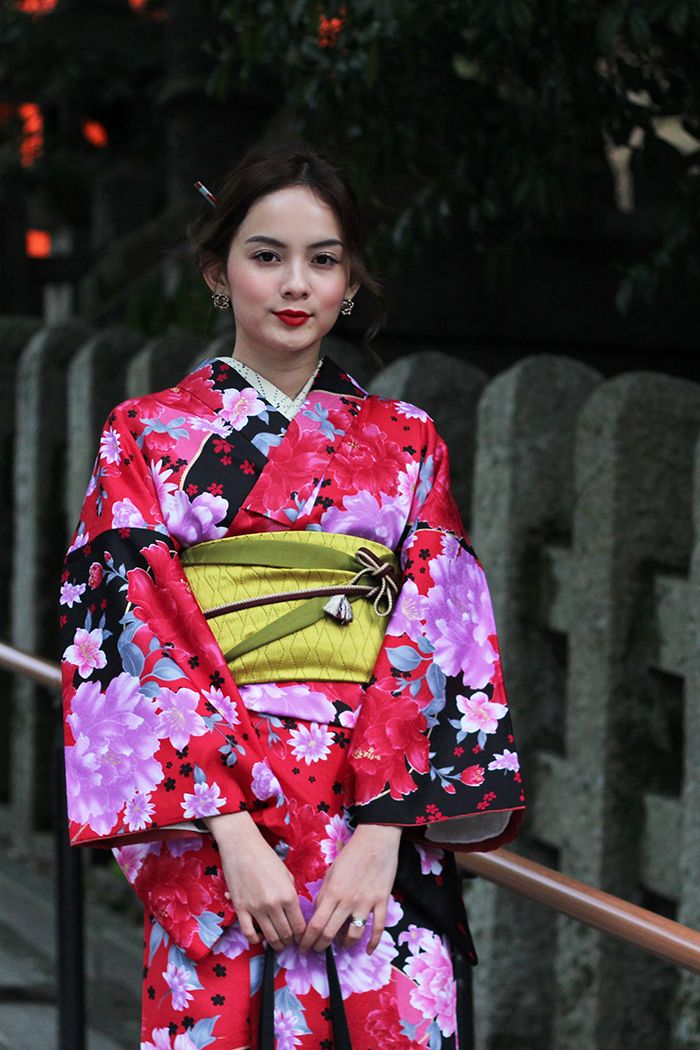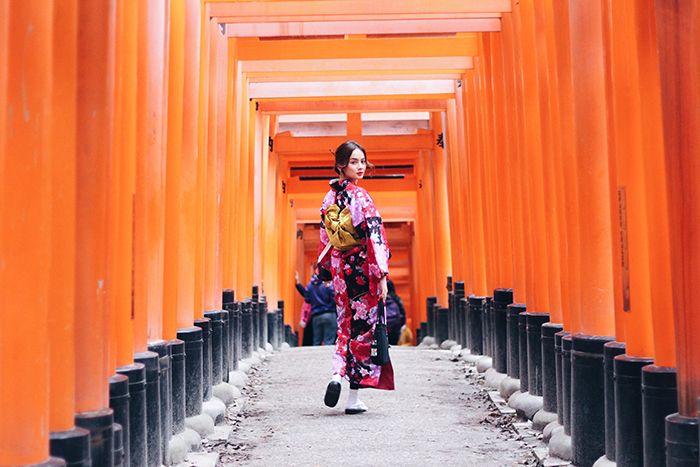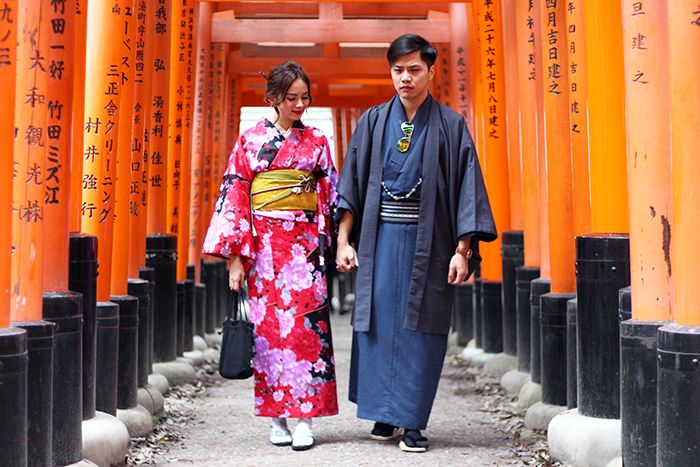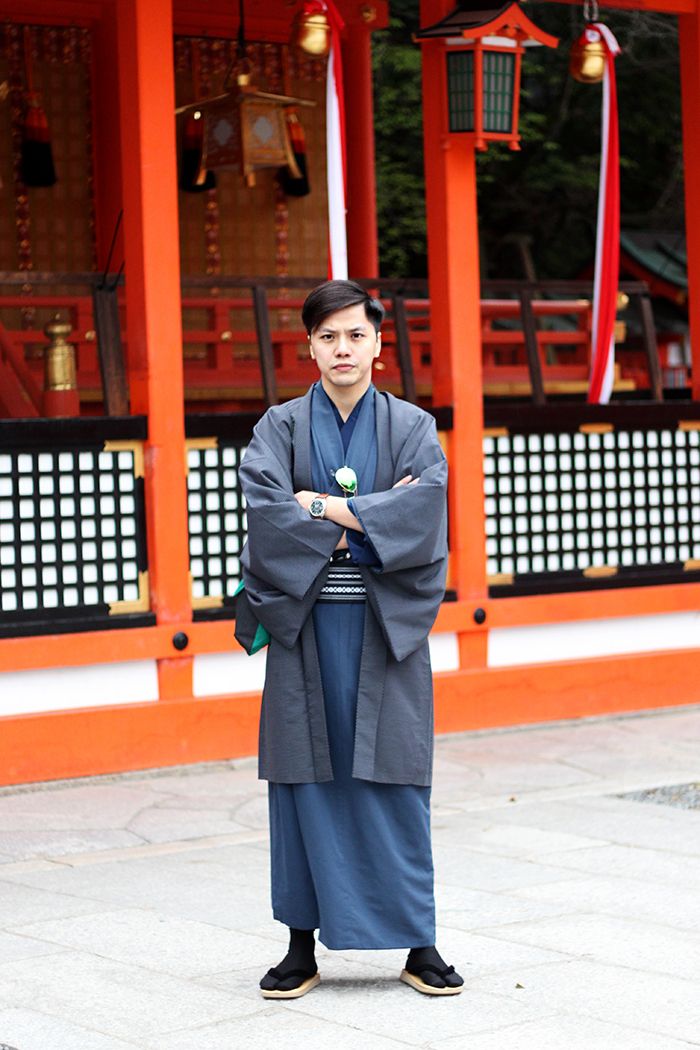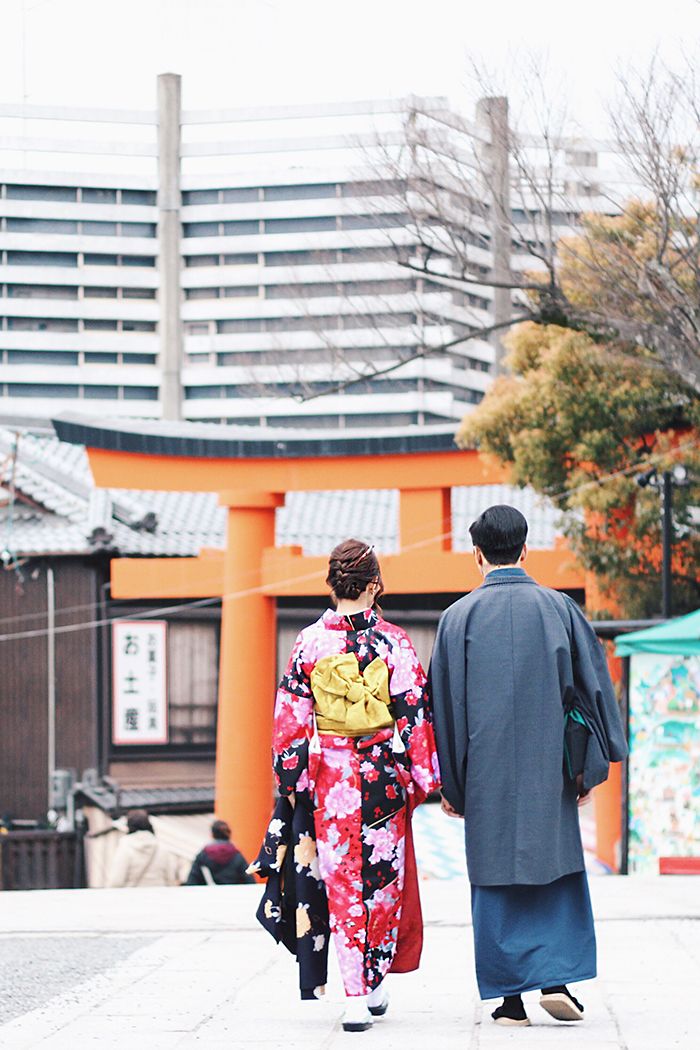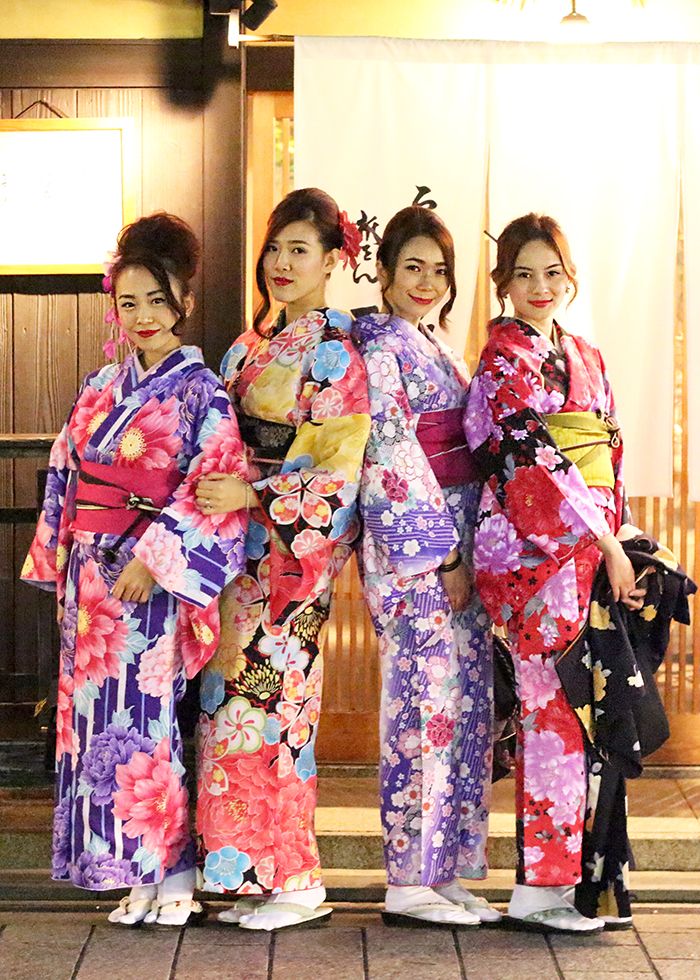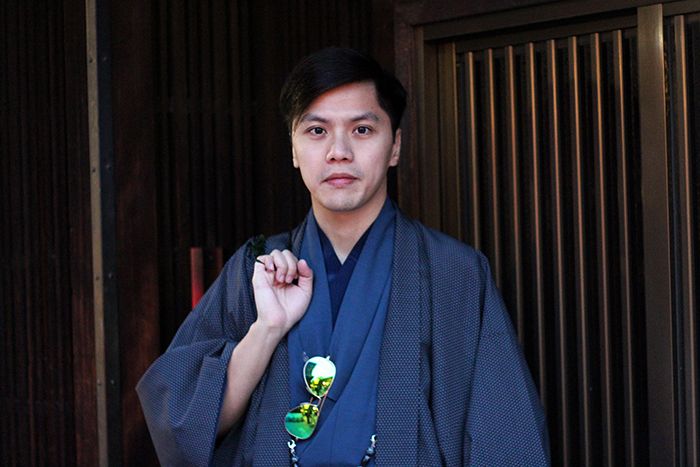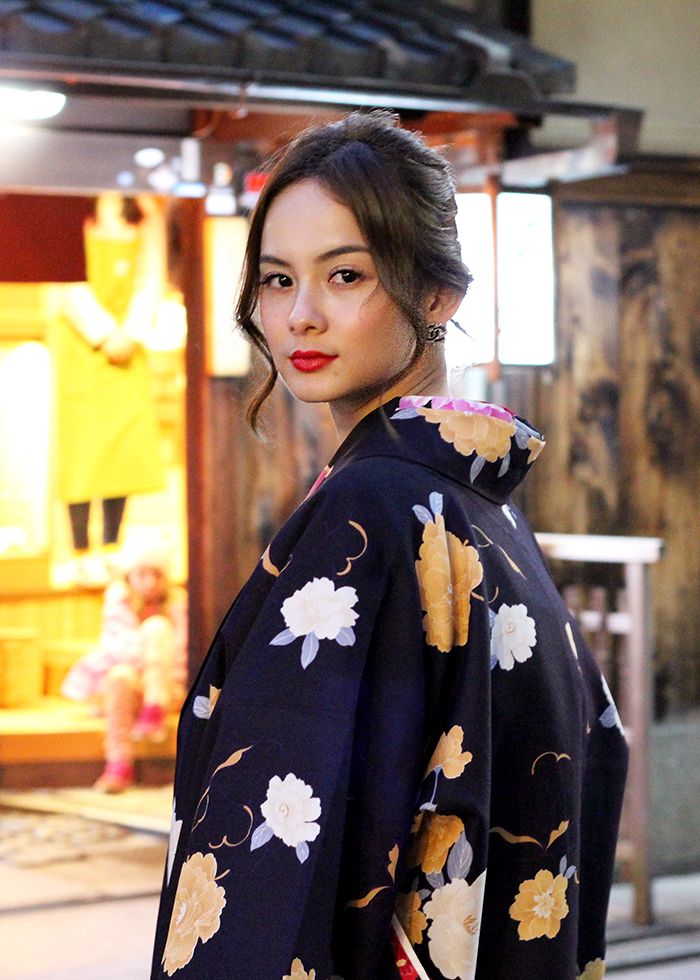 When asked to choose an outerwear for myself, I was stumped. There I was, in a vibrant red kimono with a bright yellow belt and I have to choose another floral piece to match with it?? I told one of the lady helpers I can't do it, to please make the choice for me. And I was truly pleased when she selected this navy number with muted florals because I wouldn't have thought they'd complement each other so well. Floral on floral is truly an art.
We spent 2 days in Kyoto as the city is relatively small, pretty laid back with a slower pace of life. Other than a bigger crowd of visitors, I would say Kyoto is pretty similar to the rural/village areas of Japan, such as, Furano and Toyako.

I highly recommend spending a day in kimono just to experience what it's like. On the day when we were in Kyoto, the temperature was between 5-14 degree Celcius. It is surprising that the traditional outfit actually kept me warm (warmer than the clothes I was wearing) and I didn't want to return the kimono at the end of the day haha!! Can't say the same for the men, they couldn't wait to strip off the yukata because their materials are a little too thin for the cold.

It was a little hard getting used to walking with socks and clogs initially because the surface of them clogs are slippery. So I took tiny, demure steps and wondered if I was ever gonna finish touring Kyoto hahaha. It was easy to get used to wearing them after a while!

I'm sorry but I can't tell you the exact location/store where we rented our kimonos because I followed the group blindly. The only thing I know is, we walked about 20minutes (or longer) from Gion station to the kimono rental store. But if you google "kimono rental Kyoto", I'm sure a whole list will appear! I paid around ~8000yen or ~S$90 for 8-hour rental of kimono and H's yukata was around S$50.
What is included for the females:
- Kimono (there will be someone to help you wear it)
- Handbag
- Slippers
- Toe socks (kept my feet really warm so I brought them home hehe)
- Hairdo (choose from a selection and there are stylists available. love my braids!!)
- Stowage of personal belongings

What is included for the men:
- Yukata
- Toe socks
- Slippers
- Sling bag
- Stowage of personal belongings

There is also a cheaper option available for the ladies (~5500yen, ~S$60) but the prints on the kimono are not as intricate and vibrant. Also, hair styling is not included in this package.

Some places of attractions to note:
- Fushimi Inari-taisha (temple with the orange bamboos)
- The food street leading to Arashiyama (bamboo forest). The snacks there are good.
- Gion, bustling area which reminds me of Asakusa. You can also spot geishas here! They are expressionless but their hair, immaculate. Which reminds me, I should re-read Memoirs of a Geisha. My interest in these white-faced ladies sparked after having seen them in person.

Till the next time, Kyoto!

Photos of H and/or I are taken with Canon 650D / 50mm f/1.8