Sponsored Post
I never had much skin problems throughout my life, not even when I was going through the pimply teenage phase. For that, I definitely have to thank my parents for their good genes. All through the years till I entered polytechnic, I only washed my face with whatever cleanser my mum bought for the family and on some days, I didn't even use it. When I was 17, I learnt a little about skincare as I started using makeup and fortunately, I knew I had to cleanse my face properly haha.
I received a lot of compliments on my flawless complexion, non-existing pores and smooth skin...until I hit 26 when the flattery stopped coming in. Just like how I was going through quarter-life crisis mentally, my skin is going through the same process physically as well. My complexion was looking dull, I spotted uneven skin patches and I just looked tired. I realised as I age, my skin is changing. What I was using in the past no longer works for me.
And only now did I know there's something known as quarter-life skin concerns! The symptoms I spotted above are exactly what I was (and still am) going through.
Hence, this time round, I will be reviewing the latest anti-aging products from Origins, the
Original Skin Retexturizing Mask with Rose Clay
and the
Original Skin Renewal Serum with Willowherb
, both just launched in Singapore on 1st August. Origins is offering my readers an exclusive promotion so read on to find out what is it! ;)
The Original Skin Retexturizing Mask with Rose Clay is a two-in-one purifying mask and skin refiner that's formulated with Canadian willowherb, Persian silk tree, and a potent blend of actives to smooth, refine pores, and boost skin's overall quality.
Unlike normal clay mask, the Original Skin Retexturizing Mask comes with Jojoba beads in it and comes in a beautiful shade of pastel pink - what an eye-candy (all natural ingredients by the way)!
While spreading the mask, the exfoliating beads gently polishes my skin's surface. At the same time, the rose clay deep cleans my skin's inner layers by absorbing impurities, excess oils and drawing out dirt in the pores.
After washing off with wet fingertips, I am left with refined skin texture that is silky-smooth to the touch. My complexion appears translucent and youthful-looking. Most importantly, my skincare products are absorbed really quick into my skin immediately after! That is when I know a product works because pores are clean and unclogged, hence allowing faster absorption.
Quarter-life skin concerns are less visible compared to teenage acne and midlife lines/wrinkles but are just as impactful. And this is when the Origins's Original Skin Renewal Serum with Willowherb comes in. Quarter-life skin concerns such as rough texture, enlarged pores, stressed skin, flaws and loss of radiance would benefit when using the serum.
I have combination skin which tends to be a little dry at times but skincare for dry skin are usually too rich for my face so I love, love, love gel products! The Original Skin Renewal Serum comes in a lightweight gel texture which my skin adores because it was absorbed quicker than any other serums I have used.
My face remains matte-looking, with imperfections softened and I am left with a flawless finish. There is no icky sticky feeling on my skin, it just feels like I have nothing on my face.
Designed to restore the glow of younger skin, I think the Original Skin Renewal Serum did it for me. With regular use, my skin's vibrancy is renewed, no longer as dull-looking and my skin gives off a fair luminosity. And my pores - they are almost non-existent!
I would recommend layering the Original Skin Renewal Serum with a hydrating serum or moisturiser at night as this might not provide enough hydration for the skin alone when it is doing its repair work.
Glowing complexion, smooth texture, restored clarity - no #quarterlifecrisis for my skin with the
Origins
Original Skin Renewal Serum with Willowherb
and the
Original Skin Retexturizing Mask with Rose Clay
!
Head over to
Origins's Facebook page
to get free samples for both products and see for yourself the effects they'll have on your skin!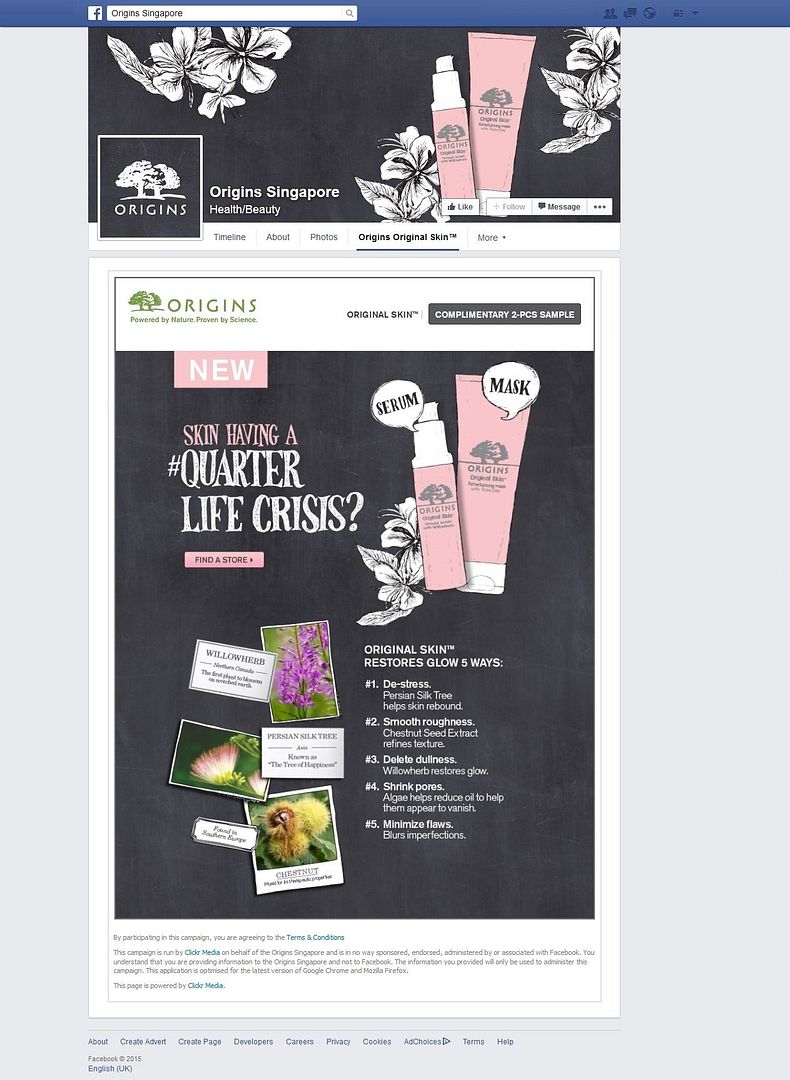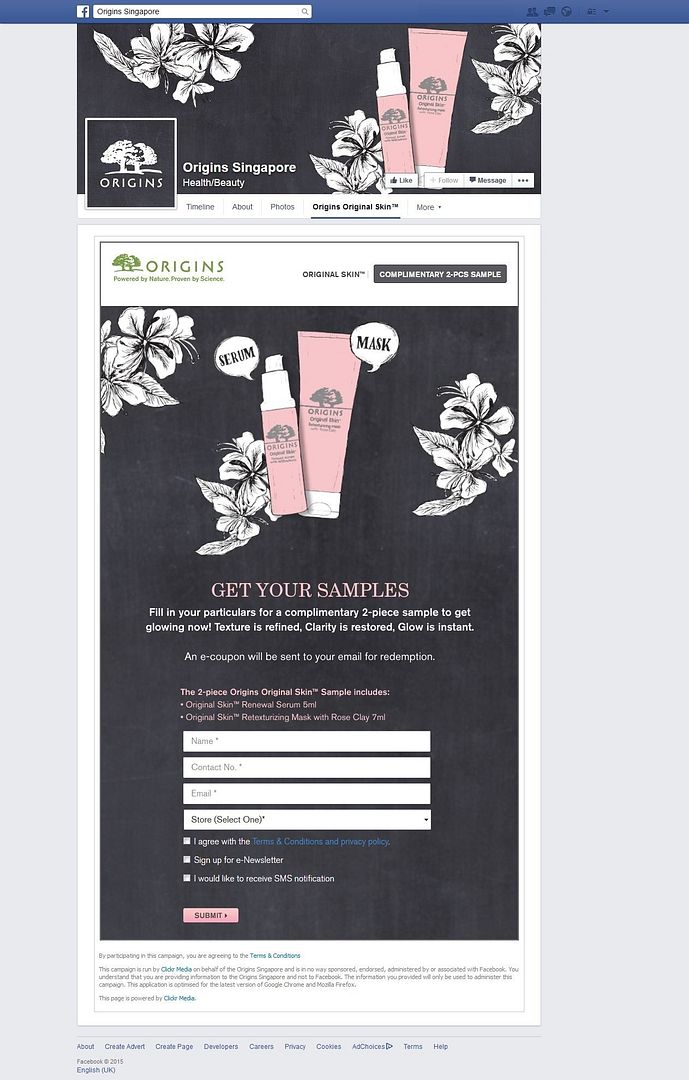 Fill up the form as seen above (
this link!
) and you'll be on your way to healthy, radiant-looking skin! :)
Origins is offering my readers the s
olution
to your #QuarterLifeCrisis with the Origins Original Skin Set at a promotional price!
The Origins Original Skin Set includes:
- Original Skin Serum 30ml
- Original Skin Mask 100ml
- Ginzing Refreshing Scrub Cleanser 150ml
Simply flash this blog post and quote "
ORIGINS JESSICA
" to purchase the products I've reviewed + the cleanser at only $128 (
U.P. $166
)! That's a hefty 23% savings!!
Promo ends 30th Sep 2015.
You can check out
this link
to find your nearest Origins store.
Have a lovely Jubilee weekend, everyone! :)